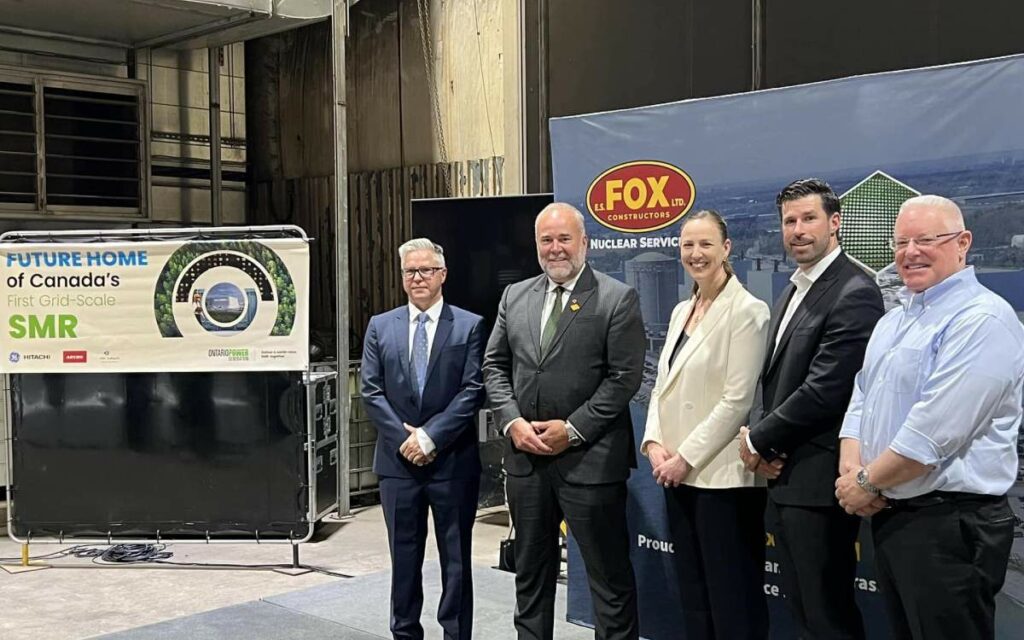 E.S. Fox and Aecon revealed a new teaming agreement at the former's Port Robinson facility on Tuesday, May 30. Pictured from left to right are E.S. Fox VP of Business Development Frank Pepers, Minister of Energy Todd Smith, Ontario Power Generation Chief Supply Officer Karen Fritz, Aecon VP Greg Thede, and E.S. Fox President Spencer Fox. Photo credit: Aecon Group Inc.
Just over a year after it was announced Niagara Falls-based E.S. Fox Limited would complete the early site work for North America's first grid-scale small modular reactor (SMR) at the Darlington Nuclear Generating Station in Durham, it's been revealed that the local fabricator will also help produce steel components for the reactor building itself.
In an event at its Thorold fabrication facility on Tuesday, E.S. Fox, along with Aecon, Ontario Power Generation (OPG), and members of the provincial government, announced a teaming agreement between the Niagara company and Aecon to jointly fabricate steel components for the Darlington SMR at the pair's respective facilities in Port Robinson and Cambridge. 
Aecon is the project's provider of all construction services, including project management, construction planning, and execution. Aecon is working in tandem with OPG, GE Hitachi, and SNC-Lavalin as part of an integrated project delivery partnership. 
"E.S. Fox is excited to work with Aecon on this important and initial scope for this first-of-a-kind project," said E.S. Fox Vice President of Construction and Fabrication Services Pat Cimek. 
"With the experience of both companies, we look forward to building large sections of the structure at the two facilities… helping reduce field labour and equipment costs, improving the overall project schedule, and supporting high-paying skilled jobs in Niagara Region."
The steel components E.S. Fox will help fabricate out of its Port Robinson location will be welded into sub-assemblies and shipped to the Darlington project site. There, they will then be built into larger modules on-site and used to construct the primary steel structure of the reactor building. 
"This modular fabrication partnership is a made-in-Ontario solution, illustrating the strength of Ontario's robust nuclear supply chain – a network that is critical to deploying the future of nuclear in Ontario and beyond," said Aecon Executive Vice President, Nuclear and Civil, Thomas Clochard.
"I'm pleased to see Ontario Power Generation working with Aecon and E.S. Fox to build the components for this cutting-edge technology in Ontario, supporting good-paying and highly skilled jobs right here in Port Robinson and across our nuclear supply chain," said Ontario Minister of Energy Todd Smith, who was also in attendance at Tuesday's announcement. 
Referred to as the "next generation of nuclear", SMRs use fission reaction to provide reliable, carbon-free electricity, but with a much smaller land footprint than traditional reactors.
A single SMR of about 300 megawatts in size can power 300,000 homes and prevent between 0.3 megatonnes (MT) to 2 MT of carbon dioxide emissions per year, depending on where it is located and what kind of power it is displacing.
The current target completion date for the new Darlington SMR is sometime in 2028. Once complete, it will be Ontario's first new nuclear build in over three decades.