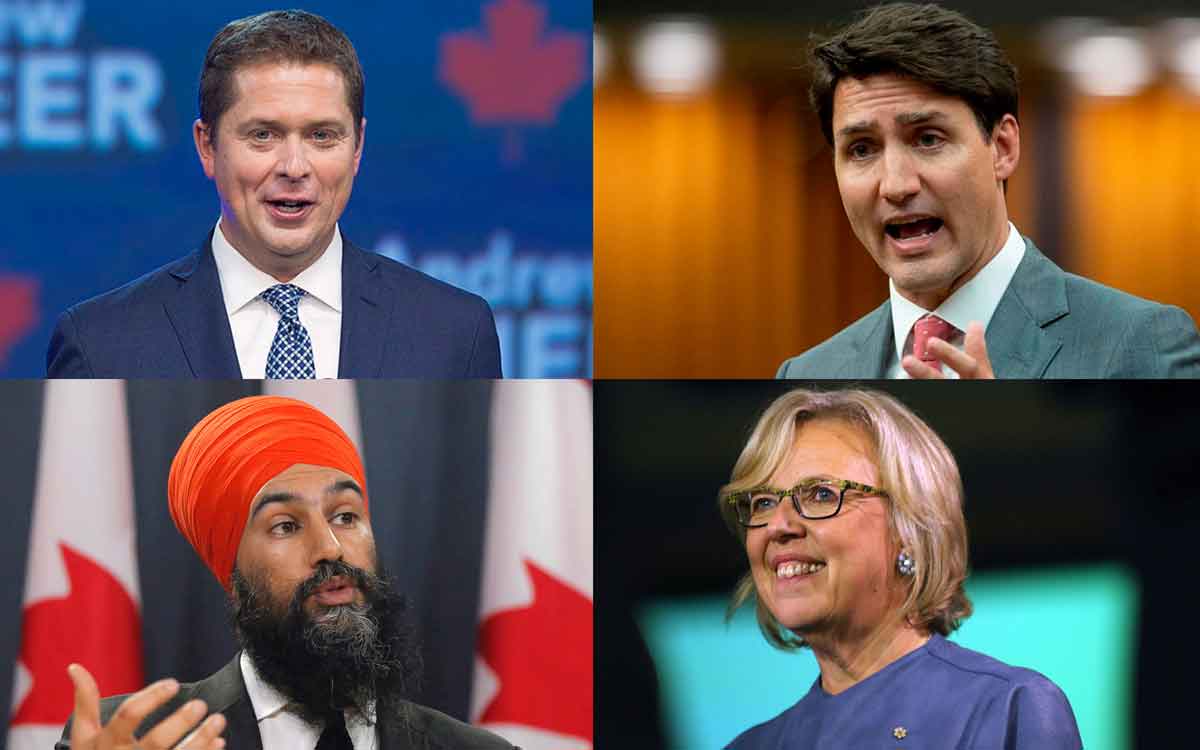 (From top left) Conservative Party leader Andrew Scheer , Liberal Party leader Justin Trudeau, NDP leader Jagmeet Singh, Green Party leader Elizabeth May. (THE CANADIAN PRESS/Adrian Wyld, Andrew Vaughan, Cole Burston, Patrick Doyle)
Heading into the last week of the federal campaign, many Canadians are ready for it to be over. It's funny how most people can't wait for an election – given the common dissatisfaction with governments of any political stripe – but then find the campaign period itself to be pretty near unbearable. Seeing Justin Trudeau's breathy condescension on TV every day makes one nostalgic for his frequent vacations. In her umpteenth election campaign, Green leader Elizabeth May continues to distinguish herself as the most annoying resident of every retirement community.
But while everyone may be looking forward to going to bed next Monday soothed by the thought that "Thank heavens that's finally over," the days and weeks that follow may bring only more conniving rhetoric and heated attacks. Polls are showing the Liberals and Conservatives essentially tied at around 33% support, not enough for either to win a majority, while the NDP and Bloc have been slowly creeping upward in support. The Greens have failed to make the 'breakthrough' the media seems to always predict for them, but will likely win a few more seats in Parliament.
NDP leader Jagmeet Singh said on Sunday that he would be willing to work with other parties in a minority Parliament: "We're not going to support a Conservative government," he told reporters. "We're going to fight a Conservative government, gonna fight it all the way. So we're ready to do whatever it takes." Earlier last week, Singh detailed his demands of a minority government:
A national, single-payer universal pharmacare plan and a national dental-care plan.
Investments in housing.
A plan to waive interest on student loans.
A commitment to reduce emissions, to end subsidies for oil companies and to deliver aid to oil patch workers to transition them out of fossil fuel industries.
The introduction of a "super wealth" tax and a commitment to closing tax loopholes.
Reducing cellphone bills.
There's a certain transparency to this, I suppose, starting with Singh's implicit admission that Monday's election is not likely to result in an NDP majority. Leaders never like to admit that they are going to win anything less than a smashing majority on election day.
But not so fast, young man. While I have little doubt that Justin Trudeau would sign on to some or all of Singh's list to stay in power, there's the small matter of the actual seat count once all the dust and recounts have settled. Turnout at advance polls over the weekend was high. This may not mean anything, as the trend in recent elections has been to greater advance voting. But high turnout in an election usually goes against the incumbent government.
If the Conservatives win the most seats, basic democracy demands that they be permitted to form a government. That is what happened in Ontario in 1985 when the 42-year-old Progressive Conservative dynasty won a bare minority of 52 seats to the Liberals' 48: the PCs named a new cabinet and were defeated on their throne speech about a month after the election.
That throne speech was one of the more notable in modern times, for its utter shabbiness. It was loaded with progressive pap and promises, in the foolish hope that the already-forged Liberal-NDP coalition would be embarrassed to vote against it. Conservatives have never again overestimated the Liberals' and New Democrats' capacity for embarrassment when power is within their grasp.
Even if second-place Trudeau cobbles together some kind of governing coalition, it would look terrible for him to try and prevent a party that won more seats from becoming the government. It would also revive the charge that his broken promise on electoral reform was to maintain Liberal dominance.
Then there is the assumption that Liberal seats plus NDP seats will add up to a majority in the House of Commons. The CBC's latest seat projections show the Liberals winning 139 seats and the NDP 27. The total of 166 is not enough for a majority in the 338-seat House of Commons. If the Greens win the 4 seats they are projected to win, that would put the Liberals barely over the top, but those 4 votes would likely come at a steep price. There are some extreme proposals in the Greens' platform, including doubling Canada's 2030 emissions reduction target to 60%, and no new pipelines, or coal, oil or gas drilling or mining, including offshore wells.
By the way, the 27 seats the NDP is projected to win is 12 fewer than the 39 seats they held when Parliament was dissolved. Some surge. But Singh had driven down expectations so low since becoming leader that getting the NDP back up to pre-Jack Layton levels of support is going to look like a victory for him. Then again, Singh's coalition speculation may drive voters back to the Conservatives in places like British Columbia in the campaign's final days.
One of the reasons the NDP is struggling is thanks to the resurgence of the Bloc Québécois in Quebec. The CBC is projecting the Bloc will triple their standing in the House of Commons, from 10 seats to 32. The role the Bloc plays in the next Parliament will be interesting to watch. While they may have enough seats to be necessary for passing a throne speech, budget or other confidence matter, their separatist roots will make both the Conservatives and Liberals wary of working with them. The Bloc's stance on fossil fuels, pipelines and equalization also put them at odds with western premiers such as Jason Kenney, who may make good on his threat of a referendum on equalization in 2021.
Remember also that in a minority Parliament, the opposition parties hold the majority on committees. This would result in a stream of hearings and investigations unflattering to the Liberals, starting with the ethics commissioner coming to answer questions about his report on the SNC-Lavalin affair.
Perhaps all this is unnecessarily alarmist. After all, Stephen Harper managed not one but two minority governments. But Harper became prime minister with a minority, while Trudeau entered office with a majority. In Parliament, Trudeau has demonstrated arrogance and impatience with the parliamentary opposition, exemplified by the time he dragged the late Conservative MP Gord Brown along the Commons floor, and accidentally elbowed a female MP on the way.
Unfortunately, none of this makes for a restful sleep next Monday night. Maybe a long, ugly campaign isn't so bad after all.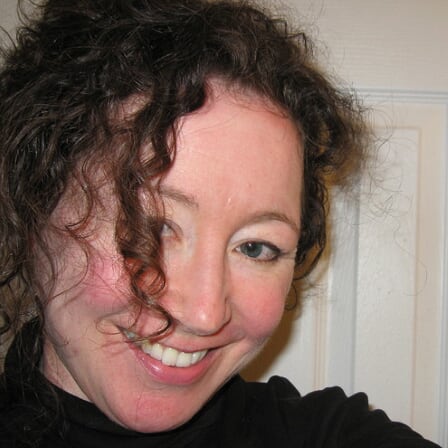 Joan Tintor is a writer and researcher. Her political experience includes having served as legislative assistant to Ontario transportation minister Al Palladini, and as a writer/researcher for the Ontario PC Caucus. She earned a degree in journalism from Ryerson Polytechnic University in 1994.