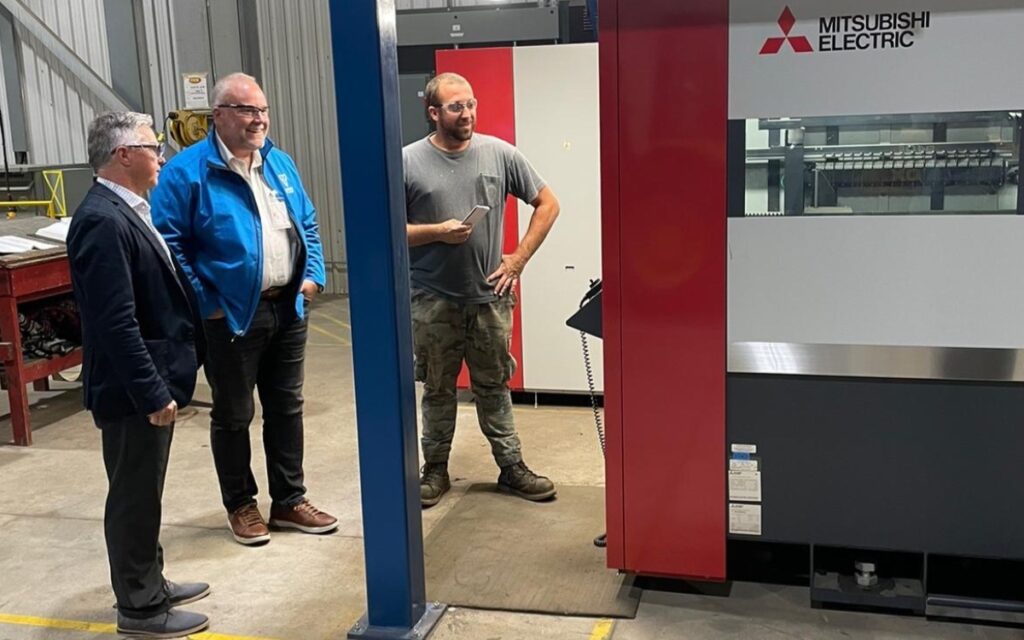 Minister of Energy Todd Smith made good use of his time in Niagara on Tuesday, visiting E.S. Fox Ltd. in Niagara Falls, launching the province's Clean Home Heating Initiative in St. Catharines, speaking to the Women in Nuclear conference, and more. Pictured is Minister Smith (centre) at E.S. Fox's Niagara Falls facility on Tuesday, Sept. 27, 2022. Supplied photo.
During his visit to the region on Tuesday, Ontario's Minister of Energy Todd Smith visited E.S. Fox in Niagara Falls – a nation-leading EPC (engineering, procurement, and construction) provider – to see first-hand their knowledge and expertise that's been supporting Ontario's nuclear projects for over three decades.
"I'm grateful to the E.S. Fox team for hosting me and allowing me an opportunity to see the incredible work they do every day to support our province's safe and reliable nuclear power sector," Minister Smith told The Niagara Independent. "We're proud of Ontario's world-class nuclear supply chain and companies like E.S. Fox who has been an important partner in our nuclear sector for over three decades."
In March of this year, the province, alongside Ontario Power Generation (OPG), announced that E.S. Fox was awarded a $32 million contract for the first phase of site preparation and support infrastructure for the Darlington New Nuclear Project, the site of Canada's first Small Modular Reactor (SMR). The company's work involves bringing water, electrical power, information technology and road services to the site.
"They will be doing important work in helping us ready for the deployment of our country's first commercial grid-scale SMR at Darlington. I look forward to seeing the progress made by E.S. Fox and OPG. This project will create good jobs and clean energy while cementing Ontario's reputation as a global hub for nuclear technology and SMR expertise. All of this is helping to create tremendous new opportunities for our province and country," said Minister Smith. 
E.S. Fox is a Niagara Falls-based multi-trade fabricator and constructor specializing in the industrial, commercial, institutional, and nuclear industries. The company was established in 1934 and has eight additional facilities throughout Ontario, including in Hamilton.
The MPP for Bay of Quinte also stopped at Walker Industries to tour their new renewable natural gas facility. Walker is a fifth generation, family-owned Niagara-based company which started in 1887. It provides construction services, mines aggregate, operates multiple landfill sites, and deals in organics recovery and renewable energy. It also has numerous operations throughout Ontario.
The minister also delivered remarks at the Women in Nuclear conference and made a return visit to the Niagara Parks Commission's newest attraction, the Tunnel at the Niagara Parks Power Station. Smith was on-hand earlier in the year to help open the NPC's newest visitor experience.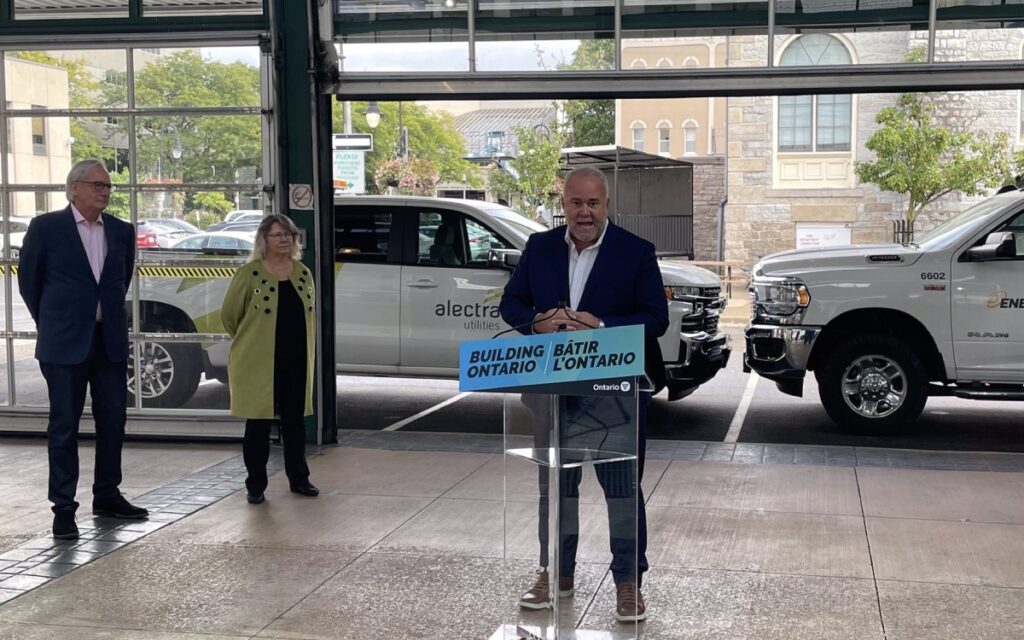 Minister Smith at Market Square launching the provincial government's Clean Home Heating Initiative. Photo credit: Twitter/Todd Smith
Prior to his tour of Niagara Falls, Minister Smith started the day off Tuesday in St. Catharines, launching the government's $4.5 million Clean Home Heating Initiative.  
The pilot project will provide hybrid heating to up to 1,000 households in St. Catharines, London, Peterborough, and Sault Ste. Marie by incentivizing the installation of electric heat pumps with smart controls. 
"Switching to hybrid heating could save homeowners up to $80 dollars every year on energy bills – an annual savings that would increase over time – and reduce greenhouse gas emissions by as much as 30 per cent," said Minister Smith, speaking at Market Square in St. Catharines.
"Investing in these types of transformative energy models is how we are building a pathway to a clean energy future that will protect the environment and keep costs down, all while creating new high-quality jobs across the province."
Electric heat pumps replace existing air conditioners in the summer but can also operate in reverse in cooler seasons to provide home heating. With the addition of smart controls, a hybrid heating system automatically switches to a home's existing natural gas furnace depending on weather and which source is least expensive.
Selected homeowners in the program will receive a limited-time incentive for an electric air source heat pump (ASHP) or a cold-climate air source heat pump (ccASHP). The rebate includes $3,000 for a ducted ASHP or $4,500 for a ducted ccASHP.
St. Catharines residents interested in participating in the project can learn more at Enbridge's website here.