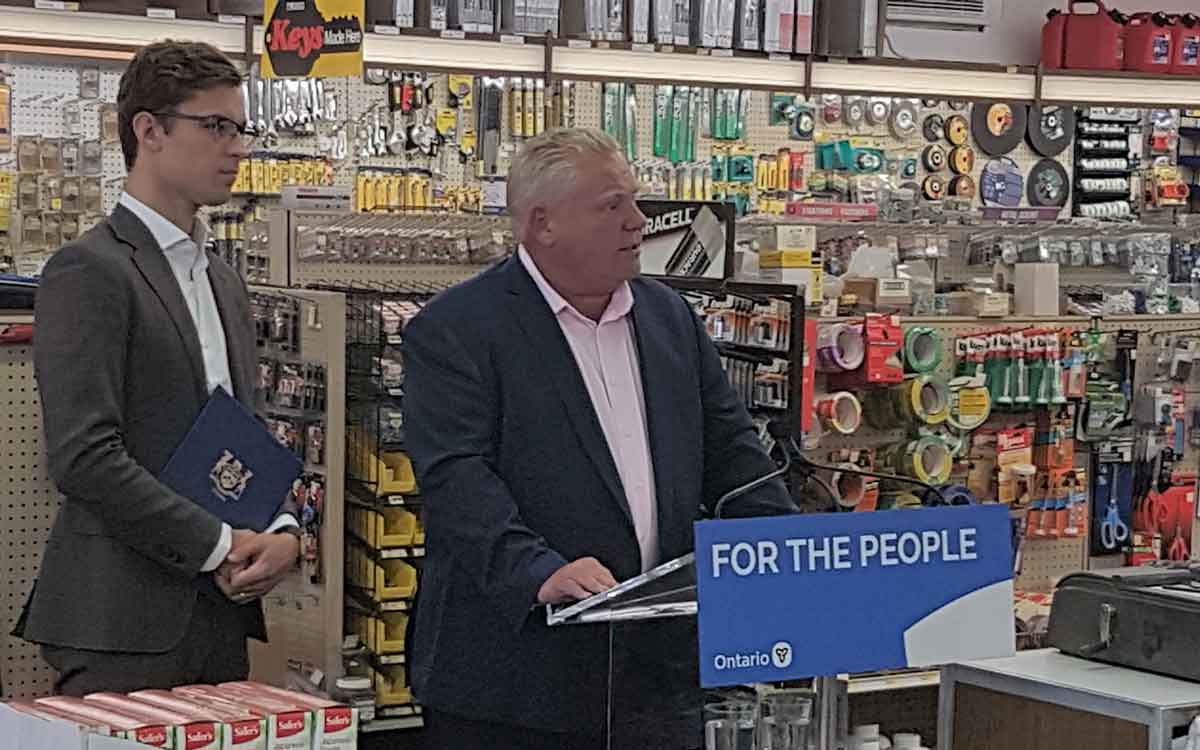 MPP Sam Oosterhoff with Ontario Premier Doug Ford in Pelham.
UPDATED: August 8, 2019, 5:02pm
Premier Doug Ford was in Niagara this afternoon making an announcement at a Home Hardware store in Pelham. While the announcement, a road improvement project, is no doubt important to local residents, it was Ford's comments in response to a question by The Niagara Independent regarding Canada Summer Games funding that perked up many ears.
The Premier said that while he didn't want to steal anyone's thunder there will be an announcement in "the next little while" and that it will be "exciting news" and "very positive". "We are very supportive of the 2021 Niagara Summer Games," said Ford.
The comments are a positive signal to Games' organizers who have been waiting patiently for the joint funding from the provincial and federal governments. Local municipalities and the Region have committed funding for the Games.
Ford was in Pelham to announce road reconstruction of 2.5km of Pelham Street, new pedestrian sidewalks, on-road cycling lanes and new street lighting worth about $1.67 million in provincial funding.
The project in Pelham is in addition to 24 transit projects in Niagara being nominated under the Public Transit stream of the Investing in Canada Infrastructure Program. The majority of projects are in Niagara Falls. The total package of projects for the region is worth nearly $24 million. The federal government will now review all of the proposals for eligibility and make the final decisions.
The other hot button topic in Niagara is governance restructuring. Pelham Voice publisher David Burket asked the Premier during the question and answer session following his announcement about the status of Niagara's governance review. While Ford didn't provide a concrete answer in terms of timelines or hint as to what model they may be leaning towards, he reiterated his belief that Niagara has too many politicians for the size of the region and that change is coming. He said the number of politicians in Niagara is, "almost comical" and that his government will, "straighten out those issues."