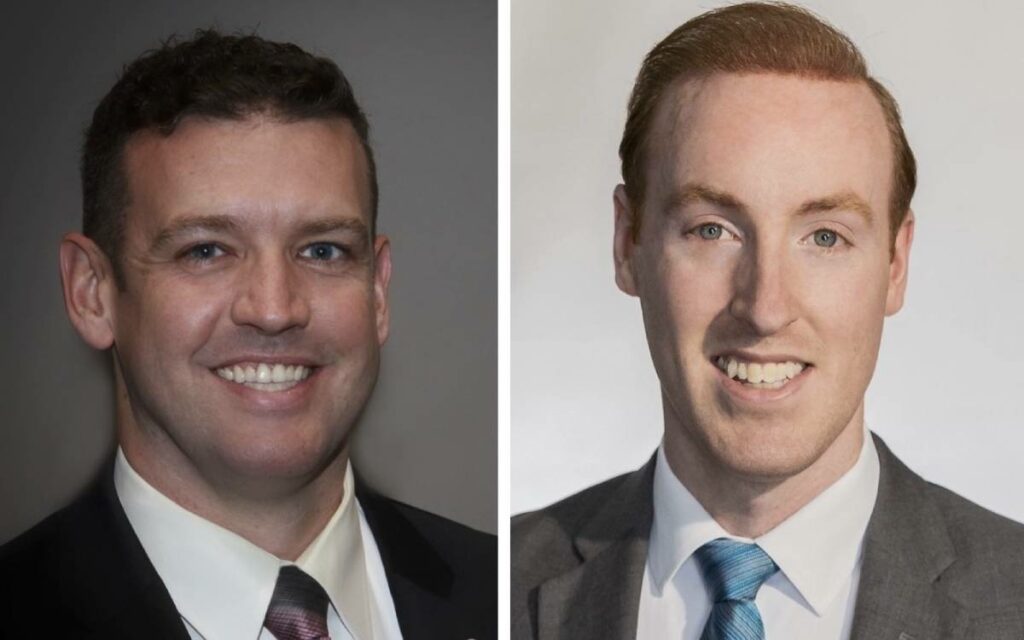 The pair of regional councillors were entangled in a political controversy at the end of last year when Siscoe (left) was elevated to Niagara Regional Council over rightful appointee Britton (right) in direct contravention of St. Catharines municipal policy. Years prior to the controversy, the two were council colleagues from 2014 to 2018. As city councillors, Britton and Siscoe typically found themselves at opposite sides of the debate. Britton tended to refrain from increasing taxes by trimming government waste, whereas Siscoe has a history of voting to raise property taxes for growing municipal services.
With two-term incumbent Walter Sendzik not seeking re-election this fall, the battle for Mayor of St. Catharines will be between two current regional councillors: Mike Britton and Mat Siscoe. And it won't be the first time these two gentlemen square off in the political arena.
The two experienced politicians were at the centre of a controversy at the end of last year when a Niagara Regional Council seat became vacant with the passing of Sandie Bellows.
Long story short, Britton, who was the 'next place finisher' in the 2018 regional council race, was the rightful appointee to fill the vacancy based on existing, well-employed policy. However, St. Catharines City Council decided to contravene its own rules and instead recommended then-city councillor Mat Siscoe to the regional level. In two highly controversial moves to name Siscoe over Britton, Siscoe voted for himself, and Mayor Sendzik broke an initial tie in favour of his fellow councillor, both of which brought about conflict-of-interest concerns for different reasons.  
In the end, despite considerable community pushback, opposition from select regional councillors, and a legal challenge from Britton himself, Siscoe was appointed to fill the vacancy at the Region. 
Yet, in an unexpected twist of fate, a few months later Britton's name and the policy in question were once again before St. Catharines City Council following the abrupt resignation of Regional Councillor George Darte in April, which left another vacancy at regional council. This time, St. Catharines deemed its previously insufficient policy to now be adequate enough to fill the vacancy and recommended Britton to replace Darte. 
So, through an odd set of circumstances, both men ended up on Regional Council earlier this year, and now the two will face off for mayor of Niagara's largest municipality. 
Below is a quick synopsis of their platforms and backgrounds.
Britton's Platform
As part of his mayoralty launch, Britton highlighted that when the community acts together, everyone wins. Britton is running on the campaign pillars of: Safer and Healthier City, Attainable Rents and Housing Prices, Property Tax Relief for Everyone, Invest in the Next Generation, and A Mayor and City Hall that's on your side. Check out www.mikebritton.ca for more information. 
What is sure to grab voter's attention is Britton's out-of-the-gate commitment to restore free parking for locals at St. Catharines' beaches, saying that the introduction of fees at local beaches during an affordability crisis and crushing inflation is unconscionable. Britton points out that the fees aren't even used to maintain the beaches, rather the revenue is used to facilitate the paid parking program itself.
Britton brings a diverse range of experience and community service to the race. He served as St. George's Ward City Councillor and vice-chair of Budget Committee during the 2014-2018 term and is currently serving as a St. Catharines Niagara Regional Councillor. Britton serves on many local boards and organizations such as Crime Stoppers of Niagara, Links for Greener Learning, Royal Canadian Legion Branch 24, and Royal Canadian Naval Association of Niagara. He also regularly volunteers with the St. Catharines Rotary Club, JCI St. Catharines, and Habitat for Humanity.
Siscoe's Platform
Siscoe, who first registered in June, is running on what's billed as the AAA Approach: Affordability, Accessibility, and Accountability.
Under these headings, commitments include adding 15,000 new housing units over 10 years to help housing affordability, introducing an option for deferred tax payments for property owning seniors, targeted business programs to spur investment, and a new public transit program that will offer free transit to high school students.
Siscoe also proposes to add GPS tracking technology to the city's fleet of snow removal vehicles to provide residents real time data during heavy snowfalls. For more information, check out www.matsiscoe.com.
Siscoe, who has served on St. Catharines City Council since 2010, and now on Regional Council since January 2022, is a high school teacher by profession. Proud of the many hours put into coaching youth sports, Siscoe says he has always enjoyed giving back to the community through sport. The candidate also has volunteered for the Out of the Cold program and is a chair of the board at the Niagara Children's Centre.