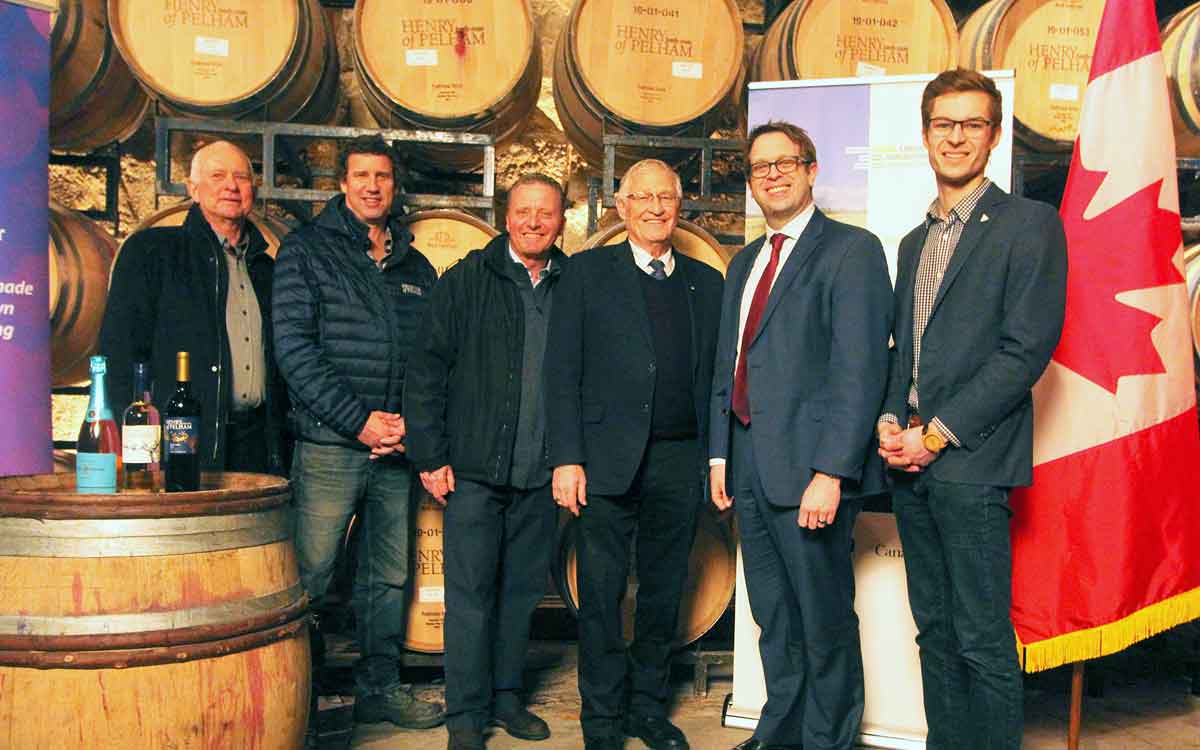 Wine industry leaders and politicians gathered at Henry of Pelham Estate Winery in St. Catharines for a funding announcement on Monday. Supplied photo.
On Monday, the provincial and federal governments announced $2.0 million for the new Marketing and Vineyard Improvement Program (MVIP) that will help vineyards across Ontario face new and emerging industry challenges.  The announcement was made by Ernie Hardeman, Minister of Agriculture, Food and Rural Affairs, Sam Oosterhoff, Member of Provincial Parliament for Niagara West and Chris Bittle, Member of Parliament for St. Catharines.
The program, which will begin accepting applications on March 5, 2020 and delivered through the Canadian Agricultural Partnership, will provide industry support to grape growers by helping vineyards in Ontario adapt to ongoing and emerging growing challenges.  Through a cost-sharing funding, the program will assist vineyards in implementing new technologies to supply high-quality grapes to Ontario's wine producers.
"As Ontario winemakers continue to see worldwide demand increase for their high-quality products, our government is investing in the grape grows that provide them the grapes they need to supply that demand," said Minister Hardeman.  "This investment will help expand opportunities for the sector and sustain its success while helping agri-food businesses grow and create jobs."
The new program will provide funding for various projects including equipment to help improve grape growing practices, infrastructure to enhance vineyards irrigation, the acquisition of environmental monitoring equipment, implementation of testing for pest management including viral diseases and the installation of non-acoustical pest management systems such as bird netting and electric fencing.
Ontario's grape and wine sector is a huge contributor to the provincial economy, providing more than half a billion dollars to our GDP and supporting 18,000 direct and indirect jobs," said MPP Oosterhoff who welcomed the announcement.  "The Marketing and Vineyard Improvement Program is another example of how our government is supporting local grape growers, providing funding for vineyard improvements to enable grows to produce quality grapes to meet the growing demands of Ontario wine manufacturers."
St. Catharines MP Chris Bittle, speaking on behalf of the Honourable Marie-Claude Bibeau, federal Minister of Agriculture and Agrifood, also touted the quality and significance of the grape growing industry in Canada.
"Canada's vineyards are a source of pride and have become an important part of our national economy and local grape grows are major contributors to the economy here in our region.  These investments will help ensure our local grows have access to resources and technology they need to continue to produce high quality grapes."
Matthias Oppenlaender, Chair of the Grape Growers of Ontario, welcomed the creation of the new program.
"The Grape Growers of Ontario thank both the Federal and Provincial Governments for their continued support of the 500 farm families producing 100 per cent grown-in-Ontario grapes.  Today's announcement of $2 million, fifth year of the Marketing and Vineyard Improvement Program (MVIP) highlights the importance of research and new technologies to enhance the sustainability of Ontario's 18,000 acres of vineyards and recognizes that local grapes matter."