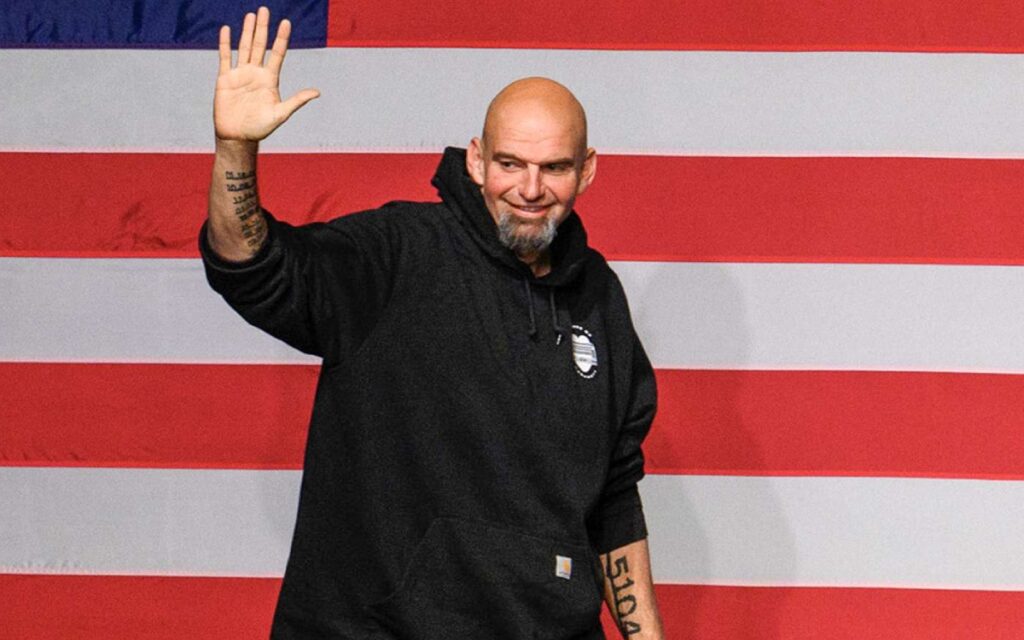 A review of last week's midterm picks. Pictured is Democratic senator-elect John Fetterman of Pennsylvania. Photo credit: Getty/Justin Merriman
In a recent column for The Niagara Independent, I made some final projections about what I thought would happen in the hottest battleground contests of the U.S. midterm elections, which took place Tuesday night. How did I do? 
In the House of Representatives, I overestimated Republican pick-ups by about 10 seats, but it looks reasonably safe to say the GOP will take over as majority party in the House and a new Speaker will be selected. I did not fare so well in predicting the overall outcome, however, suggesting a Red Wave when in fact it turned out to be more like a Red Trickle. I will revisit each race and the reader can see how I fared in the individual state races that provided the greatest level of interest.  
GEORGIA
This race went back and forth all evening as votes came in from urban areas around Atlanta and then from more rural counties. As I predicted, the race will go to a run-off election on December 6th, but Senator Raphael Warnock (D) led Herschel Walker (R) by about half a point and will receive lots of support in the campaign to come. Expect a lot of visits from former President Obama to help Warnock get out the vote, while former President Trump likely holds rallies to gin up support for Walker. This will come down to turn out, and the winner will likely give his party control of the Senate. I said Walker would win this in the run-off and I will stick to that prediction, as wobbly as it looks. 
(TBD – Correct about the run-off)
ARIZONA
Kari Lake, the Trump-endorsed GOP nominee seemed to be gathering steam as the campaign closed, but while the results are not final, if she pulls out the victory it will be by the skin of her teeth. Her momentum, I predicted, would probably pull Trump's other endorsed Senate candidate, Blake Masters, over the finish line. That does not appear to be in the cards. Master trails Democratic Senator Mark Kelly significantly enough that Kelly should hold the seat for the Democrats.
(Minus 1)
PENNSYLVANIA
I nailed this one, though many thought Dr. Oz was going to pull it out. Unfortunately for Oz, the Governor's race in Pennsylvania favoured the Democrats far too greatly. Josh Shapiro always held about a 10-point lead over Trump-endorsed candidate Doug Mastriano and that is exactly how it turned out. Mastriano's statements about the 2020 election being stolen and his threats to overturn election results in 2024 led credence to Democratic claims of threats to democracy, hampering him from ever gaining traction, and leaving Oz in the position of hoping for split ticket voters in droves, an unlikely outcome. As expected, as poor a candidate as Fetterman turned out to be, he won on the coattails of Shapiro's strong showing. 
(Plus 1)
WISCONSIN
This one is a split decision. I picked Senator Johnson to hold this one for the GOP, and he did, but I also suggested Tim Michels would defeat Governor Tony Evers, but that proved incorrect. Wisconsin is a true purple state, with one Democratic senator and a Republican senator. Johnson's victory, though slim, means the GOP can still gain control of the Senate, but the result was surprisingly tight for the two term Badger. 
(Split Decision)          
NEVADA
Adam Laxalt (R) holds a slim lead in his Senate contest against the incumbent senator, Catherine Cortez Masto (D), while Sheriff Joe Lombardo (R) also leads his opponent, Governor Steve Sisolak (D). Republicans need these numbers to hold up if they are to have any chance of regaining the Senate. The final results won't be known for a bit, but I will give myself a point here for projecting Laxalt since he holds the lead as the race comes down to the wire. 
(Plus 2)
NEW HAMPSHIRE
Despite noise that challenger and Trump-endorsed candidate Don Bolduc (R) appeared to be closing the gap with Senator Maggie Hanson (D), I never doubted Hanson would hold on to win. Her leads were always large enough that it seemed unlikely Bolduc could overtake them, even though Governor Chris Sununu (R) romped to victory. At one point Sununu thought about running for the Senate and would have easily won, but the thought of dealing with Trump's unpredictable behaviour wisely turned him back to the Governor's mansion. Now he looks like a formidable 2024 presidential candidate, or potential vice-presidential running mate. 
(Plus 3)
NORTH CAROLINA
I picked this one correct as well, giving Ted Budd (R) the edge and he did indeed prevail, though he trailed early. 
(Plus 4)
OHIO
As I suggested in my preview, Ohio should be considered solid red. Governor Mike DeWine easily defeated his opponent and J.D. Vance is now the new senator from Ohio. Vance's once tight race opened up at the end and he had no trouble putting away Tim Ryan (D) who ran a strong moderate campaign, but never stood a chance in this increasingly reliably red state. 
(Plus 5)
My prognostications gave the Republicans control of the Senate with a pick-up of two seats. At this point, the best they can hope for rests on winning Nevada and then taking the run-off in Georgia. The rising concerns of inflation, crime, and cultural issues never materialized into issues that discouraged Democrats from voting for Independents to flood to the GOP. 
Overall, the Democrats played defense quite well and their losses stayed minimal. This will allow Joe Biden to claim a moral victory and justify a second term. Meanwhile, Donald Trump endured a tough night. His candidates fared poorly, but worse for him, many Republicans now view Ron DeSantis as the best route back to the White House. 
Dave is a retired elementary resource teacher who now works part-time at the St. Catharines Courthouse as a Registrar. He has worked on political campaigns since high school and attended university in South Carolina for five years, where he earned a Master's in American History with a specialization in Civil Rights. Dave loves reading biographies.