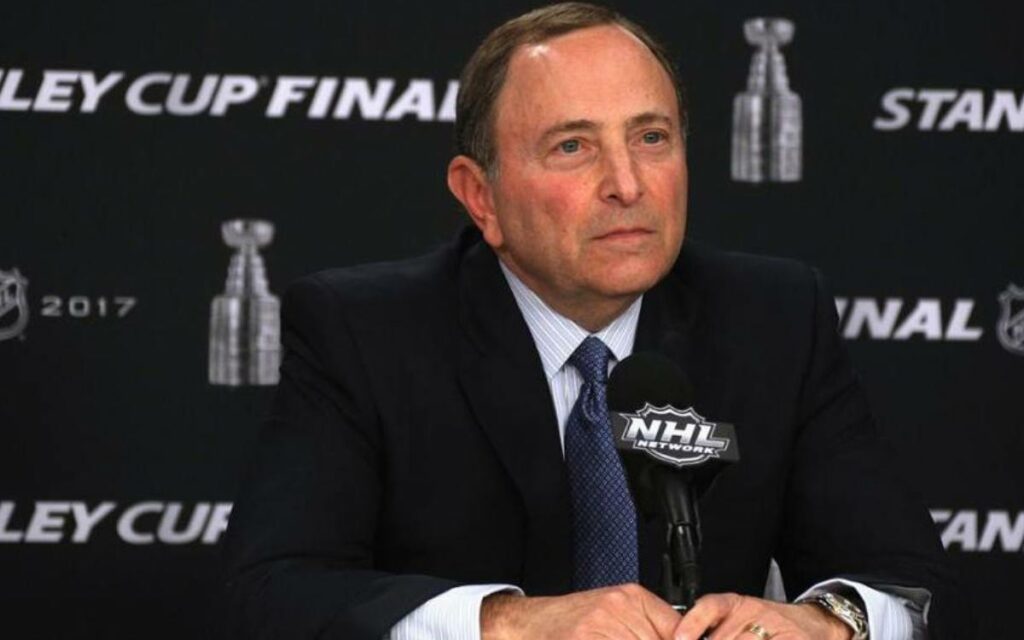 Bettman (pictured) took over as head of the NHL three decades ago. Photo credit: NHL
On June 13, Gary Bettman presented the Stanley Cup to Winnipeg native and Las Vegas Golden Knights Captain Mark Stone. With this milestone, Bettman's time as NHL commissioner may have reached its zenith. As much as the moment signified an incredible accomplishment for the young franchise – its owner, senior leadership, and coaches – no one on the ice that night deserves more credit for hockey's unparalleled success in an expansion city than Bettman himself. 
Bettman assumed his post as the first commissioner of the National Hockey League 30 years ago (prior chieftains received the title of president). To say the NHL lagged behind its three main competitors, the NFL, NBA, and MLB, would be a dramatic understatement. During the intervening three decades, however, Bettman has raised hockey's profile in the United States and worldwide. How much he has closed the gap between hockey and the other three major North American sports does not accurately measure the strides hockey has taken to become a worthy target of sporting fans' money and interest.
Establishing franchise stability, expanding to America's Sun Belt, and raising hockey's stature became the new commissioner's initial objectives. Several teams struggled with attendance, paying the bills, and maintaining a loyal fan base. Bettman recognized some concerns in Canada with US money exchange and stadium issues, but getting the game popularized in America's south and west, while building on Wayne Gretzky's legacy in Los Angeles, seemed like sensible early steps. 
While some remained skeptical of the Cornell-educated New York lawyer who previously served as vice-president and general counsel to the NBA, Bettman enjoyed a richer history with the game he now ruled than many people realized. As a young man, he attended the New York Rangers home schedule at Madison Square Garden and would complete his homework from his seat. He was also a season ticket holder for the Cornell team during all four years of his degree. 
While never a player of any distinction, Bettman became a student of hockey, watching hours with former players and coaches, probing to understand the strategy employed, and learning its history as he interacted with Hall of Famers, old-timers, and legendary broadcasters. Soon, he could sit for long interviews, discuss various aspects of the game, add his observations, and sound extremely authentic in his role as a fan and the sport's biggest booster. 
When Bettman began his tenure in 1993, the NHL had recently expanded to 24 teams and planned to begin play in Anaheim and Florida the following season. In the early years of his tenure, he oversaw further expansion into America's south (Nashville, Atlanta) and the midwest (Columbus, Ohio, and Minnesota – returning to the hockey hotbed just four years after the North Stars moved to Dallas in '93). Once these locations were largely stable, Bettman contended with the inevitable labour negotiations over a salary cap. 
Anyone familiar with the 2004-05 lockout knows that hockey fans bitterly swallowed the loss of a season under the guise that a cap would save small-market teams, improve the game, and bring competitive balance to the industry. Bettman collided with Bob Goodenow, President of the NHL Players Association during this long and costly exercise. In the end, after a full season off the ice, the NHL returned with a product ready to reconcile with fans and expand its imprint in North America and globally.
Unfortunately, the 2005 deal did not settle everything, and hockey had one more long absence from September 2012 to January 2013, when a partial season was salvaged. Amid all this wrangling, Gary Bettman imposed his will, speaking on behalf of ownership, but also projecting a long-term vision for the game. To his credit, Bettman, known to be stubborn, remained well briefed, took time to listen, reviewed the issues, and maintained his core objective of growing hockey and making it as fan-friendly as possible.
For Canadian fans, however, Bettman remains an easy target for derision. His overseeing of the relocation of the Quebec Nordiques to Colorado and the original Winnipeg Jets to Arizona after the 1994-95 shortened season hardened attitudes north of the forty-ninth parallel. As a result, Bettman now endures jeers whenever he appears before Canadian fans, on ice, at drafts, or in public. 
Most in Canada see him as a corporate guy installed to steal the game for American business. He has worked hard to overcome that image, and his enthusiasm in returning hockey to Winnipeg in 2011 did take off some of the edge. Nonetheless, he remains an intruder to most hockey fans in the world's foremost hockey fiefdom. The Canadian press, rabid in its coverage of Bettman, has only recently begun to acknowledge his stewardship of the league as the magical stories of recent seasons are proving too arduous to deny. 
Bettman's strategy to expand into Vegas and then Seattle has cemented his legacy. No commissioner in any North American league has deployed a better plan for devising the success of expansion teams than Bettman piloted in 2017 with Las Vegas or 2021 in Seattle. Ensuring the initial success of the club meant that the fans in those cities would not only enjoy the game, but they would also have a chance to cheer for a winner. 
In previous expansions, the new teams picked from a scrap heap of players who usually were either not quite good enough for the league or had aged out. Each team could protect 11 players, a goalie, and various others using rules designed to preserve the developmental prospects of the established franchise. In 1967, the attempt at parity meant the winner of the six-team expansion division would go to the Stanley Cup Final. That never really interested fans who watched the St. Louis Blues advance to the Stanley Cup Final in three successive seasons, only to lose 12 straight games. Expansion rules in later drafts produced better stock for the new teams, but were still flawed, with many franchises struggling to become contenders well past their inaugural seasons. 
By 2017, however, Bettman had successfully persuaded the owners to approve a draft where current teams are only allowed to protect 11 players in total: seven forwards, three defencemen, and a goalie or any eight players and a goalie. Vegas' crack management team picked the lock and set in motion a love affair between the city and the Golden Knights since day one. Amazingly, the fledgling Seattle Kraken have replicated this success, defeating the defending Stanley Cup Champion Colorado Avalanche in a seven-game playoff series in their second year of play. It is not beyond note, of course, that the next expansion club awarded to a Canadian city is set to enjoy the fruitful benefits of this innovative model. 
Although criticized for lagging behind the other pro sports, Bettman hired Kim Davis in 2017 (my article about Ms. Davis here). Her mandate is to oversee work in social impact, growth initiatives, and legislative affairs. Addressing diversity, equity and inclusion issues, ensuring that scandals like those which came to light in Chicago received full airing, and resolving labour strife have all been recent priorities for the commissioner, for which he is taking action. 
When Covid lockdowns, border closures and widespread restrictions on congregate gatherings came into effect in March 2020, the NHL was gearing up for the Stanley Cup Playoffs. Rather than canceling the tournament, as had taken place 101 years earlier during the last great pandemic, Bettman rallied all stakeholders, implemented the necessary protocols, and developed a comprehensive return-to-play plan for summer 2020. In July, two sets of 12 teams entered respective bubbles, not in New York, Chicago, or Los Angeles, but in Canadian cities Edmonton and Toronto. The playoffs were successfully completed over the coming two months with virtually no interruption.
The league subsequently ate the losses of the following season, meeting the challenges of cross-border travel, stringent health protocols and delayed vaccine rollouts. Despite governmental reluctance to allow fans to return until much later than their American counterparts, all seven Canadian teams were permitted to play in their own arenas – a benefit not afforded to the Blue Jays or Raptors. 
Perhaps the greatest compliment to Bettman, however, comes from his former employer, the NBA, who are poised to copy success and expand to the NHL's newest markets, Las Vegas and Seattle. When your competitors believe you are worth imitating, you have probably succeeded at the highest level. 
As the Bettman era enters its final period, the long-term point man can wind down knowing that his triumphs have exceeded his failings, his legacy will outlast his critics, and that as commissioner, he has ensured the success and growth of hockey far beyond its natural borders. 
The Canadian fan, in particular, can be confident that this nation will always be the heartbeat of the game. Once the final remaining gaps on the American map have been plugged-in, the focus of expansion will once again turn northward, where Quebec City, Hamilton, Saskatoon and maybe even Halifax will serve as potential landing-spots.
Bettman's job description did not include protecting players or paying customers, but his role as both voice and shepherd of the owners, as well as his wise and prudent leadership, has made life for hockey players better and the fan experience extraordinary.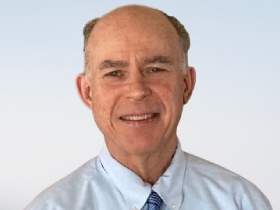 Dave Redekop is a retired elementary resource teacher who now works part-time at the St. Catharines Courthouse as a Registrar. He has worked on political campaigns since high school and attended university in South Carolina for five years, where he earned a Master's in American History with a specialization in Civil Rights. Dave loves reading biographies.