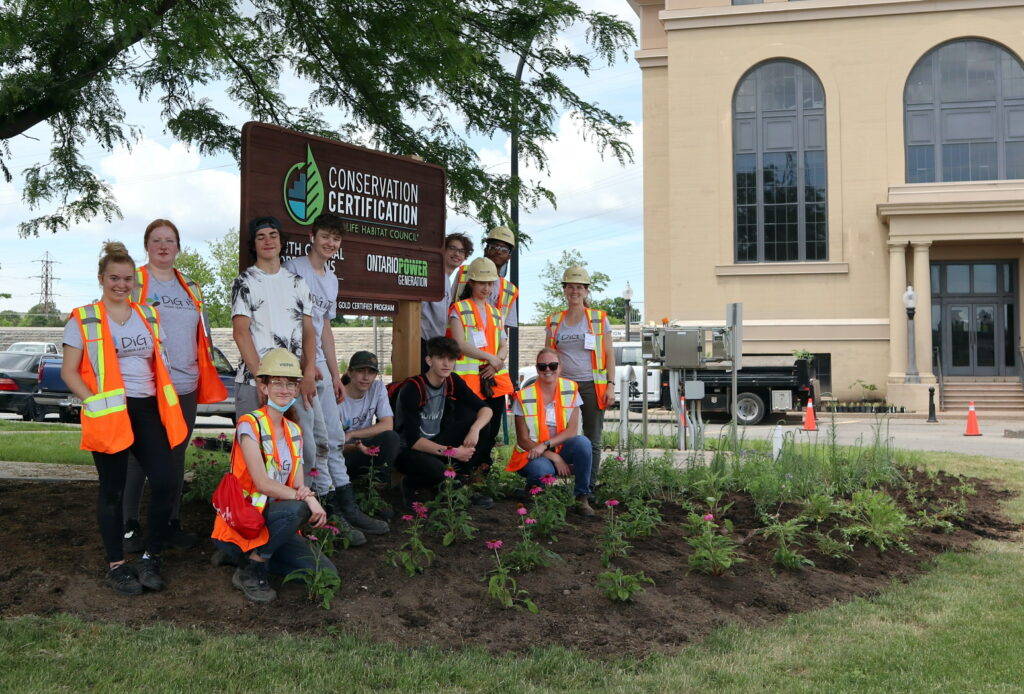 Students and faculty from Westlane Secondary School at the Sir Adam Beck I Generating Station in Niagara Falls, June 7, 2022. Photo credit: OPG
The greenspace around the Sir Adam Beck I Generating Station in Niagara Falls recently received a floral facelift thanks to a group of local high school students. 
Last Tuesday, a dozen students and faculty from Westlane Secondary School joined Ontario Power Generation (OPG) staff at station headquarters along the Niagara Parkway to help prepare and plot about 500 new plants in the exterior garden of the facility.
Students from the school's horticultural program helped design the new garden plan for OPG and even helped grow and care for the selected plants in Westlane's 2,000 square foot state-of-the-art greenhouse, opened in 2017. 
"The students did a fantastic job of not only designing the perennial pollinator gardens, but also going above and beyond to grow and care for many of the plants themselves," said Jacob Barbara, site environmental advisor with OPG, "collaboration on this project benefits not only OPG, but also supports Westlane's Specialist High Skills Major Program in Horticulture."
Home to the largest green industries program in the province, Westlane hosts both a school-specific agriculture Specialist High Skills Major (SHSM) program and the District School Board of Niagara's region-wide Discovering Innovative Green Industry Techniques (DIG IT) SHSM program. 
SHSM programs, like the ones hosted by Westlane, provide high school students the opportunity to gain hands-on, practical experience in a specific skilled sector while completing their Ontario Secondary School Diploma. 
In all, 13 diverse, pollinator-friendly species were used at the OPG facility in an effort to improve on-site plant biodiversity, as well as aesthetic appeal.
"These new plants not only look great, they will also support pollinators, like bees, to further improve biodiversity among plant species in the area," said Barbara.
With the planting a success, the project will be included in the current suite of ongoing environmental initiatives at OPG's Niagara operations, which will contribute to the group's Wildlife Habitat Council (WHC) recertification in 2024.
In April, the OPG's Niagara hydroelectric station group – which includes the Sir Adam Beck and DeCew hydroelectric generating stations, as well as the Sir Adam Beck Pump – was awarded gold certification by the WHC. 
The WHC certifies conservation programs on corporate lands in 28 countries around the world and promotes environmental management through partnerships and education. 
All applications for certification are reviewed and scored on an individual basis by a third party against project-specific criteria, with a score falling into three categories: certified, certified silver, and certified gold.
OPG's Niagara operations previously won gold in 2019.