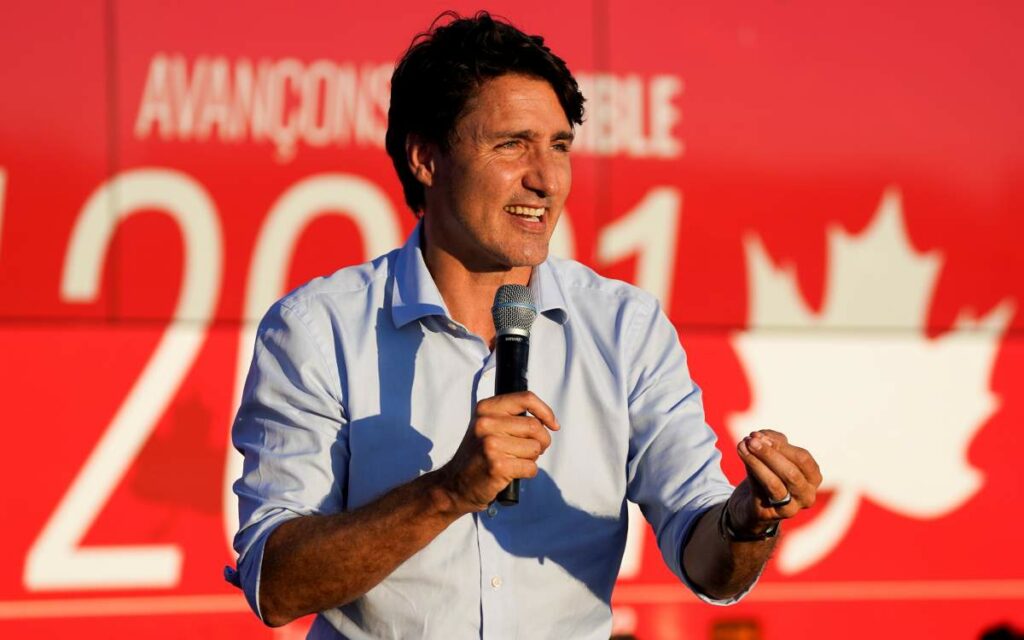 Historical precedent and internal maneuvers by the central Liberal camp may suggest there is some truth to the rumours circulating around Ottawa of late. Pictured is Justin Trudeau on the campaign trail last fall. Photo credit: Reuters/Carlos Osorio
The holiday season is back in full force with office parties, get-togethers, and trips to see family. COVID lockdowns can no longer be used as an excuse to get out of seeing your in-laws or skipping that awkward dinner on Boxing Day. 
And with the holiday season upon us, there is increased pressure to buy the right gift for everyone on your list. The government is no stranger to the importance of holiday gift-giving and provided a number of new toys, and money, in the recent Fall Economic Statement. Though their biggest gift of all are new rumours of a spring election that is spreading across Ottawa. 
Rumours started last week that the government might look to pull the plug this upcoming spring, hoping to secure a majority government ahead of economic hard times. This is not an uncommon strategy. The Harper government was able to secure a larger mandate following the 2008 election and guide Canadians through the 2008 recession. 
Given the similarities between the 2008 economy to now – high gas prices, the rising price of goods and services, and the state of the world economy more generally – it is reasonable to assume that the government would like more control of the House of Commons before things go sideways. Not to mention, running an election amid economic hardship is not a winning proposition for any incumbent government.
Beyond wanting to secure more seats, the government understands that even with the NDP agreement and support, governing in a minority parliament is not easy. At any moment, support from the other parties can be withdrawn and an election can be triggered. This was also an issue ahead of the 2008 election, as the Harper government was unable to find a dancing partner to keep them afloat. 
Though the government could find itself in a good place with the NDP and in theory will govern until 2025, politics is messy, and that deal could fall apart at a moment's notice. With that in mind, Liberals released outreach and financial requirements for current MPs to be allowed to retain their Liberal nomination unchallenged.
Published publicly on their website, the Liberal Party is requiring sitting MPs to hold a minimum of three Voter Contact Days of Action and to have attempted at least 3,500 door knocks or 7,500 phone calls with the support of volunteers. Financially, sitting Liberal MPs are required to have at least 65 per cent of the anticipated election expense limit and sign up at least 40 additional monthly donors to the party's Victory Fund.
The financial requirement is no chump change, either. Depending on riding size and population, the calculation to determine each candidate's spending limit varies. The average limit for a candidate is over $121,000. Meaning that each sitting MP is going to be banking on some good holiday cheer if they want to reach their goal and stay in good graces with the party brass. 
But before the government pulls the plug and kick off the 45th General Election, they may want to look inwards for a second and try to evaluate Canadians' mood for yet another election. The last time they misread the room, it cost taxpayers $600 million dollars and resulted in the exact same results as just two years prior. 
According to the latest poll from Abacus Data, Conservatives hold a slight national lead over the Liberals. Canadians' desire for change is hazardous for the Liberals and Trudeau's personal numbers are among the lowest he has seen. Canadians' number one issue is the cost of living and there is great concern about the economy. When polled, Canadians view the Conservatives as the best party to handle both issues. If you are Justin Trudeau, another snap election could be the last one he fights as party leader, should the polls be believed. 
The idea of a spring election will not be the worst idea you hear this holiday season, but it will be up there. 
Daniel Perry is a consultant with Summa Strategies Canada, one of the country's leading public affairs firms. During the most recent federal election, he was a regular panelist on CBC's Power and Politics and CTV Morning Ottawa.