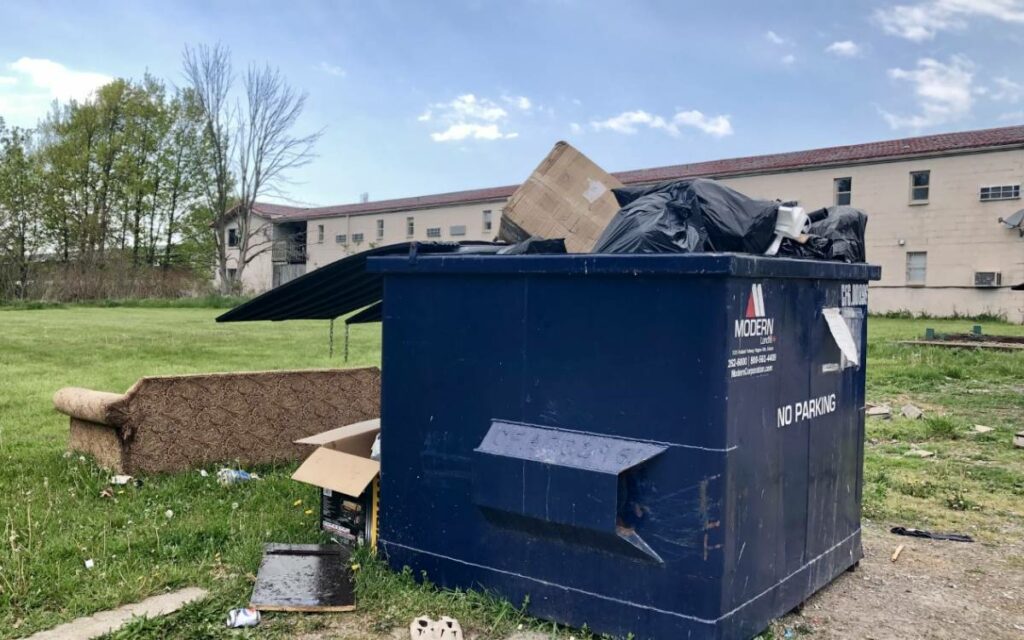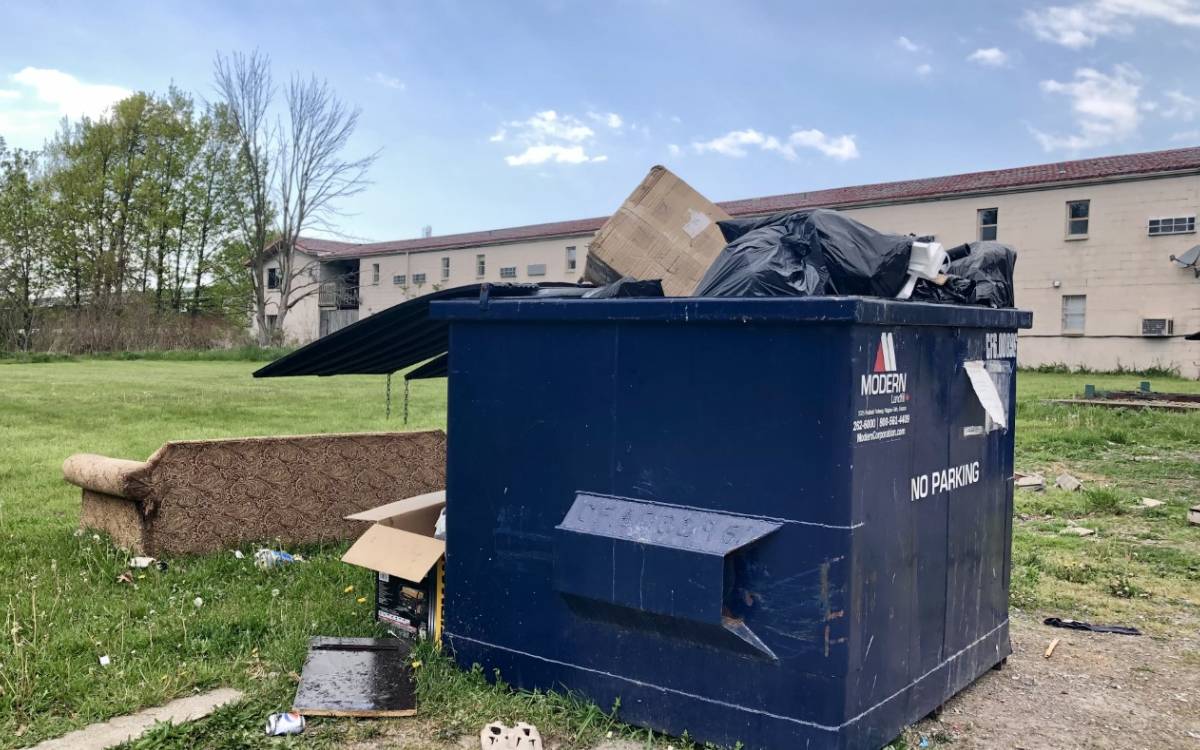 Dumpster near the corner of Montrose Road and Lundy's Lane in Niagara Falls, May 16, 2021. Privately and publicly managed dumpsters and litter respectables are often the site of illegal dumping. Photo credit: The Niagara Independent/Nicholas Tibollo
Last week, The Niagara Independent published a piece arguing that the COVID-19 pandemic is, in all likelihood, more responsible for the perceived change in local waste disposal habits than the Region's relatively recent shift to every-other-week garbage collection.
While the article focused on the shift's probable effect on the observed trend toward increased participation in the Blue and Green Bin programs (or lack there of), it did not delve into a rather obvious possible consequence of the change to bi-weekly trash collection: an increase in illegal dumping.
Fort Erie Regional Councillor Tom Insinna brought up the issue at the most recent Public Works Committee on May 11.
"We need to be cognizant of the fact that [illegal dumping] is happening," said Insinna.
Insinna, a former RCMP officer and private investigator, questioned Regional data regarding the number of reported incidents.
"When you look at the numbers for illegal dumping it's great to see that they're still low, but I think it's misconstrued. A lot of people are going now to all the receptacles on the Niagara Parkway…and putting bags of garbage in there," said the Fort Erie councillor.
"I'm not sure if anyone from the Niagara Parks Commission or the Town of Fort Erie, when they're collecting the garbage from these side bins…are actually going to sit and call and make a report."
According to Regional data, in 2020 there were a total of 678 reported incidents of illegal dumping in Niagara, up only a single digit from 2019.
But as Councillor Insinna alluded to at committee, these figures could well represent an under-estimation of the problem.
Should a municipal employee happen upon an overloaded street litter receptacle and, in fact, report the incident, more likely than not the infraction would be counted as one case of illegal dumping — despite the fact that there could well be multiple bags of garbage from a dozen separate households in that single bin alone.
In other words, the reporting system largely neglects volume.
Even if one looks at the number of reported incidents, there was a clear increase following the institution of every-other-week garbage collection in mid-October 2020.
Per Regional statistics, across the two and a half months from mid-October to December 2020, there were, on average, 95 cases of illegal dumping reported per month to the Region. In comparison, there were only, on average, 46 cases of illegal dumping reported per month in the nine and a half months leading up to the service change.
Therefore, the cases of reported illegal dumping nearly doubled following the switch to every-other-week collection.
That said, the statistical sample is likely too small to draw any definitive conclusions. What's more, according to Regional staff, "the frequency of monitoring of public space litter bins was increased in November and December [2020], with the assistance of a student." Thus, it could be the case that more pro-active investigation simply led to more findings.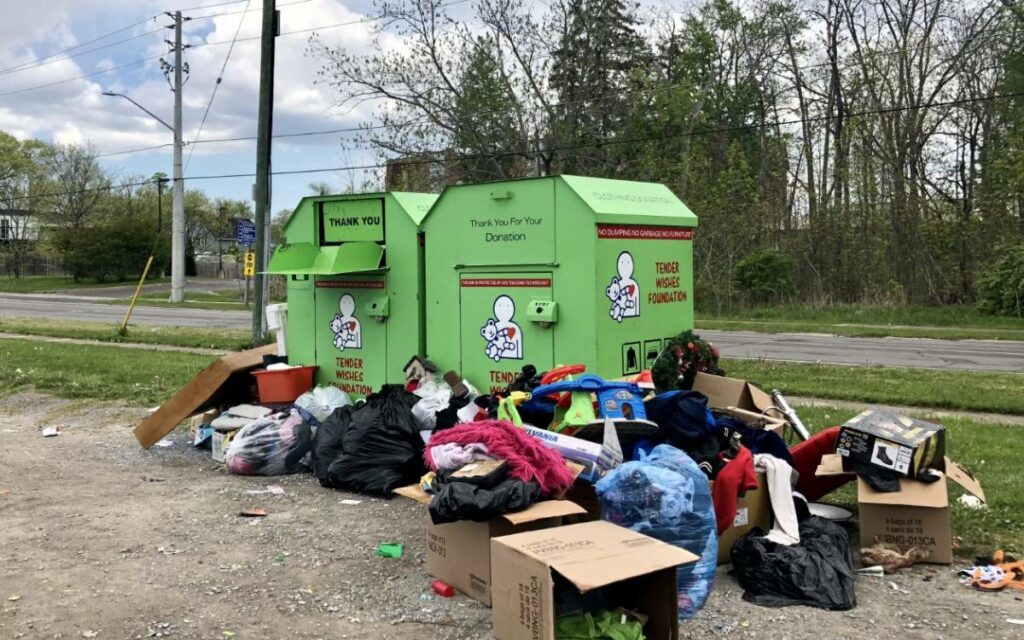 Tender Wishes Foundation donation bin near the corner of Montrose Road and Lundy's Lane, Niagara Falls, May 16, 2021. Photo credit: The Niagara Independent/Nicholas Tibollo
But what about donation bins?
There are mountains of anecdotal evidence (literally) that donation bins, such as the green-coloured Tender Wishes Foundation bins posted around Niagara (pictured above), have become de facto dumps for unwanted household items.
The Tender Wishes bins are specifically meant for clothing only. However, people drop-off furniture, old toys, cookware, holiday decorations, and more. Even for those that do stick to 'donating' clothing, often the items are left outside the bins themselves, rendering them unusable.
As a volunteer charity, Tender Wishes does not manage these bins itself.
According to a 2020 Facebook post by the organization's president, the foundation only receives a certain portion of the collected material. The remainder is apparently processed by a company called 'Niagara Textile Recycling'. As the name implies, the company seems to only recycle textiles.
So, when people leave lamps and old toys, where do these items go? Furthermore, when people leave these unaccepted items at donation bins, are the incidents recorded as illegal dumping?