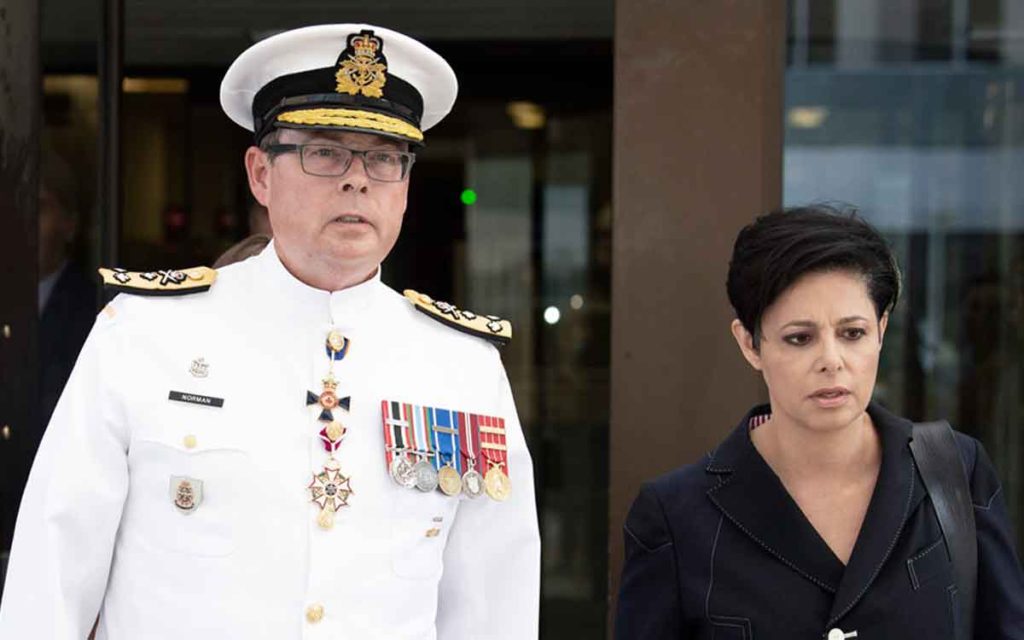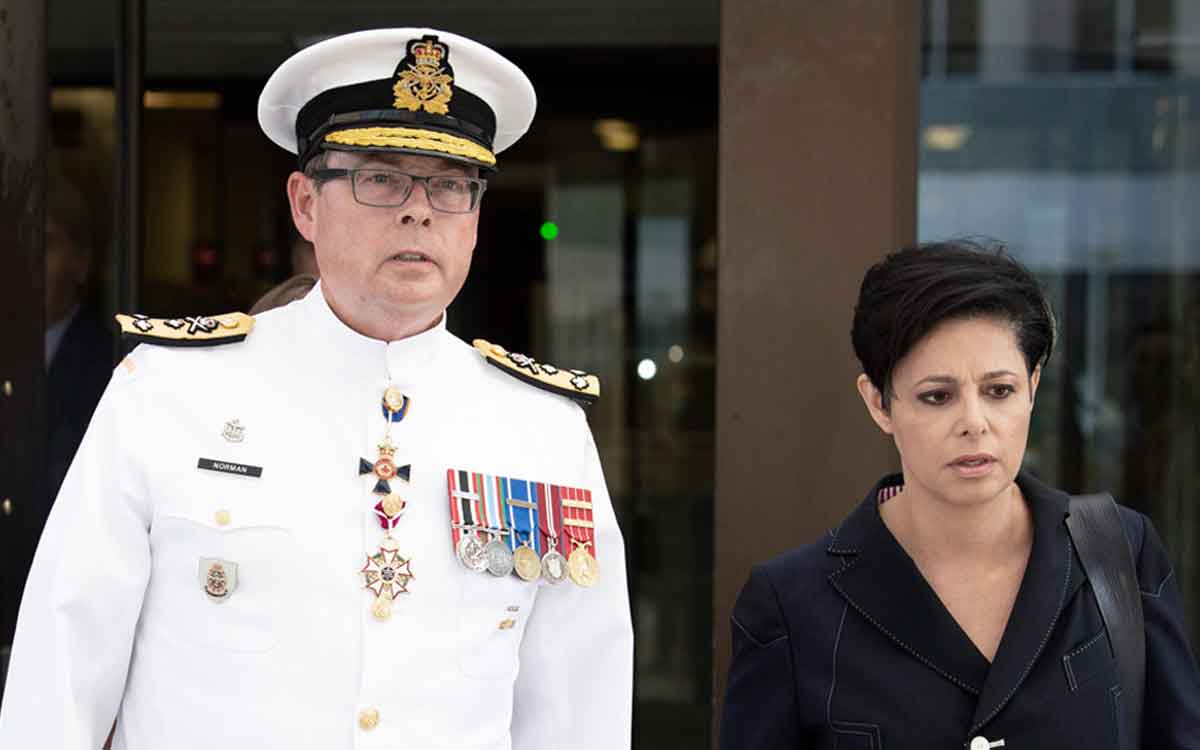 Vice Admiral Mark Norman arrives to an Ottawa court with his lawyer, Marie Henein. Photo: Darren Brown/National Post 
As anyone might have predicted, the Conservative and NDP caucuses are demanding that Parliament investigate how Vice-Admiral Mark Norman came to be suspended from his command in 2017 and charged with breach of trust in 2018. Those charges were stayed by the Crown last week, after Norman's lawyers presented the Crown with evidence that rendered its case unlikely to succeed.
On Sunday, Conservative and NDP members of the Commons' defence committee wrote to the committee clerk, calling for an emergency meeting within five days, and contemplating hearing testimony from at least 14 witnesses, including Norman, the prime minister, former privy council clerk Michael Wernick, and former principal secretary Gerald Butts.
Good luck with that.
After their bruising experience with the SNC-Lavalin controversy, and months away from an election, the Liberals are simply not going to allow such a dangerous and unpredictable scenario to unfold. There will be no testimony from current or former ministers or government staffers. There will be no cabinet order lifting government secrecy and solicitor-client privilege. There will be a brief emergency meeting, as is allowed under the rules, and the Liberal majority will shut it down, fast.
The Liberals tried to do it differently with SNC-Lavalin – up to a point. They were careful not to publicly criticize former attorney general Jody Wilson-Raybould (their anonymous attacks ended up just making Trudeau look bad). They allowed Wernick, Butts, and deputy justice minister Nathalie Drouin to testify at committee. They allowed Jody Wilson-Raybould to talk about what happened when she was attorney general.
Wernick's testimony ended up being embarrassing, while Wilson-Raybould's was explosive. Even more explosive was her release of a recorded phone call between her and Wernick, which was undeniable proof that she was telling the truth about how badly Justin Trudeau wanted to help SNC-Lavalin settle their corruption and bribery charges with a deferred prosecution agreement. Nevertheless, the recording supplied Trudeau with an excuse to eject Wilson-Raybould from caucus. He also ejected her supporter Jane Philpott, though he had less of an excuse to do so.
The SNC-Lavalin gong show demonstrated that the Trudeau regime is, like most governments, committed to transparency only up to a point. That point is their survival as a government and viable contender for re-election, the latter of which is now in jeopardy. To recover, they need to avoid any more big scandals between now and election day.
One of the reasons the SNC-Lavalin controversy lasted as long as it did is because Wilson-Raybould and Philpott had a lot of support with the public and in the Liberal caucus. Only when fellow Liberal MPs concluded that enough was enough already, did Trudeau feel confident in booting the two, which was the last significant development in the whole mess.
Now comes the Mark Norman case, reviving old accusations about the Trudeau government wanting to benefit a favoured company and region, interfering in the judicial system, and covering up their own malfeasance, particularly in Norman's requests for government documents to prepare his defence. Luckily for Team Trudeau, Norman's excellent lawyers have foreclosed the prospect of an August trial that would have exposed these themes and actors. And the Commons committee will go nowhere.
That's too bad. Despite the Liberals' repeated claims that they had no part in Norman's prosecution or the staying of the charges, the entire affair has its dirty roots in the early days of Justin Trudeau's new government. As Norman's lawyer reminded the press last week, it was a complaint initiated in the privy council office that got the ball rolling on the RCMP investigation.
Of course, there are circumstances under which a government should investigate a leak. For example, if the leak compromised national security, threatened life or limb, harmed a live investigation or court case, etc. But the reasons this leak – one of many that regularly emanate on defence procurement – was investigated are none of those. It was investigated because it embarrassed the new government, showing it to be willing to cancel a large military contract that had already been awarded (to be fair, without competition). Even worse, like cockroaches when the lights are turned on, the embarrassment made them shrink from going ahead with opening up the contract. The subsequent success of the contract – a rare defense procurement delivered on time and on-budget – makes their meddling look even worse in hindsight.
But the privy council is staffed – top to bottom – with scrupulously nonpartisan professionals, right? Unfortunately that assumption was shredded by the top privy council staffer himself, Michael Wernick. His two appearances before the justice committee on SNC-Lavalin, among other information that came out, showed him to be unduly invested in the political fortunes of Team Trudeau.
Now perhaps Wernick was a scrupulous non-partisan before the 2015 election, then something about the Trudeau government unhinged him. As many will remember, his first testimony to the justice committee was a barn burner, ignited with his assertion that  "I'm worried that somebody's going to be shot in this country this year during the political campaign." Canadians hadn't heard that kind of alarmism since Paul Martin's "soldiers in the streets" ads from the 2006 federal election. You often hear about politicians losing their perspective after too much time spent with the civil service, but you rarely hear of civil servants getting co-opted by the politicians they are serving.
If Trudeau and his cabinet really thought opening the contract was the right thing to do, then they should have had the spine to tough out the negative press coverage that stemmed from the leak, and announce the opening of the contract in due course (perhaps over the Christmas holidays). After all, if they were going to open the contract, it would have to be made public at some point.
Maybe they wanted to make clear that leaking would not be tolerated: full of piss and vinegar from their majority election win, they hoped to turn around the longstanding tradition of regular leaking out of the department of defense. Maybe Wernick encouraged them in this attempt.
If we are ever to turn these speculations into facts, however, it will not be thanks to a parliamentary committee. SNC-Lavalin has died down and this controversy will die down too. Norman seems determined to continue with the Canadian military in a senior position, which may limit his willingness or ability to speak out or pursue a lawsuit against the government.
Norman said at his news conference last week that: "I have an important story to tell that Canadians will want and need to hear." Whether by way of media interviews or a lawsuit, odds are that a good chunk of it will come out before the election. Unfortunately for Justin Trudeau, there will be no way for a handful of backbench Liberal MPs to shut the vice-admiral up.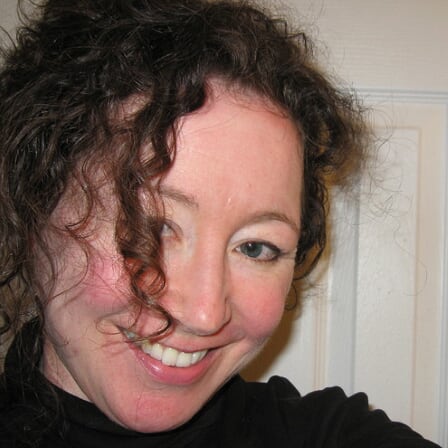 Joan Tintor is a writer and researcher. Her political experience includes having served as legislative assistant to Ontario transportation minister Al Palladini, and as a writer/researcher for the Ontario PC Caucus. She earned a degree in journalism from Ryerson Polytechnic University in 1994.