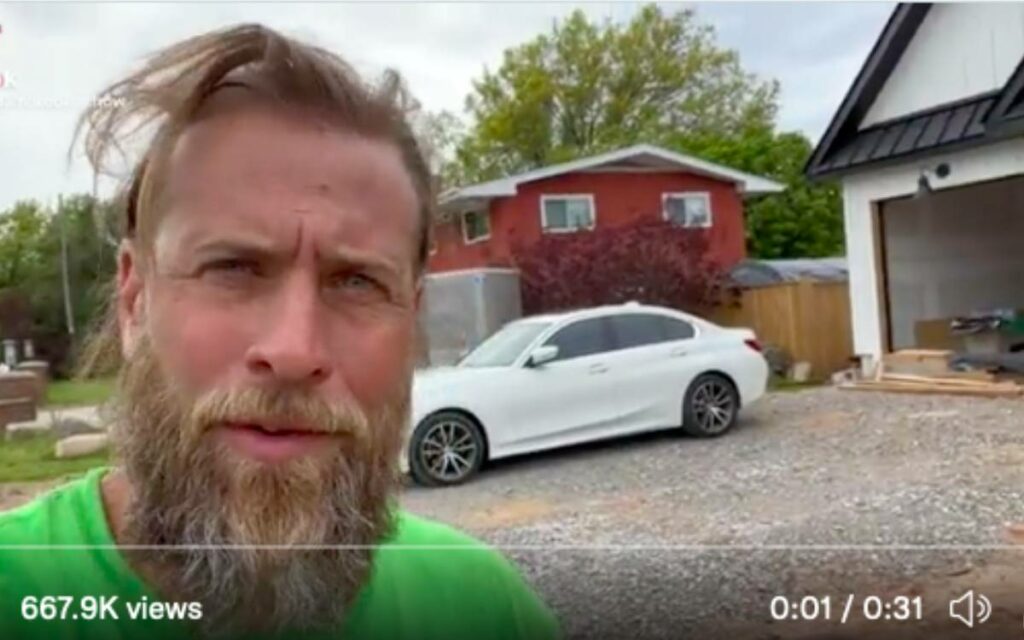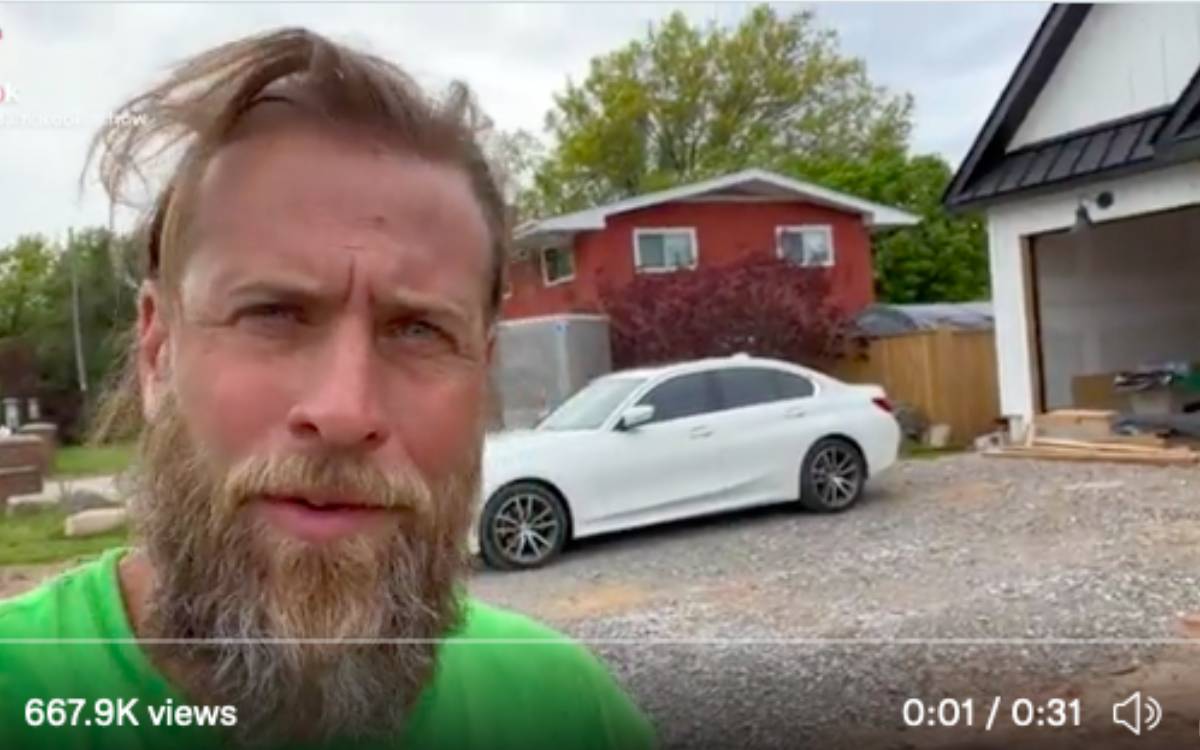 The clip's creator, Joshua Bigger (pictured), has been making amateur comedy videos online for several years. Last week, a company representative from Bigger's Lincoln-based roofing business told blogTO that the video "was just a joke" and they were "honestly surprised" so many people thought it was real. 
Over the weekend, a video of a Niagara roofing contractor allegedly admitting to price discrimination based on political affiliation went viral on social media. 
The 30-second clip, reposted by a one "sheepkingjb" on Twitter, depicts Joshua Bigger – owner of Lincoln-based Bigger Roofing – filming himself on a job site, claiming to have over-charged a property owner because he or she is "liberal". 
"Just another really expensive roof," Bigger says in the video, "liberal's driving a BMW, so I charge 'em around 15 grand. Yeah – that's what you get for being liberal." 
Bigger then goes on to say that he doesn't care if the owner sees the video as "there's no one else to roof because your Liberal government made everyone lazy by giving them f**king CERB…so I can treat people like s**t, act like a f**king a**hole and they've still gotta pay me for their expensive s**t whether they like it or not. And they gotta pay me 25 per cent more because they're liberal."
The reposted video, which was originally published by Bigger himself at the end of May, was watched by some 700,000 viewers and quote and/or retweeted a collective 10,000 times on Twitter alone. It was also spread across a number of other social media platforms, including TikTok and Instagram. 
Calls to "cancel" Bigger and see his family-owned business closed came in swiftly and in abundance. 
"Someone needs to find out his insurance company & contact them," implored Twitter user Sharon Wood. "They will drop him in a hot minute & then he will lose his bond. No one will hire him after that."
"Looks like he just invited young roofing contractors to open a business in Niagara, there'll be plenty of business and no real competition," said Steve M.
"Is there anyway possible that we can watch in real time the decline of his business due to his stance? If there is any person out there who is going to document that. Please tag me, so that I may enjoy the show," added another commenter.
While The Niagara Independent was unable to get ahold of Bigger before publication, a representative from Bigger Roofing told blogTO last week that the offending clip is a "satirical video" and the company is aware it would be illegal to discriminate based on political affiliation and has "never charged more". 
According to the representative, Bigger has "been making these types of videos for almost a decade."
Indeed, the Niagara business owner – who has multiple online names and personas, including Best Damn Roofer, Mr. Freedom, and Lord BIGGTIME – is very active on social media and has built a significant online presence over the last several years. 
On Facebook, he has close to 29,000 followers. On Instagram, he has nearly 34,000. While on TikTok, he has 82,000. 
Bigger's YouTube channel, which he started in 2018, has close to 50,000 subscribers and nearly 10 million video views. His videos are an eclectic mix of comedy skits, homemade songs, and vlogs. He often pokes fun at "liberals" and "libtards". 
Much of his content over the winter and spring months centred around his support for and attendance at various anti-mandate events, including the Ottawa trucker convoy. 
In his guise as Mr. Freedom, Bigger has seemingly helped organize a number of 'Freedom Movement' rallies around the region since February, most recently participating in a two-day Freedom Tour event held on the Niagara Regional Exhibition grounds in Welland last month. 
Photos and videos posted by Bigger on social media indicate the self-employed contractor was still on the job as of Monday this week.