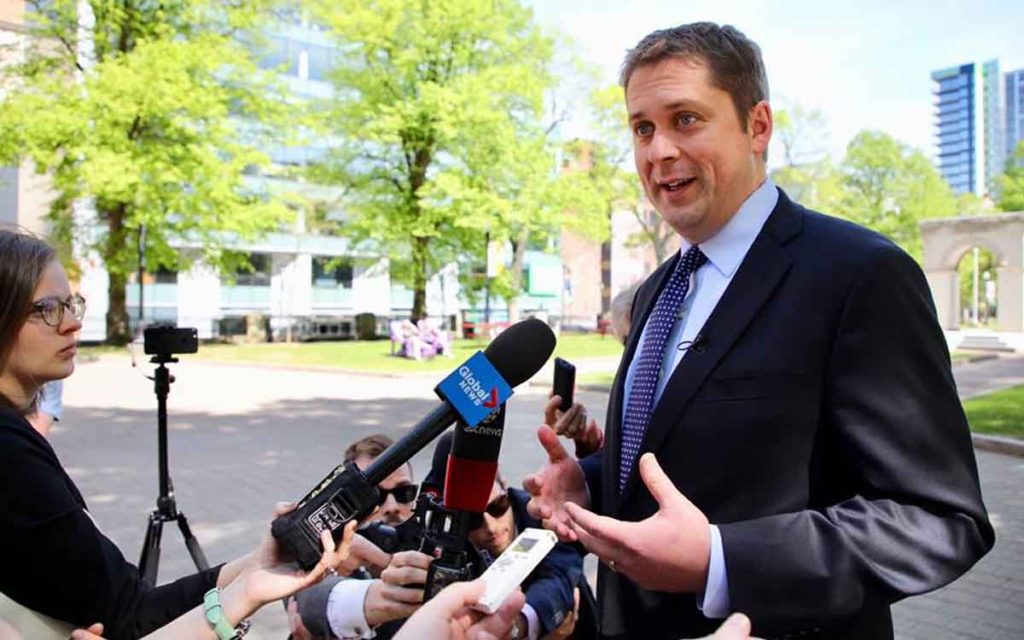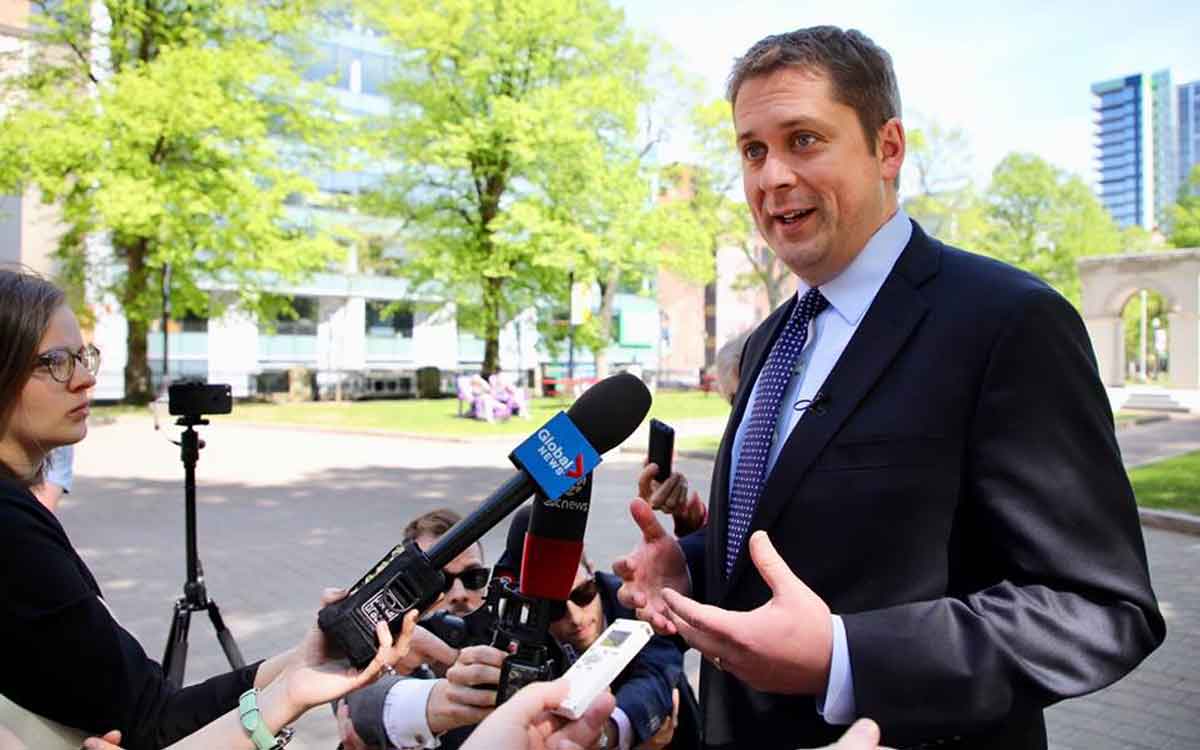 Conservative Leader Andrew Scheer answers reporter's questions during a scrum. Photo: Andrew Scheer/Facebook)
Just over two weeks ago, public safety minister Ralph Goodale tweeted a 2005 video of Andrew Scheer debating same sex marriage in the House of Commons. It was a coordinated Liberal campaign attack, as it appeared simultaneously in English and French on no-parlez-francais Goodale's Twitter feed.
Dropping the video was also an obvious attempt to change the channel from a fresh and devastating report from the ethics commissioner, who ruled that Justin Trudeau had violated ethics rules (for the second time) in attempting to secure a deferred prosecution for Quebec-based SNC-Lavalin.
Normally, the media would not allow a guilty government to distract from its own law-breaking with a 14-year-old video. But they did. Scheer's comparison of same sex marriage to a dog's tail, and observation that gay couples cannot have children naturally, were hot topics for days. A week later, Scheer appeared at a news conference to answer reporters' questions, affirm that he would uphold the same sex marriage law, and promise that a Conservative government would not reopen the abortion issue. This is the same position Scheer took when he launched his leadership campaign in 2016.
But this was not enough, nor was it enough for Conservatives to remind everyone that several members of the Liberal caucus – including Ralph Goodale himself – had voted against same sex marriage in Parliament. Questions persisted about whether Scheer's views on same sex marriage had 'evolved' as Goodale's had, and why Scheer won't march in gay pride parades.
It is not yet mandatory under the Charter of Rights and Freedoms for party leaders to march in gay pride parades, though I think I'm beginning to understand why what started out as pride day became pride week, pride month and now pride summer: to cow conservative politicians who dare cling to their private beliefs, even after they have accepted that the laws are what they are and will not change.
Asked about Scheer's news conference, Justin Trudeau was loaded and ready: "I think Canadians need to know where their leaders stand on this, and it's certainly not enough for the Conservative leader to try and reluctantly support laws, or be unclear on this issue," he charged. Of course, Scheer never used the word 'reluctantly' but an election is no time to be accurate when characterizing an opponent's statements.
And just as no reporter challenged Ralph Goodale or other Liberal MPs on their personal views, no one asked Justin Trudeau whether a devout Catholic (or Muslim or Orthodox Jew) is disqualified from being prime minister, or reminded him of these excerpts from his 2014 autobiography, Common Ground:
…this is what liberalism is all about. It is the idea that private belief, while it ought to be valued and respected, is fundamentally different from public duty. My idea of freedom is that we should protect the rights of people to believe what their conscience dictates, but fight equally hard to protect people from having the beliefs of others imposed upon them.
… despite having modernized Canada's divorce laws in the 1960s, his [Pierre Trudeau's] personal faith held that "what God has joined, let no man tear asunder." He even apologized to me once, years later, for not ever being able to provide his teenage sons with a maternal presence in our lives in Montreal: he simply felt that he could never remarry. I of course reassured him that it was of no matter to us, but the lesson he taught me about the distinction between private faith and public responsibility was one that would later guide my own thinking about leadership.
I happened to catch Scheer's August 29 news conference live. When reporters' questions had been exhausted, the CBC cut back to their afternoon anchor Andrew Nichols and two reporters, Hannah Thibedeau and Janyce McGregor. The smirks on the women's faces revealed more than they intended: "Andrew Scheer is toast" they seemed to say. Indeed, Scheer's position was still being discussed on CTV's Question Period this past Sunday.
Also suddenly newsworthy was Andrew Scheer's leadership campaign pledge to offer tax credits for private school tuition, abandoned earlier this summer because of the deficit. Innovation minister Navdeep Bains tweeted last week that a Scheer government would introduce the tax credit. Luckily for Scheer, only online news outlets picked up the allegation.
But, luckily for the Liberals, some tweets are more newsworthy than others. Last week, natural resources minister Amarjeet Sohi tweeted a photo while waiting for a seemingly endless train to pass at a notorious Edmonton level crossing. "It's 5:30pm. This train is so annoying" he tweeted. The rail cars that happened to be passing were – you guessed it – tanker cars, which often carry oil, thanks to the Liberal government's passive-aggressive policies on pipelines.
Of course the ratio-ing was instant and furious. Alberta premier Jason Kenney tweeted back: "Minister, those are oil cars. They are moving oil that could have been shipped more safely by the Northern Gateway and Energy East pipelines that were killed by your government." Former Saskatchewan premier Brad Wall snapped: "Um …those look like oil cars Minister. But maybe they're hauling irony."
As it happened, the media had a golden opportunity to question Sohi about his tone-deaf tweet. The very next day, he appeared on both the CBC's and CTV's political shows, to answer questions about the day's Federal Court ruling on the TransMountain pipeline. Surely the CBC's Vassy Kapelos and CTV's Don Martin (an old Alberta hand) asked Sohi to apologize for his tone-deaf tweet? Er, no. Only the National Post seems to have covered the tweet.
The media is giving the Conservatives a taste of how their leader and campaign are going to be covered for the six weeks between now and election day. While it may be the double standard that Conservatives are used to, that doesn't make it right. And while People's Party leader Maxime Bernier seems to enjoy calling out media bias, it is unlikely that the Conservatives will push back on the media targeting their leader.
That's too bad. The Canadian media have been politicized through funding the CBC, membership in the militantly anti-Conservative Unifor union, and a cratering news industry that has seen dozens of reporters go directly from covering politics to working for politicians (usually Liberal ones). It would be nice to see more politicians use their platforms to campaign against journalists who are doing the same to them.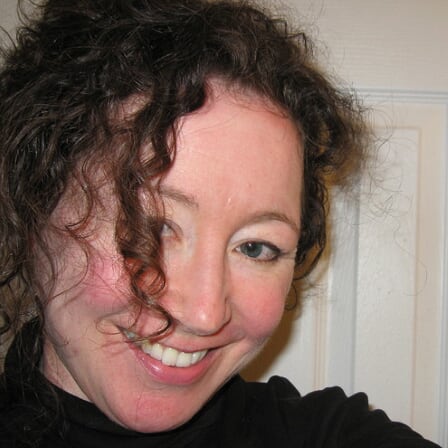 Joan Tintor is a writer and researcher. Her political experience includes having served as legislative assistant to Ontario transportation minister Al Palladini, and as a writer/researcher for the Ontario PC Caucus. She earned a degree in journalism from Ryerson Polytechnic University in 1994.