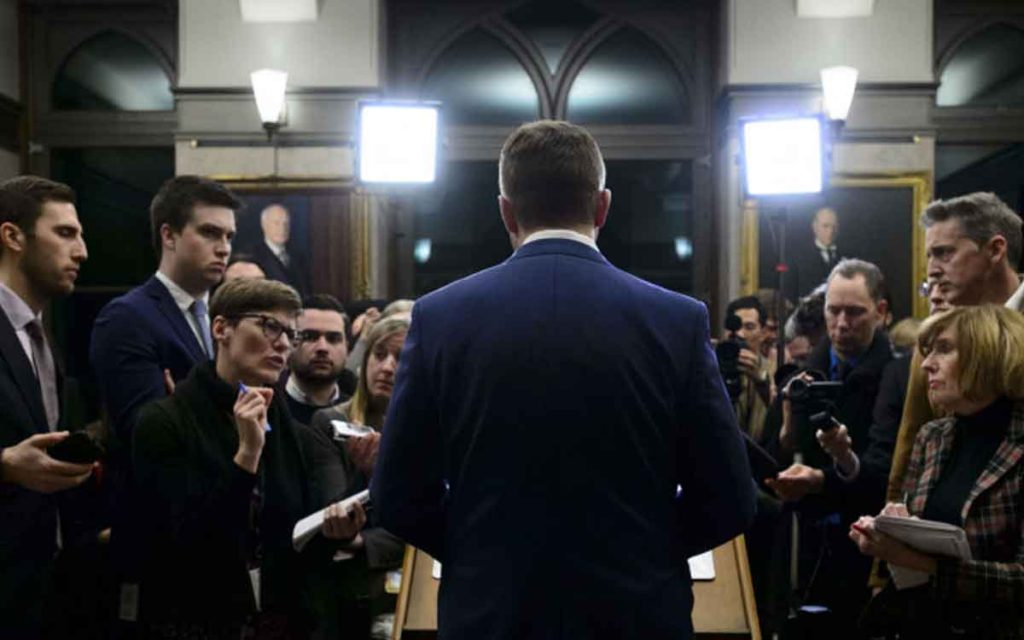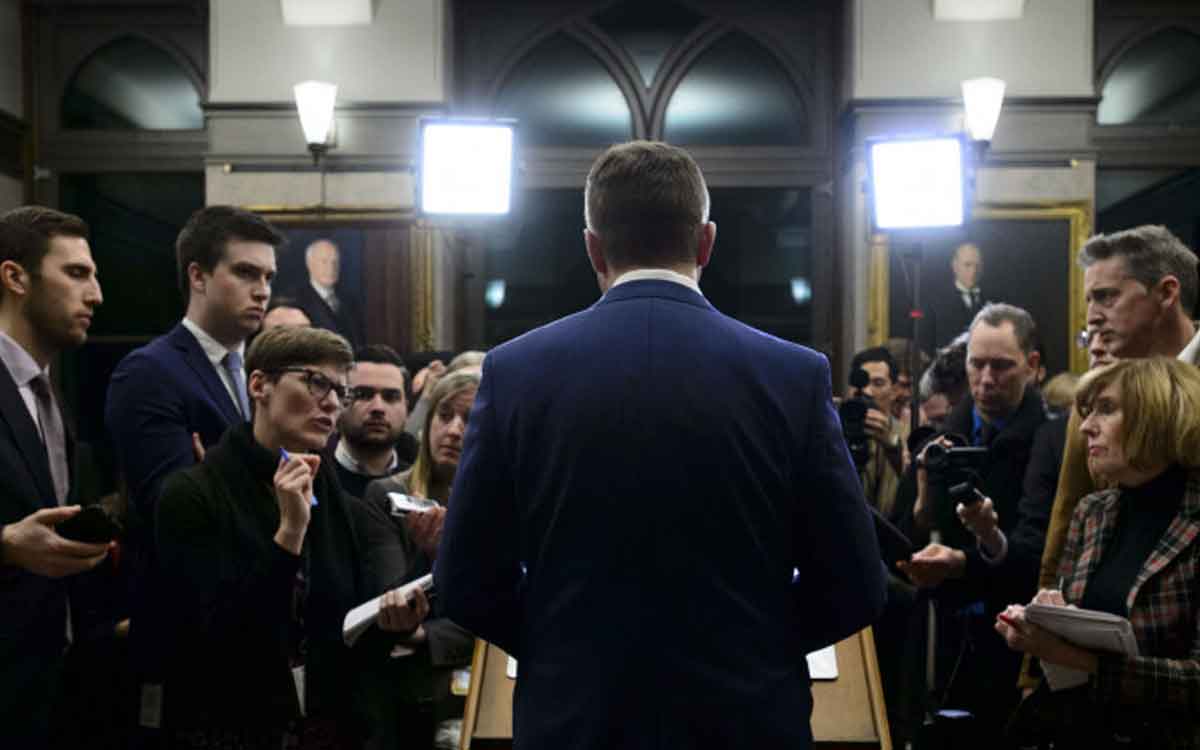 Media scrutiny has been turned up on Conservative Leader Andrew Scheer. (Sean Kilpatrick/CP)
With the federal election less than six months away (and the campaigning set to start when the House rises in June) media outlets are turning a critical eye to Conservative leader Andrew Scheer. Of course, it's their job to examine political leaders, especially potential prime ministers.
Scheer's exam began as early as February, when Maclean's ran a piece aimed at debunking Andrew Scheer's oft-repeated claim that his parents were not well off, repeatedly citing their lack of a car (a particular hardship in suburban Ottawa, where Scheer grew up). Writer John Geddes went to the trouble of estimating the incomes of Scheer's parents, and concluded that "Scheer and his two sisters grew up in a solidly middle-class, two-income household." While the piece did not quite call Scheer a liar, it did suggest that his claim that "we didn't have a lot of money" might have been stretching the truth.
Then came the SNC-Lavalin imbroglio that lasted over two months, and scrutiny of Scheer was put aside momentarily. Now, with the election close at hand and Conservative fundraising and poll numbers remaining high (despite the fading of SNC-Lavalin), the questioning, framing and fact-checking of Andrew Scheer are ramping up.
First, the fundraising. The parties' first quarter fundraising results were released last week. The Conservative party raised over $8 million in the first three months of 2019, the highest first-quarter amount by any political party in history. The Liberals raised $3.8 million. Not only was it a record-setting quarter for the Conservatives, it was the first time the party raised double the Liberals' tally since 2013. Beer and skittles all 'round at Tory HQ, right?
Not so fast, moneybags! Over the weekend, the CBC website posted a bizarre article seemingly designed to blunt the impact of the Conservatives' restored fundraising advantage over the Liberals. The title – "Conservatives, Liberals in closer fundraising race in decisive election battlegrounds" – said it all. From the article:
But a detailed analysis of the data shows that the Conservative advantage is driven in large part by the party's enormous fundraising edge in Western Canada. In other regions of the country, such as the swath of ridings in the Greater Toronto Area that likely will determine the winner of the election, the Conservatives do not enjoy the same kind of edge.
In other words:  Don't despair, Liberals. Like Conservative voters, a lot of Conservative dollars are "wasted" in Alberta and Saskatchewan. You've still got a chance in the 905!
Then on Monday, Bloomberg Canada published a poll that found Canadians don't have any more faith in Scheer than in Trudeau when it comes to managing the economy, despite Trudeau's checkered record:
Asked which leader they trusted to support economic growth, 26 percent of respondents picked Scheer and 25 percent chose Trudeau, a statistical tie. Another 20 percent of respondents said they don't trust any. Four leaders of smaller parties received single-digit support. Another 14 percent of respondents said they didn't know. 
"There's a fundamental lack of confidence in any of the political leaders to manage the economy," pollster Nik Nanos said, adding the results are bad news for both Trudeau and Scheer. "Whoever wins this will have an advantage going into the election. Right now, neither has an advantage and it looks like Canadians aren't happy with what they're seeing."
Also on Monday, Maclean's released its June cover story, baldly titled "Andrew Scheer has a problem." The piece argues that Scheer has left himself open to charges of intolerance. It rehashes Scheer's appearance at February's United We Roll rally at which right-wing extremist Faith Goldy also spoke (though she had not been invited, and essentially crashed the event), and the Harper government's ban on face coverings at citizenship ceremonies. It also had immigration minister Ahmed Hussen claiming that: "Stuff that you used to read on the most far-right conspiracy websites, he [Scheer] was spouting in front of mainstream media." If Hussen provided any concrete examples of this, they were not in the article. Author John Geddes speculates on how the bigotry card will get played in the months ahead:
It is possible that charges of intolerance in the federal race will sound over the top to many voters, and they'll ignore pleas—like [Rachel] Notley's "don't look away"—to take them seriously. But it's also possible that Scheer's image will be tainted if he keeps trying to harness the sort of anger that was on display at the United We Roll rally.
Channelling it might turn up his campaign's emotional heat in a way that motivates many voters—or reveal a dark side that repels others. The toughest test of his leadership acumen might be whether he can give voice to that discontent without tipping over into sounding intolerant.
Luckily for opponents and reporters who are finding the aging niqab ban and tenuous Faith Goldy connection to be hard sells, soon they will have some real news hooks with which to barb Scheer. Over the next month or so, Scheer is set to give five major policy speeches, beginning with foreign policy today in Montreal.
Unluckily for opponents and reporters, Andrew is not stupid. He is well aware of the many forces laying in wait for him or one of his candidates to say something (or have written something) that suggests or betrays bigotry against non-whites, immigrants, Muslims or LGBT people. Candidates are being vetted down to their first tweets. And, as last year's Ontario election showed, conservatives are not the only candidates with offensive skeletons in their closets.
Scheer can also be nimble. He quickly snuffed the Liberals' attempt to portray him as opposed to their child benefit, which they are promising to increase. Scheer tweeted yesterday that the Liberals' child benefit was merely a rebrand of the Harper government's child benefit, which the Liberals said parents would blow on "beer and popcorn" during the 2006 election. "Happy the Liberals have flip-flopped," Scheer tweeted. "As Prime Minister, I will protect the child benefit without raising taxes on parents like the Liberals have."
Andrew Scheer knows the Liberals are going to throw everything they have at him, having discarded "positive politics" long ago, and much of the media will be against him. Whatever gets thrown at Scheer, he will likely be ready for it. History shows that he will need to be.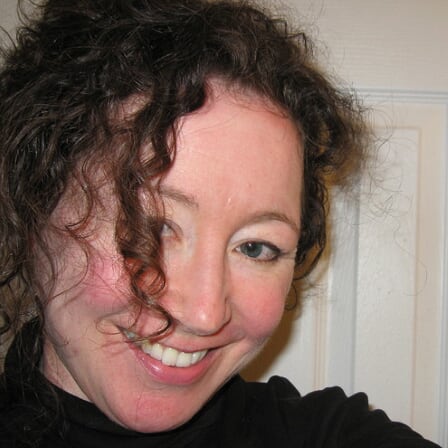 Joan Tintor is a writer and researcher. Her political experience includes having served as legislative assistant to Ontario transportation minister Al Palladini, and as a writer/researcher for the Ontario PC Caucus. She earned a degree in journalism from Ryerson Polytechnic University in 1994.