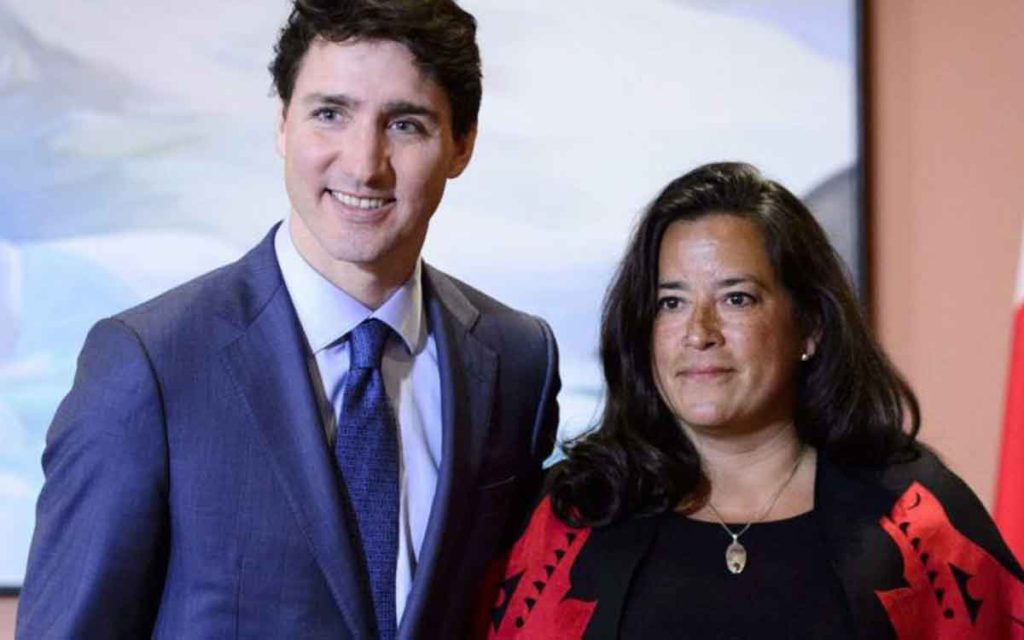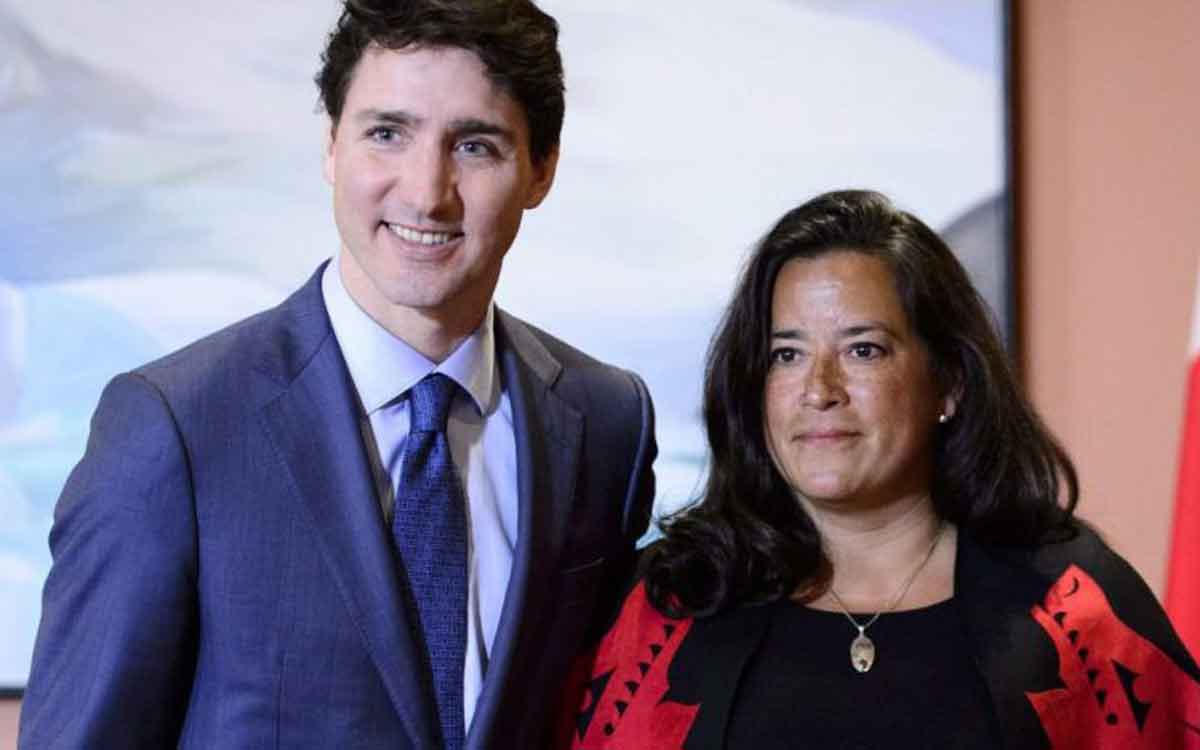 Prime Minister Justin Trudeau and former justice minister Jodie Wilson-Raybould. Photo: Sean Kilpatrick/CP
It looks like it's going to be a week of turmoil in the Ottawa-Montreal-Toronto triangle over this SNC-Lavalin business. Still, I can't help wondering about the energy executives rattling around in their Calgary offices, who must be thinking: "Man, I wish the media and politicians where half as excited about us and our workers."
Sure, there might be some share-price volatility and embarrassment involved, but it would be worth it to have a federal government fighting so hard for Canadian oil and gas that they are willing to rewrite the criminal code, and pressure their attorney-general to handle their foreign oopsies in a way that lets them stay in business (allegedly).
What's this SNC-Lavalin business all about, anyway? The Globe and Mail provides a helpful catch-up:
Federal prosecutors charged SNC in 2015 with attempted bribery and fraud over its activities in Libya from 2001 to 2011. SNC tried to strike a deal with the prosecutors, what's called a "deferred prosecution agreement." DPAs – an established practice in the United States and Britain, but introduced to Canada only last year through new corporate-crime legislation – let companies admit wrongdoing, pay compensation and, in exchange, avoid trials that might be more costly or damaging to their reputations. But in October, 2018, the Public Prosecution Service of Canada decided there would be no such deal. If convicted, SNC would be barred from federal government contracts for 10 years.
Last fall, the Public Prosecution Service refused to apply the deferred prosecution law that was specifically put in the 2018 budget to help SNC-Lavalin. According to anonymous sources, then attorney-general Jody Wilson-Raybould was reportedly pressured by the PMO to get the prosecutors to change their minds, or take over the prosecution herself and strike a deferred prosecution agreement with the company.
Unfortunately for the Liberals, the Public Prosecution Service was established by the Harper government specifically to avoid government interference in prosecutions. (It was part of the accountability reforms inspired by the Liberals' advertising scandal in Quebec.) So even if Wilson-Raybould was of a mind to implement either request, it would have looked terrible. And it would have attracted attention. Taking over the prosecution, for example, would have required a published notice in the Canada Gazette.
Treasury secretary Scott Brison's retirement to "spend more time with his family" necessitated a cabinet shuffle last month. Wilson-Raybould (a British Columbia MP) was demoted to veterans' affairs, and Montreal-area MP David Lametti was made attorney-general.
Then came the Globe's anonymously-sourced story last week, alleging that the PMO pressured Wilson-Raybould to please be a sport and apply the "SNC-Lavalin law" to SNC-Lavalin. The allegation is prompting renewed speculation about her demotion, and the lengthy statement she issued when leaving her old portfolio for another. In the statement she wrote: "It is a pillar of our democracy that our system of justice be free from even the perception of political interference and uphold the highest levels of public confidence."
Now we are hearing demands that Wilson-Raybould be freed from her solicitor-client privilege to speak about the matter (or she should resign), Parliament's justice committee is meeting on Wednesday to try and get senior Liberal staffers to testify, the new justice minister is sticking to his 'no comment' guns, and the ethics commissioner has opened an investigation.
Campaigning in BC on Tuesday, Trudeau briefly addressed the controversy, saying that (1) he and Wilson-Raybould had a conversation in the fall that any decision in the case was up to her, (2) he could not waive solicitor-client privilege to allow Wilson-Raybould to talk but would ask Lametti to look into it, (3) Wilson-Raybould remaining in cabinet "speaks for itself."
Naturally, this is very far from where SNC-Lavalin wanted to be at this moment. Maybe it's my weakness for engineers, but I have a lot of sympathy for the company. Their CEO Neil Bruce has a Scottish brogue that befits the engine room of the USS Enterprise. And like Scotty, he has been giving the company's legal woes all the power he's got: getting the law changed in the last budget, repeatedly meeting with PMO staff and even Conservative leader Andrew Scheer, and an ad campaign touting the changes SNC has made and its importance to the Canadian economy.
Still, many are claiming that this entire affair hurts Canada's claim to be a country in which the rule of law is paramount, and immune from political interference (viz. Huawei). Sorry, but Canadian modesty is one thing, self-flagellation is another. Canada is prosecuting one of its most prominent companies for doing what it took to do business in a foreign dictatorship (as Libya was at the time of SNC's alleged crimes). It seems to me that making Canadian companies live by Canadian laws when they're doing business in foreign countries is a kind of colonialism-by-proxy. And in a world China is determined to dominate, it also seems like cutting off your nose to spite your face.
Do you think the Chinese regime is prosecuting their companies for bribing foreign officials to get the contracts that will make those companies competitive globally? Heck, they're probably reimbursing the companies for the bribes. Chinese nationals have been using Canadian casinos to launder millions. Much of the dirty money is from the flood of fentanyl that comes to Canada from China. How's China doing on prosecuting their own drug lords?
It makes little sense to compare China's behavior with Canada's. But it is sobering to contrast the Trudeau government's treatment of SNC-Lavalin with its indifference (to put it kindly) to the oil and gas industry. The Trudeau government changed the criminal code to protect SNC-Lavalin's business and jobs, after the company bribed a regime whose chief export is oil. But they refuse to invoke Canada's oldest law – the constitution – and declare pipeline projects to be of national benefit. The legal impact of such a declaration may be debatable, but it would be an unequivocal statement about the importance of oil and gas.
The legal impacts of other Liberal hits on the oil and gas industry are not debatable: new environmental regulations caused the erstwhile TransCanada Pipelines to kill Energy East, and the government introduced Bill C-69, whose impact on large energy projects is uncertain (which is probably the point). The rest of the world has gotten the message, and are pulling their investments.
If there's any justice in this entire schmozzle, it's that now SNC-Lavalin knows what it's like for companies that want to build pipelines. Or wanted to build pipelines, before this government turned its guns on Canadian oil and gas.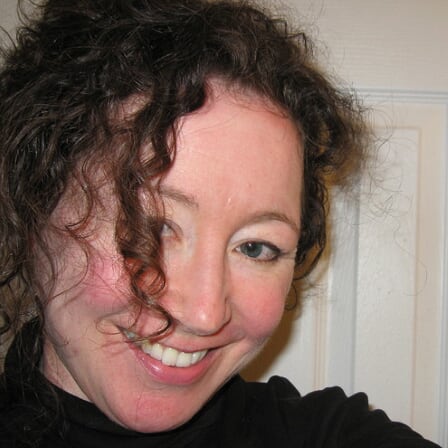 Joan Tintor is a writer and researcher. Her political experience includes having served as legislative assistant to Ontario transportation minister Al Palladini, and as a writer/researcher for the Ontario PC Caucus. She earned a degree in journalism from Ryerson Polytechnic University in 1994.