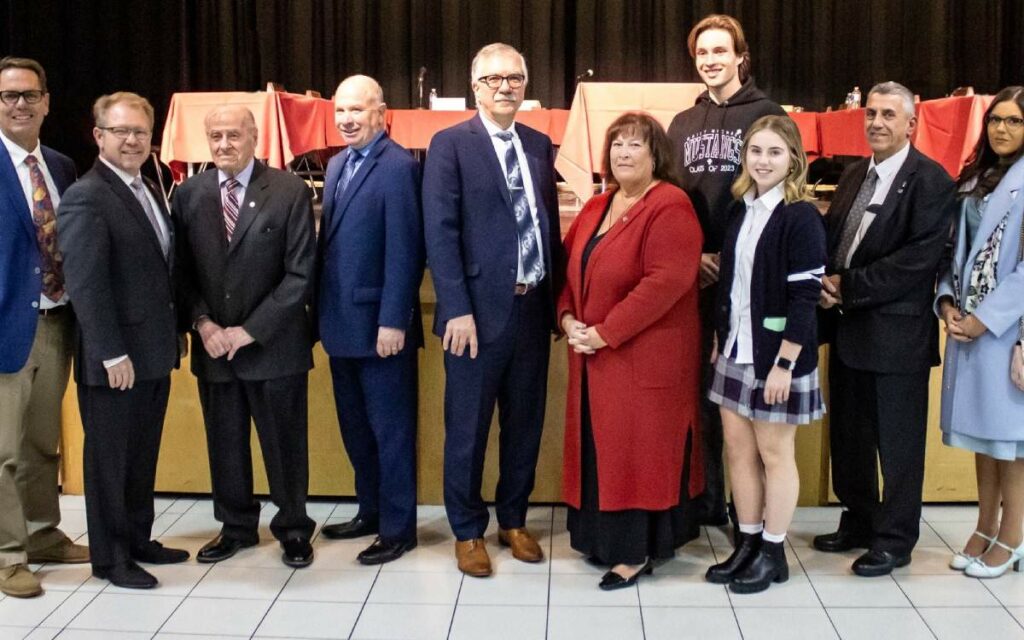 Pictured from left to right are trustees Larry Huibers, Doug Joyner, Jim Marino, Paul Turner, Chair Danny Di Lorenzo, Vice-Chair Rhianon Burkholder, student trustees Steffan Zylstra (back) and Charlotte Johnstone, trustee Joe Bruzzese and trustee Natalia Benoit. Photo credit: Facebook/Niagara Catholic
Niagara Catholic District School Board held its first inaugural of the 2022-2026 term last Tuesday, November 22 at Saint Michael Catholic High School in Niagara Falls.
The eight-member board, which features five new and three returning trustees, selected its chair and vice-chair for 2023.
Newly-elected trustee representing Port Colborne, Fort Erie, and Wainfleet Danny Di Lorenzo was named chair.
As part of his accepting remarks, Di Lorenzo stressed the importance of staying true to the Catholic mission and remembering the centrality of Christ in all that the school board does.
"As a Catholic school system, we are not an alternate for public school, but a system built on the guiding principle of our Gospel value, where Jesus is the centre of our teaching," said Di Lorenzo, a former secondary school administrator who previously held principalships at Denis Morris in St. Catharines, Lakeshore Catholic in Port Colborne, and Blessed Trinity in Grimsby.
"At a time when secular forces impact and influence the values and morals of our children, it is important that the schools play an important role in promoting the importance of the Church and role that the Church can play in ones' life."
Returning trustee for Thorold/Merritton Rhianon Burkholder was elected vice-chair for 2023.
In her remarks, Burkholder talked about building on past success and "fighting" for Catholic education.
"I have big shoes to fill and promise I will give the same faith filled commitment as those that have been before me," said Burkholder, who previously served from 2010-2014 and 2018-2022.
"I feel confident to help navigate my fellow trustees to lead this Board in its continued success of Catholic education. Catholic education is a gift that we have received and I will make sure that I with all of you, we will to continue to fight for this gift."
Also at last Tuesday's meeting, Director of Education Camillo Cipriano congratulated all new trustees on their election and welcomed Chair Di Lorenzo and Vice-Chair Burkholder to their new positions.
"Congratulations to each of you for being entrusted by voters as Catholic school board trustees," said Cipriano. "This is a new era for Niagara Catholic, as we welcome a new Board of Trustees to lead us into the next four years. You all bring very different gifts, talents, and experiences to your role as trustees, and your voice will be very important in governing this Board."
New trustees include Di Lorenzo, Natalia Benoit, Joe Bruzzese, Doug Joyner, and Jim Marino. Of note, Joyner is the former mayor of West Lincoln who ran for the Ontario Liberal Party this past June in Niagara West. He finished third behind PC victor Sam Oosterhoff and NDP challenger and controversial former mayor of Pelham Dave Augustyn.
Returning trustees include Burkholder, Larry Huibers, and Paul Turner.
The board's two student representatives for 2023 are Steffen Zylstra from Saint Michael Catholic and Charlotte Johnstone from Saint Paul Catholic.
Bishop Gerard Bergie of the Diocese of St. Catharines presided over the inaugural meeting.