Artist rendering of the future Niagara Falls hospital at the corners of Montrose and Biggar roads. Photo credit: Niagara Health
The City of Niagara Falls has officially committed to provide $30 million dollars to the construction of a cutting-edge hospital for residents of South Niagara. Lynn Guerriero currently serves as President and CEO of Niagara Health. 
"The South Niagara hospital is starting to make significant strides as we enter the construction phase of this project," Guerriero shared in a recent press release. "This financial commitment from the City of Niagara Falls is helping us reach out funding goals, and we are grateful that Niagara Falls city councillors have chosen to support this state-of-the-art healthcare facility." 
"Niagara residents deserve the best healthcare possible, and this commitment from the home municipality will help us deliver that care to all Niagara residents," Niagara Health Board Chair Marylee O'Neill shared. 
Diane Moore, communications specialist for Niagara Health, explained that while the Province of Ontario is funding the lionshare of the project, municipalities have been tasked with securing 10 per cent of construction costs and 100 per cent of furniture, fixture, and equipment costs. The local contributions will be provided through multi-year tax levies.
"The local share breakdown is based off completed feasibility studies and recommendations by cost consultants working alongside Niagara Health," Moore said.
Niagara Falls Council voted 8-1 in favour of the $30 million contribution on Tuesday night. Lori Lococo was the only councillor who voted against the proposal. "It's not a Niagara Falls hospital, it's a regional hospital, and other municipalities are going to be using it. Our Niagara Falls residents will not be given prime seniority to use the services," she argued. 
At the same time, the initiative also received broad vocal support from multiple council members, as well as Niagara Falls Mayor Jim Diodati. 
"(I acknowledge) health care is not cheap, but when you lose your health, you'll do anything to get it back," Diodati shared. 
Councillor Ruth-Ann Nieuwesteeg persuaded that it shouldn't come down to "if they don't pay, then we won't," referring to Lococo's argument. 
Growth and development in the south Niagara Falls area will be key to obtaining the funds, added Councillor Mike Strange. 
"We already see the development around it. We just approved a subdivision development behind it, that includes secondary dwellings, tiny houses… and this is where it's all going", Strange said. "It's all going to the south end surrounded by this hospital, so development is going to be paying for development here."
Earlier this year, EllisDon Infrastructure Healthcare (EDIH) was awarded a $3.6 billion contract to design, build, finance and maintain the new South Niagara hospital. 
If current projections hold true, the hospital will take five years to complete and will officially open in summer 2028.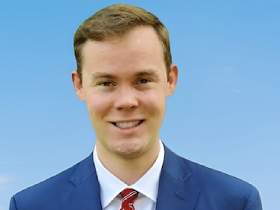 Nick Redekop completed his Honours Bachelor of Arts Degree in Labour Studies at Brock University. He has previously served in municipal and federal politics. In his free time, Nick enjoys following sports, taking part in outdoor activities, and reading biographies. Nick resides in Niagara Falls