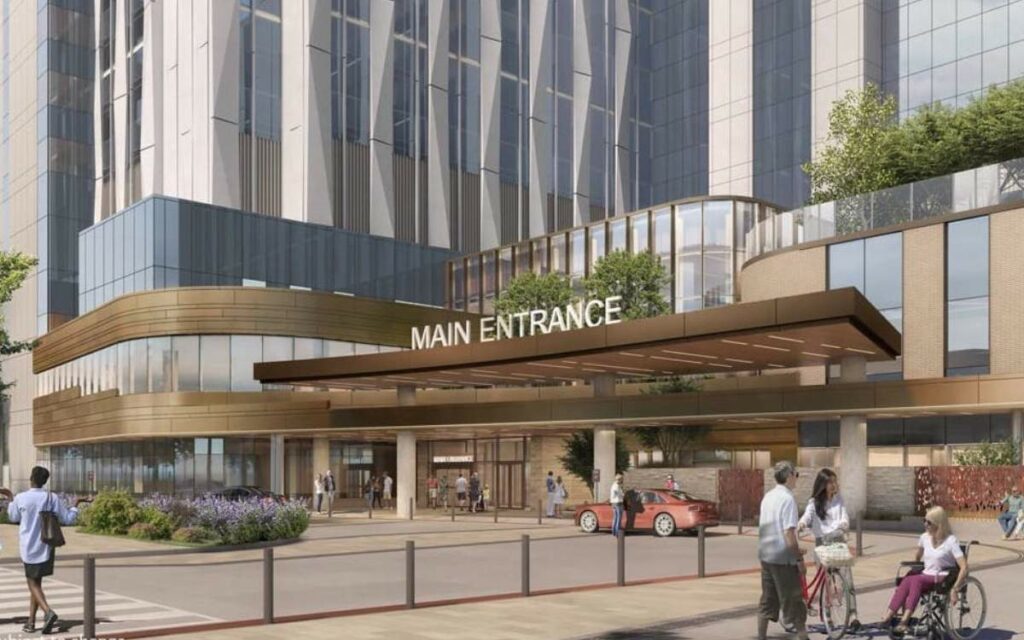 The multibillion-dollar Niagara Falls facility will be one of the single largest design, build, finance, and maintain investments for a new healthcare project in provincial history. Artist rendering of the new hospital's 'Oakes Family' main entrance. Photo credit: Niagara Health
Niagara residents south of St. Catharines are one step closer to finally realizing a decades-long dream of having a state-of-the-art hospital fit for a growing – and aging – population.  
On Tuesday, Niagara Health and Infrastructure Ontario announced that EllisDon Infrastructure Healthcare (EDIH) has been awarded a fixed-price contract of approximately $3.6 billion to design, build, finance, and maintain the South Niagara Hospital. The new facility will be located at the corner of Montrose and Biggar roads in Niagara Falls, just off the QEW.
"We are thrilled to be partnering with EllisDon Infrastructure Healthcare to bring this exciting new hospital to Niagara. The team at EDIH has created a truly impressive building design that is specific to our needs," said Lynn Guerriero, President and CEO of Niagara Health.
"The new state-of-the-art hospital is going to transform healthcare for the Niagara region and will attract healthcare workers to the region."
The $3.6 billion price tag, a significant increase from the projected $1 billion-plus figure previously communicated, reflects the payments made during construction, the substantial completion payment, and the monthly service payments before inflation adjustments.
At $3.6 billion, the South Niagara Hospital contract will be one of the single largest design, build, finance, and maintain (DBFM) investments for a new healthcare project in provincial history. 
For context, the DBFM contract for Toronto's Humber River Hospital, completed in 2015, was $1.75 billion. The contract value for the Oakville Trafalgar Memorial Hospital, completed the same year as Humber River, was $2 billion. While the now 10-year-old Niagara Health System site in St. Catharines cost a mere $759 million.
"Our government will continue to invest at record levels to improve health care for everyone, no matter where you live," said Sylvia Jones, Deputy Premier and Minister of Health. 
"The new state-of-the-art South Niagara Hospital will help more Ontarians get the care they need and deserve right in their local community. Once completed, South Niagara Hospital will provide comprehensive care to residents for generations to come."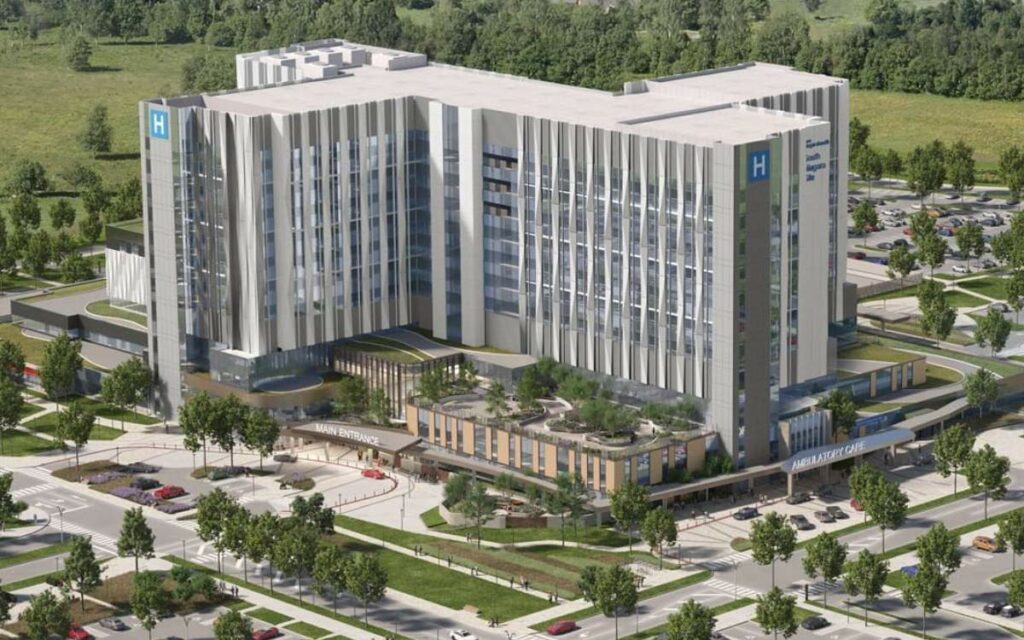 The hospital will be 12 storeys tall and accommodate 469 beds. Photo credit: Niagara Health
EllisDon was selected as the project's preferred proponent this past December, following an open and competitive bidding process that began in October 2021. 
The London, Ont.-based builder has extensive experience in healthcare construction, having led dozens of P3 projects in the last few decades alone, including the abovementioned Oakville Trafalgar Memorial Hospital. 
According to Niagara Health, while the contractor will be responsible for assembling the construction team, the regional healthcare provider will work with EDIH to promote opportunities for local businesses to get involved. 
Site work on the property is scheduled to start in July. The hospital will take five years to build, with occupancy planned for 2028.
The 1.3-million-square-foot facility will offer a full scope of hospital services including emergency, critical care, diagnostic, therapeutic and surgical services, as well as centres of excellence in complex care, wellness in aging, and stroke.
The new hospital will be 12 storeys tall and have up to 469 beds, of which a significant portion will be new, increasing Niagara Health's capacity to provide inpatient services for the region.
The site will have advanced infection prevention and control measures and has been planned with the space and infrastructure to accommodate new and emerging healthcare technology.
EllisDon will lead construction and finance, in partnership Plenary Americas LP, while Parkin Architects Ltd. and Adamson Associates Architects are heading up design of the hospital.