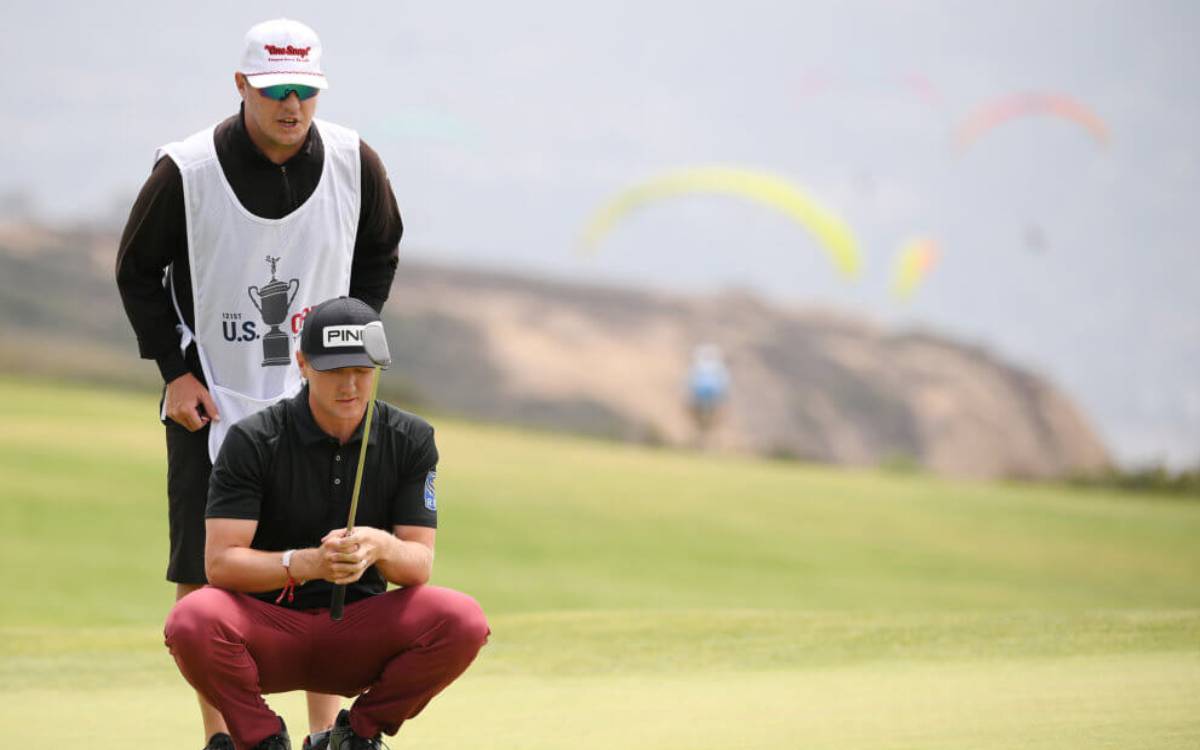 Hamilton's Mackenzie Hughes sizes up a putt on the fourth green with caddie and fellow Ontarian Jace Walker during the third round of the U.S. Open over the weekend. Photo credit: USA TODAY Sports/Orlando Ramirez
Just after 4 p.m. EST on Sunday the retiring CEO of the USGA (United States Golf Association), Mike Davis, stepped up to the 1st tee announcer's microphone at Torrey Pines Golf Course in California and said, "from Canada, Mackenzie Hughes".
And with that the final pairing of the 2021 U.S. Open Championship was off and running.
Hughes, a 30-year-old professional golfer from Dundas, Ontario, started the final round of this year's U.S. Open with a share of the lead. It was only the third time in history that a Canadian was in Hughes' position in one of professional golf's four major championships heading into the final day.
"I wouldn't say I necessarily expected to be in the last group this week, but I know that my game is good enough to win on the PGA Tour. I've done it before," said Hughes before starting his round on Sunday.  "This is a bigger stage, but you do the same things."
As a youth, Hughes' golf path took him from Hamilton's Highland Secondary School to Ohio's Kent State University, where he made First Team All-Mac his final two years and racked up 19 top 10 finishes in 41 events played.
From there he struggled a bit in his professional career, moving from the Canadian pro circuit to the Korn Ferry Tour. He finally entered the sport's pinnacle, the PGA Tour, as regular competitor in 2017.
Despite his somewhat slow start, Hughes has three professional wins to his name and has accumulated over $7 million in prize money thus far in his career.
Still, he was very much the surprise on the final day's leaderboard.
Heading into Sunday, he was tied for the 54-hole lead along with South African veteran Louis Oosthuizen and American Russell Henley at five under par.
Hughes commented to interviewers after day three that he hoped to give his father back in Hamilton a great Fathers' Day on Sunday. His parents often follow him in tournaments, but he hasn't seen them since December 2019. Broadcasters took the time to highlight that Hughes' native province of Ontario had been having a particularly hard time dealing with the COVID-19 pandemic, accounting for a third of all deaths in Canada from the virus. Hughes' mother is a nurse in Hamilton and Hughes mentioned his pride in her as she battled the virus on the front lines.
Although he lives and works much of the year in North Carolina, Hughes is still an Ontarian at heart.
In April of this year, Hughes quote-tweeted a local golf owner from Pelham, in which he implored Ontario's Premier Doug Ford to allow golfers to return to play. "Time to open the courses in Ontario," said Hughes. "Golf can be enjoyed in a safe and responsible way and the benefits are endless."
Unfortunately, Hughes' final day at Torrey Pines did not start well at all. He was tentative, leaving many of his shots short and bogeyed three of his first six holes. After dropping to two under, and off the main leaderboard, he seemed to right the ship and started to play to win instead of being tentative and playing not to lose. He birdied holes seven and nine to get back into 2nd place after nine holes.
The leaderboard was briefly littered with the who's who of today's golfing best: Bryson Dechambeau, Rory McIlroy, Brooks Koepka, and eventual tournament winner John Rahm.
But the wheels for Hughes really fell off in a bizarre occurrence at the par three 11th hole. Hughes hit the ball to the left side of the green into a tree, where the ball remained lodged; never to come down. Hughes had to take an 'unplayable lie' penalty and ended up double-bogeying the hole. Shaken, he followed that up with another bogey on the next hole and that effectively marked the end of his chances.
Spain's Jon Rahm and South African Louis Oosthuizen maintained the steadiest hands on the traditionally difficult U.S. Open course. As others all around them faltered and fell back toward par, Oosthuizen basically shot pars around the course. But Rahm shot the low round of the day, a 67 on the par 71 track to win the tournament at six under, one shot ahead of six-time major championship runner-up Oosthuizen, who finished the day one shot worse than where he started.
With the win, Rahm became the first Spaniard to ever claim victory at the U.S. Open. Spaniards Jose-Maria Olazabal, Seve Ballesteros, and Sergio Garcia have all won one of golf's major tournaments, but none have ever won the U.S. Open.
"This is for Seve,", said Rahm. "He always wanted to win this one, I am glad I could do it for him."
But back to work for Hughes, who leads a Canadian pack of three other professional golfers currently on the PGA Tour: Corey Conners from Listowel, Ontario, Nick Taylor from Winnipeg, Manitoba, and Adam Hadwin from Moosejaw, Saskatchewan. With one of these four Canadians always seeming to appear somewhere near the top of the leaderboard each week, it won't be long before another Canuck finishes the deal and breaks through to win a men's major. The last Canadian to do was Mike Weir in 2003.
Even then, all will have a lot more winning to do before they can catch up to Canada's most successful professional golfer Brooke Henderson. At just 23, she has already secured one women's major championship and a total 10 wins on the LPGA Tour.