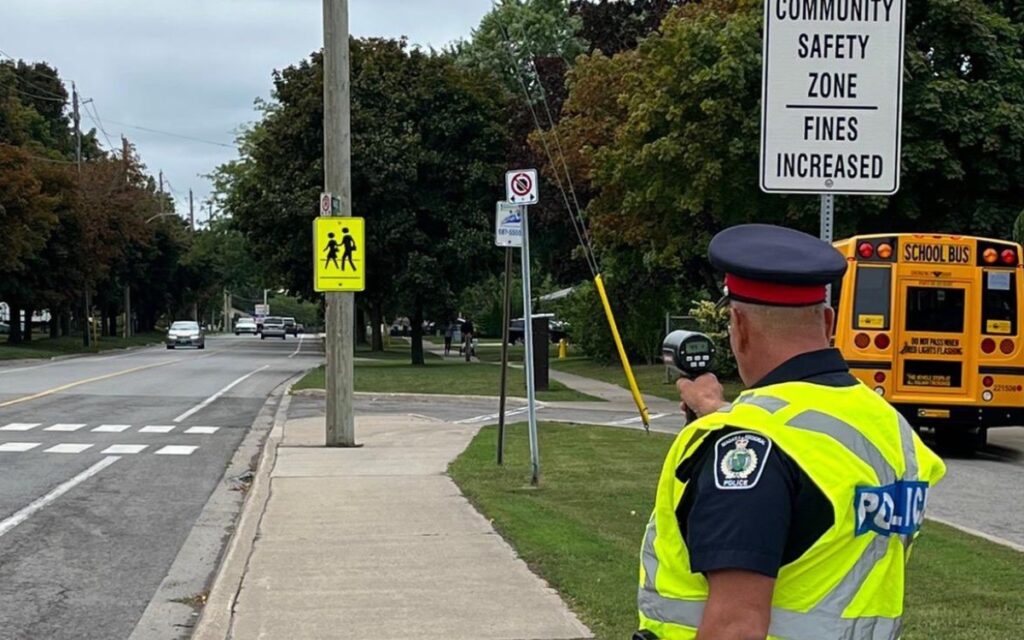 Though nearly 100 tickets and written warnings were issued Tuesday, for the most part, participating officers advised that the majority of motorists were using caution around school zones. Photo credit: Twitter/Niagara Regional Police Service 
Local law enforcement was out en masse Tuesday for the Niagara Regional Police Service's 22nd annual back-to-school safety blitz and awareness campaign.
Held every year on the first day of school, the initiative gives officers the opportunity to inform and remind motorists about the necessity of safe driving habits, especially in and around school zones. 
Several dozen specialty unit senior officers and general uniform patrol took part in the event.
According to the NRPS, many of the officers who participated in this year's blitz said that "the majority of the drivers were driving cautiously around the school zones."
A total of 97 tickets and warnings were issued Tuesday. There were 29 tickets distributed for speeding, two for not properly wearing a seatbelt, and one for distracted driving. Three other drivers were charged with driving under a suspended licence, and another two were charged with operating their vehicles with no insurance. There were another 30 tickets issued for a variety of other traffic offences, with a total of 30 written warnings handed out. 
Like most years, Tuesday's blitz focused on Niagara's 13 'Community Safety Zones', which are located outside of several elementary and secondary schools around the region. 
Per the Niagara Region, Community Safety Zones "help to change driver behaviour, including reducing speed and distracted driving, and (improve) safety on certain sections of road where public safety is of special concern."
In these designated safety areas, which, notably, will soon host four automated speed enforcement machines on rotation, many set fines are doubled. 
While the one-day blitz is over, the NRPS said it will continue to conduct traffic safety programs in school zones throughout the entire school year, particularly "targeting aggressive and distracted drivers."