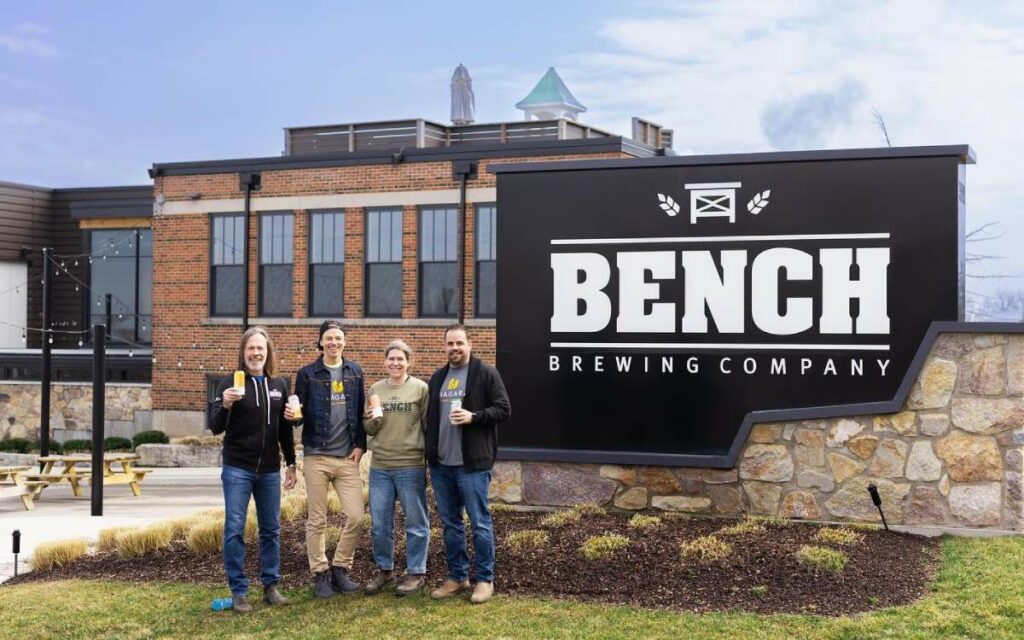 Pictured from left to right are Bench Brewing president and founder Matt Giffen, Niagara Cider Company co-founder Rich Houghton, Bench director of brewing and beverage operations Kaitlin Vandenbosch, and Niagara Cider co-founder Matt Dixon. Photo credit: Facebook/Bench Brewing
Two of the region's most popular (non-wine) adult beverage makers are joining forces. 
In a social media post on Wednesday, March 29, Lincoln's Bench Brewing Company announced its acquisition of Niagara Cider Company. 
The merger will consolidate the two producers' operations in Beamsville. Niagara Cider Company previously ran its cidery out of Blackburn Brewhouse in Niagara Falls. 
"We are so excited to bring together the talents and expertise of both craft companies to produce high-quality, locally crafted beer and cider in Bench's sustainable brewing facility here in the Town of Lincoln," Bench said on Facebook.
Founded in 2016 by Matt Giffen, Bench moved into its current 20,000-plus sq. ft. King Street space in the summer of 2018. 
Bench's facilities are situated across eight acres and include a 50hL brewing system, a tap and tasting room, a beer garden, a barrel aging area, and the brewery's very own hops field.
Earlier this year, the company won the Sustainability Initiative award at the Canadian Brewers Choice Awards for, among other green efforts, recycling 100 per cent of its brewing wastewater.  
Niagara Cider Company was founded just a few weeks before Bench moved into its current location by Pelham's Matt Dixon, a former VP with Colio Estate Wines, and Rich Houghton.  
Dixon and Houghton decided to start their successful cider company after the former reportedly saw the latter drinking a homemade brew after a hockey tournament. A casual conversation later, and the rest is history. 
Both Dixon and Houghton will join the larger Bench Brewing team as part of the acquisition. 
"The Niagara Cider Company started as passion project for Rich and I beginning with the 2018 apple harvest," Dixon said in a statement obtained by Canadian Beer News last week. "Since our first cider was released, we have been searching for a permanent home, and after getting to know Matt and the team, Bench could not have been a better fit."
Niagara Cider is best known for its award-winning No. 1 Dry Apple Cider and Rose Gold Berry Soaked Cider, which can be found in LCBOs and select grocery stores across Ontario. 
Bench's brews are available across Ontario, as well as in Quebec, Alberta, BC, and parts of the US.
Bench's acquisition of Niagara Cider represents the second high-profile purchase of an existing craft producer from a Niagara brewer in the last few months. 
This past December, Virgil's Silversmith Brewing purchased all assets of pioneering micro-brewery from Etobicoke Black Oak Brewing Co. 
Once known only for its wines, for several years now Niagara has been developing a reputation as one of Canada's premier craft beer destinations, with dozens of acclaimed breweries and anchored by the ultra-innovative, world-renowned Teaching Brewery at Niagara College.