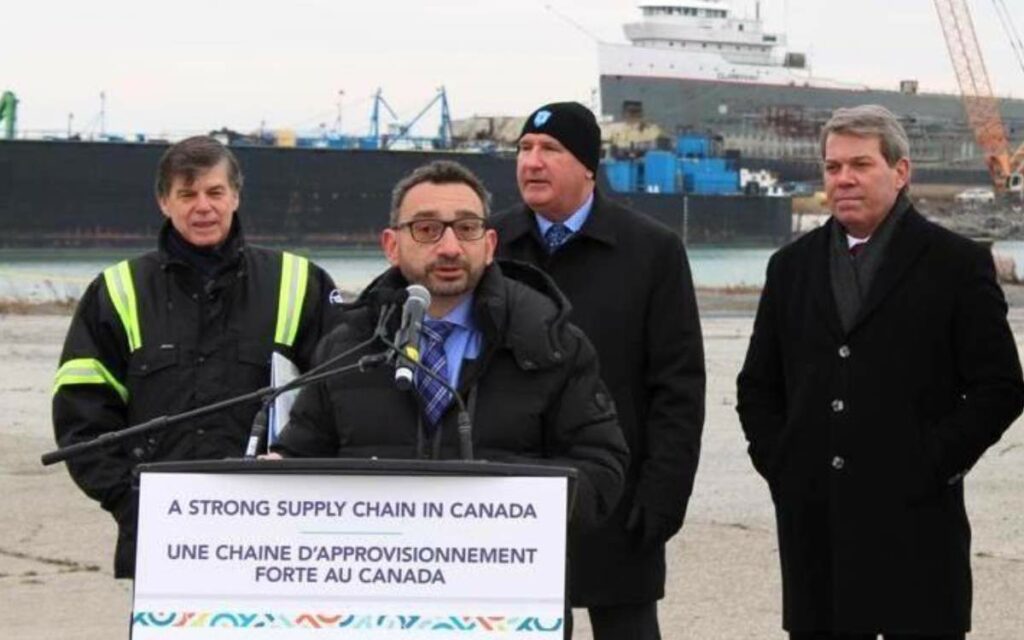 Federal and municipal officials were in town Wednesday for the announcement. Pictured (front) is Minister of Transport Omar Alghabra. Pictured in back from left to right are president and CEO of the St. Lawrence Seaway Management Corporation Terence Bowles, Mayor of Port Colborne Bill Steele, and Niagara Centre MP Vance Badawey. Photo credit: Twitter/Omar Alghabra
Port Colborne industry is getting a major financial boost from the federal government. 
On Wednesday, Canada's Minister of Transport Omar Alghabra was on hand in the small lakeside community to announce $22.7 million in federal support for the revitalization of industrial lands around the Welland Canal. 
"Investing in the rehabilitation of existing infrastructure to improve the quality and the efficiency of our supply chains is crucial to Canada's economic success and sustainable development," said Minister Alghabra. 
"Our government's investment in the Niagara region will help ensure that the supply chains here in Ontario and throughout our country remain efficient and reliable for future generations."
The $22.7 million investment, supplied through the National Trade Corridors Fund, supports one half of a $45.3 million project spearheaded by the St. Lawrence Seaway Management Corporation (SLSMC). 
The project aims to rehabilitate three wharves located at the south end of King Street on the west side of the Welland Canal, which are currently out-of-service, to revive operations and increase local trade capacity.
"This announcement brings the world to Port Colborne – a game changer for Niagara. The dynamic resources of the Niagara Region are being rediscovered as we chart our future economic path," said Niagara Centre MP Vance Badawey. 
"New business and new opportunities are being created on once-abandoned lands along the Welland Canal and today our government is taking a bold step in strengthening the Niagara Ports Trade Corridor while also opening the door to an expansion of Niagara's world class tourism market."
The SLSMC, which manages the federally-owned, long-vacant lands set to be revitalized, is investing the project's other $22.6 million.
"We look forward to working with all partners to bring these wharves back into service with the goal of adding more fluidity to Canada's supply chain and strengthening our connection to global markets," said SLSMC president and CEO Terence Bowles. 
"Once the work is completed, capacity to handle freight will increase by a million tonnes per year and new marine shipping opportunities will be created for Canadian exporters, along with a dock for cruise ships and the possibility of reduced greenhouse gas emissions."
The wharf rehabilitation is all part of a larger initiative to breathe life back into Port Colborne's south end, which includes attracting more cruise ship traffic and the construction of a new waterfront centre to welcome guests to the region and serve as a "catalyst" for further redevelopment of the area around Sugarloaf Marina. 
Port Colborne saw 66 cruise ships dock in the community between May and October of 2022. The municipality hopes to more than double that number by next year. 
The National Trade Corridors Fund, which supplied the $22.7 million is funding, is a competitive, merit-based program designed to help infrastructure owners and users invest in transportation assets that support economic activity in Canada. A total of $4.7 billion from 2017 to 2028 has been allocated to the program.