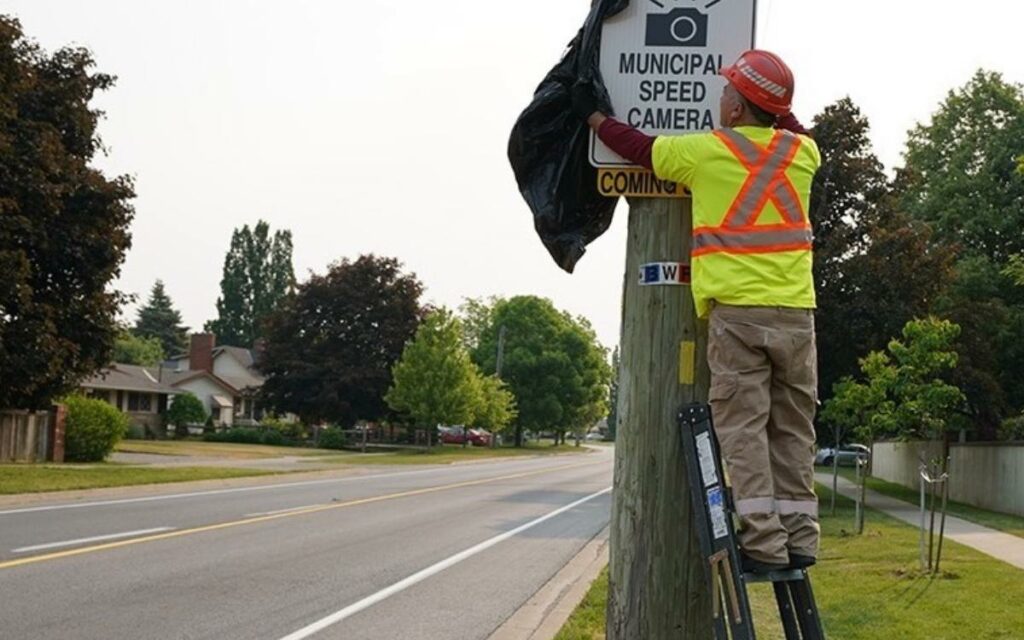 Staff installed warning signs in front of four school safety zones earlier this week, officially kicking off the 90-day notice period required by law to allow for automated speed enforcement. Photo credit: Facebook/Niagara Region
Municipal staff were out in the field on Wednesday installing "coming soon" signs in anticipation of program launch for Niagara Region's automated speed enforcement initiative.
The signs were installed in the first four of Niagara's 13 approved community safety zones that will house automated speed enforcement technology in the coming months and years.  
Locations include Niagara Falls near West Lane Secondary School, St. Catharines near St. Ann Catholic Elementary School, Welland near Alexander Kuska Catholic Elementary School, and West Lincoln near John Calvin School. 
Installation of the "coming soon" signs is required by law 90 days prior to program launch.
The four above-mentioned areas are expected to have active automated speed enforcement cameras in place from September through December 2023, after which time the cameras will be rotated to four new areas.
The automated speed enforcement program is part of the Region's larger Vision Zero traffic initiative, which also includes the installation of 10 red-light cameras at signalized intersections around Niagara. 
The intersection cameras are expected to come online around the same time as the automated speed enforcement technology. The red-light camera program, however, only requires a 60-day notice period – but it must be accompanied by a public awareness campaign with outreach across social media, websites, printed ads, and billboards.  
Intersections were selected based on collision history, site feasibility, and geographic coverage. Niagara Regional Council approved of the 10 locations in April. 
All images of alleged infractions will be assessed by the City of Toronto's Joint Processing Centre in cooperation with the Ministry of Transportation. 
Red-light infractions carry a $325 fine. Automated speed enforcement fines vary based on rate of travel above the speed limit. Violations, regardless of program, do not carry demerit points.