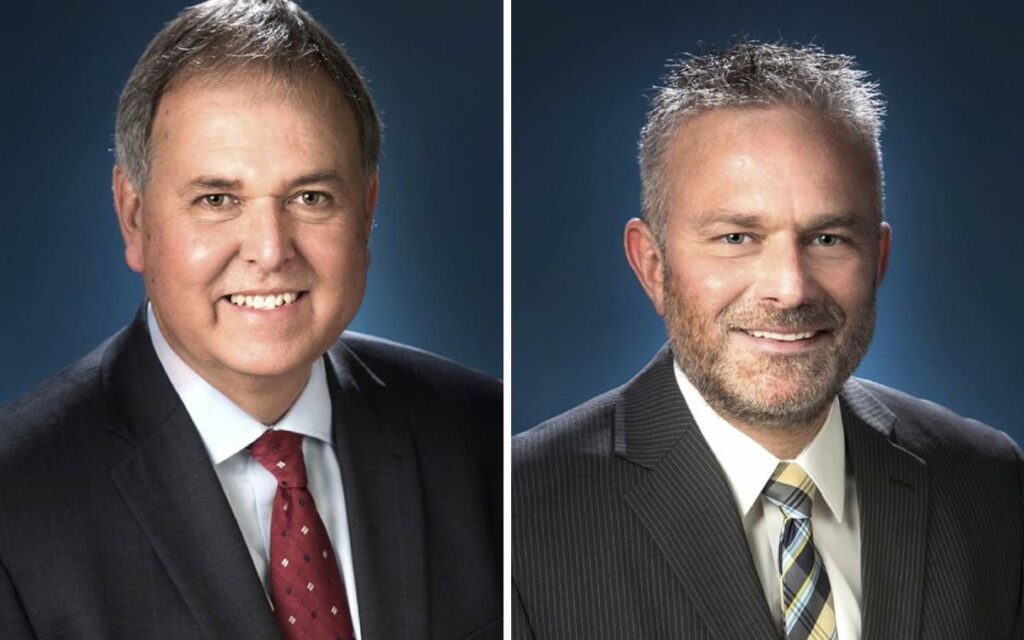 Commissioner Bruce Zvaniga (pictured, left) set to leave next month. CAO Ron Tripp (right) putting forward former colleague from St. Catharines Dan Carnegie to 'temporarily' fill role. Photo credit: Niagara Region
The Region's current Commissioner of Public Works Bruce Zvaniga is leaving his $216,000-salary post for another municipality. 
According to sources familiar with the situation and internal documents reviewed by The Niagara Independent, the Region is contemplating replacing Zvaniga with a temporary appointment from outside the corporation. 
A confidential report from Region CAO Ron Tripp suggests "temporarily" appointing Dan Carnegie to head up the Public Works department without any job competition. 
Carnegie is the former CAO and director of corporate support services at the City St. Catharines, where he worked alongside Tripp for a year, who was the city's director of transportation and environmental services from 2013 to 2014.
As previously reported by The Niagara Independent, Carnegie "retired" as CAO of St. Catharines in June 2017. As a retiree, Carnegie earned $233,522 in 2017, and another $210,261 in 2018, representing an 18-month severance package provided by then-Mayor Walter Sendzik and his city council. 
Neither Sendzik nor the City of St. Catharines explained why Carnegie was eligible for 18 months of salary when he retired. Severance packages are typically negotiated for people who are terminated.   
Carnegie is not an engineer and has no experience administering a Public Works department, particularly one that is underperforming. In his report, Tripp claims this will be a temporary appointment until a permanent commissioner can be recruited.
Tripp himself was originally appointed temporary CAO at Niagara Region before nabbing the permanent position in September 2021.
Regional councillors will consider the appointment of Carnegie this Thursday. Discussions will be held behind closed doors.