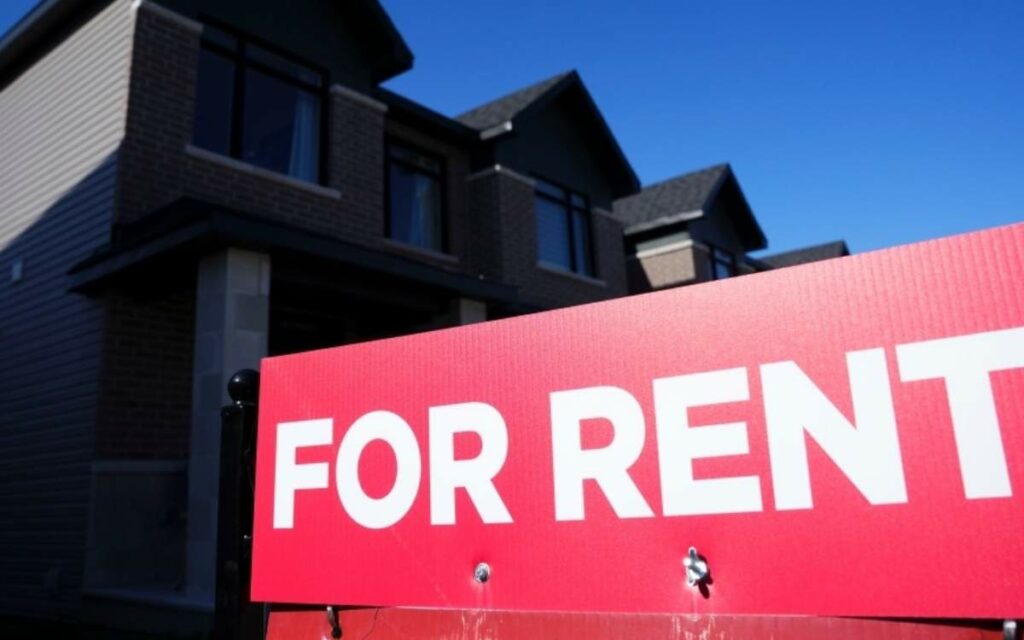 According to the most recent monthly report from Rentals.ca, rent went up 10.9 per cent across the country last year. However, in relative terms, St. Catharines maintained the 13th cheapest rent of 35 medium to large-size Canadian cities in December 2022. Photo credit: The Canadian Press/Sean Kilpatrick 
Hot off a recent study that suggested St. Catharines is one of the cheapest cities in Canada to maintain housing in terms of overall shelter costs, yet another monthly report from Rentals.ca demonstrates Niagara's largest municipality is relatively more affordable than many places around the country. 
According to the latest rent report from listing aggregation website Rentals.ca, St. Catharines ranks 23 of 35 select medium to large-size cities from across Canada for monthly cost of one and two-bedroom rental units. In other words, of the 35 locations assessed, St. Catharines was the 13th cheapest place to find an apartment or similar accommodation. 
In fact, St. Catharines was the cheapest area for rent in all of Ontario on the list – which, it should be noted, excluded a few historically inexpensive cities such as Windsor and Sudbury.
Per the report, the average one-bedroom rental unit in the Garden City in December 2022 cost $1,586, a 1.6 per cent month-over-month increase from November last year. The average two-bedroom unit cost $2,031, a 0.3 per cent month-over-month increase.
The national average rent for a one-bedroom unit across the 35 areas examined in the monthly report was $1,706. Pulled down significantly from the cheapest nine areas, the average for a two-bedroom was $2,120.
Of the highlighted locations, the three cheapest cities to find rental accommodation in December 2022 were all from Alberta. In Lloydminster, the average one-bedroom unit was $840, while the average two-bedroom was $980. In Grande Prairie and Red Deer, the average for both one and two-bedroom rentals was $1,076 and $1,098, respectively. 
At the other end of the spectrum, the three most expensive cities were, in order, Vancouver, Toronto, and Burnaby, BC. 
In Vancouver, the average one-bedroom unit was $2,596 – the average two-bedroom was a whopping $3,562. 
In Toronto, a one-bedroom rental accommodation in December last year cost, on average, $2,457. A two-bedroom cost $3,215. While in Burnaby the respective monthly rental payments for a one and two-bedroom unit were $2,450 and $3,077.
Across the board, it is the case that rent shot up profoundly countrywide in 2022, however, that was after two straight years of average rent decreases. So, overall, the last three years saw only a modest rate increase of 2.6 per cent. 
As Rentals.ca points out in its report, "The average rate of annual rent increase for 2022 as a whole was 10.9%, which followed 1.6% average annual rent declines recorded for both 2021 and 2020, resulting in a three-year average rent increase of 2.6% — below the general rate of inflation in the economy over the same time period."
Per the report, last year's exceptional price growth can be attributed to a variety of factors: "a recovery from declines experienced during the pandemic, record high population growth, a large pullback in home buying, and structurally low vacancy rates."
Rentals.ca anticipates average rental price increases will moderate in 2023 as "the economy and employment begin to soften". 
"It is expected that rents for units available in the market will increase by an average of about 5% in Canada during 2023, which is more aligned with current rates of income growth and the long-term historical average for rent inflation."