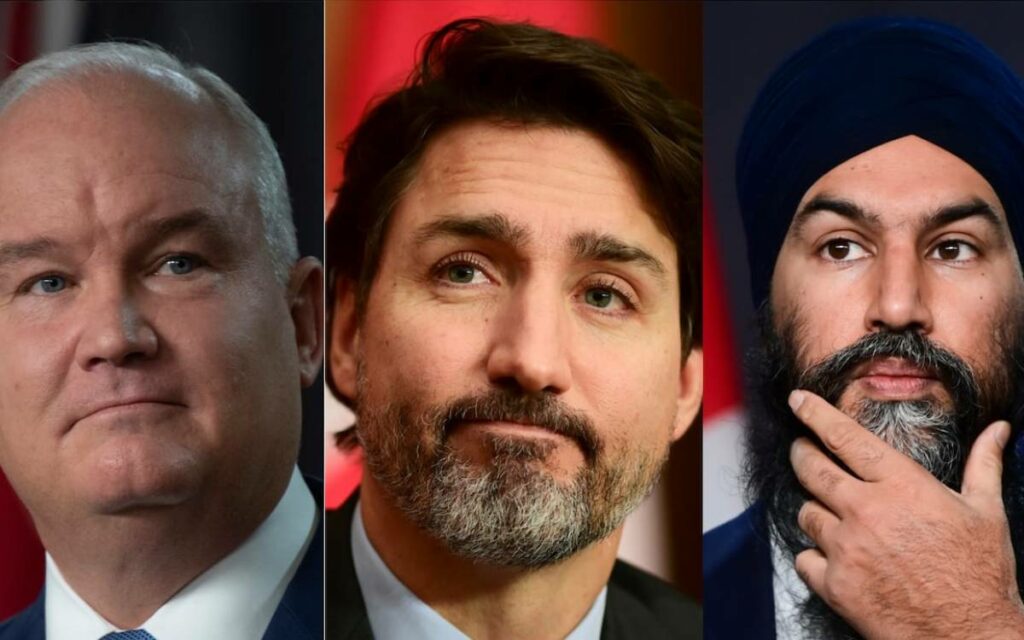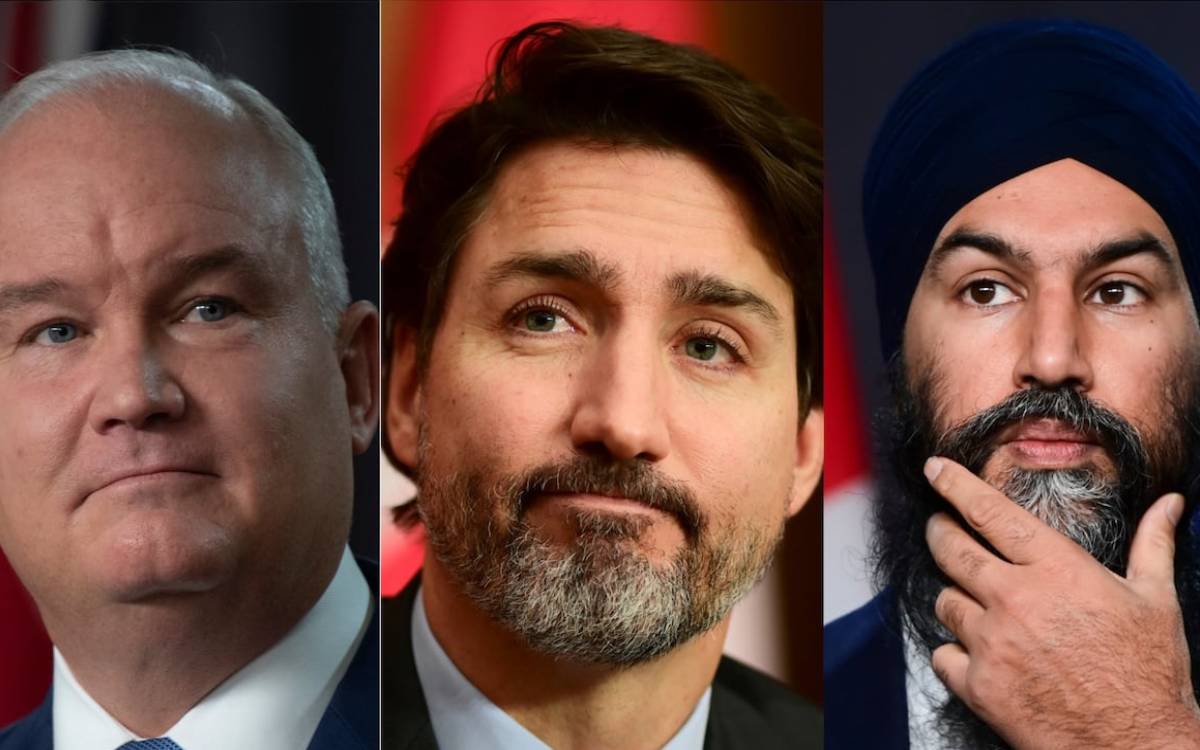 Summa Strategies' vice chair assesses the year that was for Canada's three major federal party leaders. Photo credit: The Canadian Press/CBC
2021 was not the year of sunshine and rainbows many banked on after a doom-and-gloom filled 2020. COVID-19 still loomed large over the year, dominating Canadians' lives and political decisions and discourse throughout the year. While the pandemic took centre stage, the country's politicians made for an active supporting cast, standing out for reasons both good and bad. 
This past year is likely one Prime Minister Justin Trudeau wishes to leave firmly in the rearview mirror. 2021 began with a fumble, as Canada struggled to secure timely access to COVID-19 vaccines, particularly compared to our counterparts in the U.S. and other western countries. Once Canadians got the jab, their disposition towards the Trudeau government improved, but was quickly tested again when Trudeau pulled the plug on his minority government and asked Canadians to head to the ballot box and give him a majority. 
Needless to say, Trudeau failed that test. Yes, the prime minister was returned to power – but not without a significant hit to his personal popularity, and far from the majority of seats he expected heading into the campaign. In 2020, the resolution for Mr. Trudeau was to not rest on his laurels; the unnecessary election of 2021 proved how valuable a lesson that would have been to learn. Coupled with an egregious vacation to Tofino on the first National Day of Truth and Reconciliation, it seems the prime minister has struggled to internalize the humility that Canadians keep asking him to embrace. 
Now, it seems Trudeau is making up for that poor judgment and lost time, delivering expensive child care agreements, doubling down on climate commitments and trying to settle long-standing legal issues with some Indigenous peoples in the last weeks of 2021. It might give him a good head start for 2022, but it does not make up for the year that's gone by. 
For Conservative leader Erin O'Toole, 2021 looked to be one of highs and lows. In the span of a few weeks, the Opposition leader went from being unknown or actively disliked by most Canadians, to being within reach of forming government – even if that had more to do with Trudeau's unpopularity than O'Toole's charm offensive. Certainly, O'Toole can enter next year reasonably confident that more Canadians know him than they did before, and pleased to have avoided a political loss that might have seen him ousted as leader only a year after taking the job. 
O'Toole might be happy more people know him, but probably wishes fewer knew about his raucous caucus. Though not quite the shanking sustained by previous leader Andrew Scheer after the 2019 election loss, some on O'Toole's team are content to deliver death by a thousand cuts. From openly critiquing the leader to challenging the efficacy of COVID-19 vaccines, O'Toole's backbenchers have created more headaches for the leader than a few too-many rum eggnogs over the holidays. O'Toole would be wise to treat actively harmful caucus presences firmly and swiftly, lest he be judged by Canadians for the company he keeps.  
The suggested resolution for O'Toole last year was to be ambitious and pose real policy alternatives to big-spending Liberal programs. While the Conservative Party's election platform was voluminous, few of their ideas managed to cut through the noise of a campaign that was far from lively. A refocusing by voters on cost-of-living and fiscal issues might prove to be a silver-lining for the Tories to convince Canadians they're best placed to manage a flailing economy next time an election is called.
If O'Toole's year was highs and lows, NDP Leader Jagmeet Singh's year was steady as she goes. Outside of some novel TikTok videos, it is difficult to point to real wins, or losses, for the NDP leader. If politics is a survival sport, Singh is the MVP, no better or worse-off than he was at the end of 2020. 
Should Singh want to move from surviving to thriving next year, he is desperately in need of distinction between his party and the governing Liberals, who are encroaching on the Orange Team's territory at an alarming pace. It's not just the Liberals the NDP have to worry about, these days; the Conservatives are also set on striking a pro-worker and blue-collar posture, which is usually well-worn ground by Canada's political left. 
The opportunity for Singh to strike out on his own may well prove to be on healthcare and pharmacare – top of mind for many Canadians as the pandemic wages on. COVID-19 has exposed the fragility of Canada's healthcare system, which those on the left suggest are a result of inadequate funding and budget cuts. As elective surgeries continue to be canceled, and with inflation increasing prices on everyday consumer goods, campaigning for a plan that will meaningfully address short-staffed hospitals and the cost of drugs might help create the contrast from the Liberals the NDP needs. 
Sure, 2021 did not generate much highlight reel material for the three major party leaders. But that shouldn't get them down. If it does, they should remember: at least they're not the leader of the Green Party.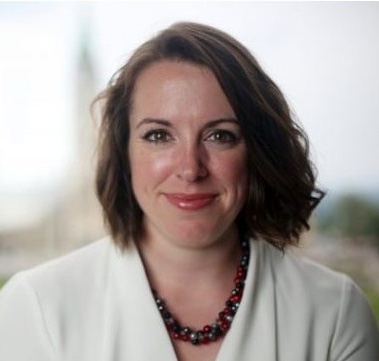 Kate Harrison is the Vice-Chair of Summa Strategies Canada, one of the country's leading public affairs firms. She is a regular political commentator on CTV, CBC, Sirius XM, and other talk radio stations, as well as a contributor to various news outlets. She has been involved in conservative politics for over fifteen years, and an active member of the country's conservative movement.