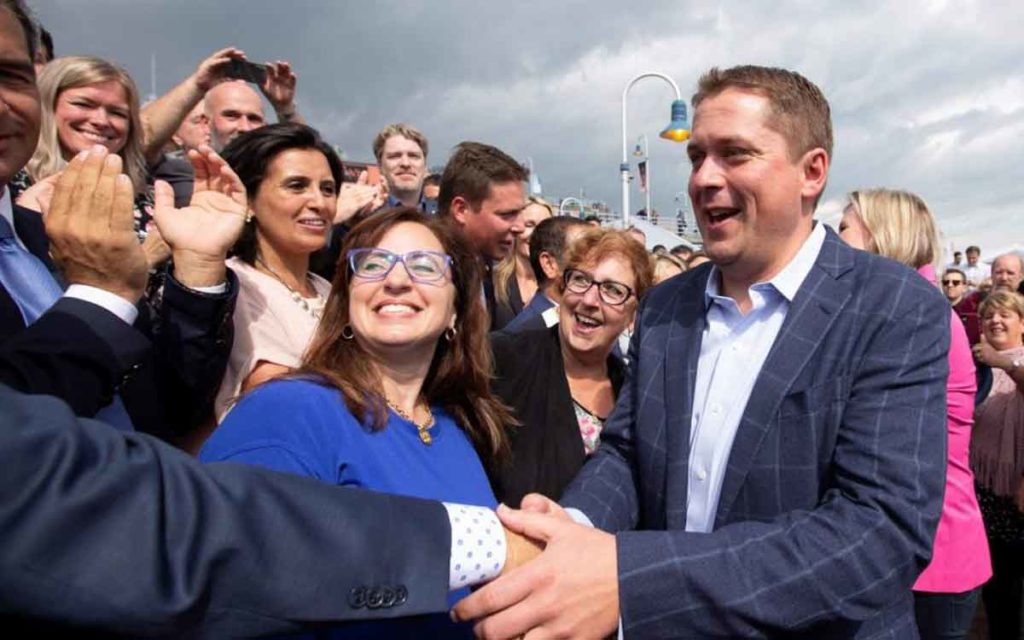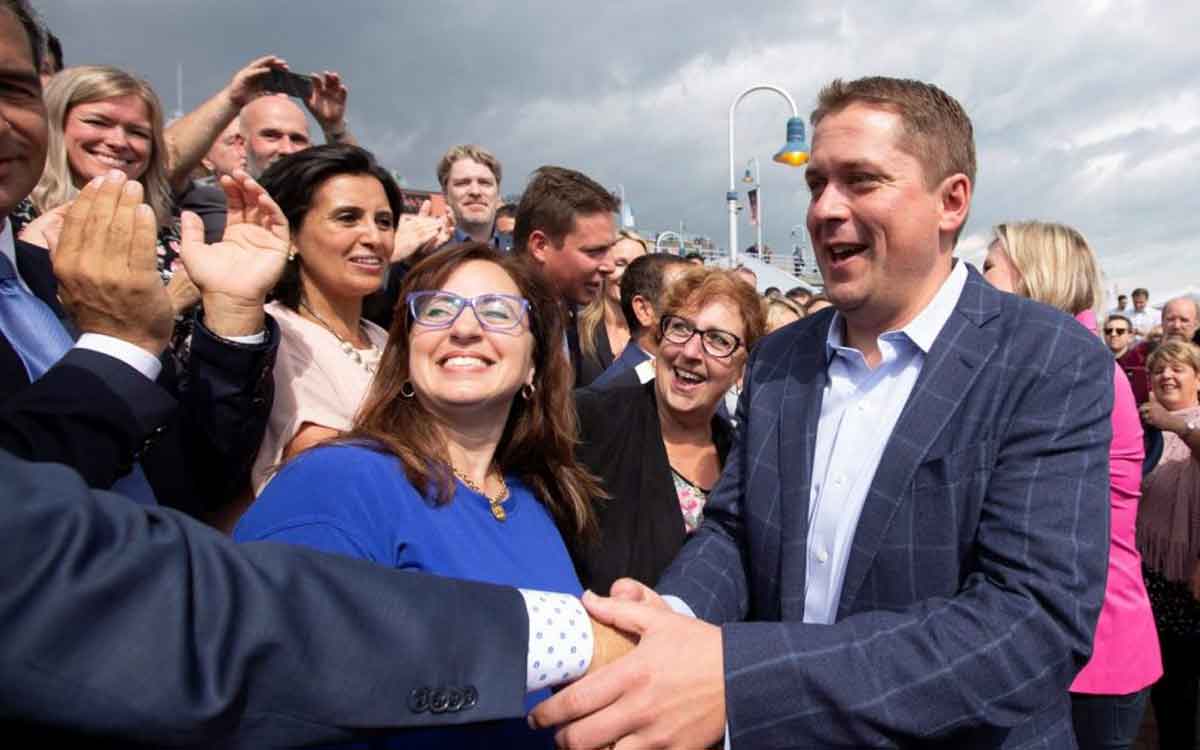 Conservative Leader Andrew Scheer greets supporters. Photo: Christinne Muschi / Reuters
It was not as damaging as Justin Trudeau's brownface and blackface, but the news that Andrew Scheer has dual Canadian-American citizenship was a rare own goal, by a leader who has put very few feet wrong in the last two years.
The Globe and Mail reported last week that Scheer has US citizenship through his father, who was born in the United States. Scheer had let his US passport lapse, but has filed US tax returns and registered for the draft, as required by US law. Scheer began the paperwork to renounce his American citizenship this August. From the article:
When asked why he waited until August to inform the U.S. government he was renouncing his citizenship, Mr. Scheer said he was focused on other things – such as rebuilding the party and getting ready for the election, but added that it had always been his intention.
Mr. Scheer said he's been transparent on the issue. "I was never asked about it from Canadians. I've actually been very honest about it. My father's always been very open about where he's come from and I haven't been asked the question."
The Globe and other news outlets added that Scheer had attacked former governor-general Michaëlle Jean for holding dual French-Canadian citizenship. The so-called attack consisted of Scheer asking his constituents in a 2005 blog post whether it was appropriate for Jean to hold dual Canadian-France citizenship: "Would it bother you if instead of French citizenship, she held U.S. citizenship?" That's not much of an attack – it's asking your voters how they feel about something in the news.
But the story about Scheer's dual citizenship, and the framing of it, remind us that Conservatives are often held to different standards. These standards are enforced by a largely left-leaning media. They are the differing standards at work when Andrew Scheer is relentlessly questioned about his personal views on abortion and same sex marriage, while the ostensibly catholic Justin Trudeau and observantly Sikh Jagmeet Singh are not.
There was another contrast in recent days, when the Conservatives dropped a British Columbia candidate who had made anti-LGBT comments in a 2011 video. Some might suggest that the Conservatives cannot really "drop" Heather Leung, as the ballots have already been printed with her name and party affiliation. But the Conservatives have said that she will get no support from the central party, and will not sit with the Conservative caucus if elected.
Meanwhile, the Liberals are standing by one of their Nova Scotia candidates, Jaime Battiste, who posted numerous sexist, homophobic, and anti-aboriginal tweets (the candidate himself is aboriginal). Then again, if your own leader has cavorted in blackface and brownface, I guess it would be hard to call up your candidate and say "Yeah, we're gonna have to drop you as a Liberal candidate over those tweets you put out seven year ago."
The Liberals pointed out that their candidate in Nova Scotia had apologized. Funnily enough, this is the standard that Andrew Scheer had defended in the early days of the campaign, when the Liberal war room was dropping old posts and videos of Conservative candidates saying controversial things: "As long as someone takes responsibility for what they've said, and addresses the fact that in 2019 some things that may have been said in the past are inappropriate today, that if anything that they've ever said in the past caused any type of hurt or disrespect to one community or another and have apologized for that, I accept that," said Scheer. Of course, Scheer was criticized by many for this stance.
Different standards are why Scheer should have applied to renounce his US citizenship a year ago, and given the story to a friendly outlet to write up during the week between Christmas and New Year's. As a longtime political animal, and member of Stephen Harper's caucus, Scheer is well aware that there is one standard for Conservatives, and another for everybody else. It's not fair, but it is what Conservatives have to live with. When he forgot that standard, Scheer let down his own team.
The dual citizenship story took attention away from the news – revealed by the Conservatives during the TVA French debate – that climate warrior Trudeau is using two jets for his campaign, and emitting almost three times the carbon of Scheer's single campaign plane. Trudeau had a second plane during the 2015 campaign too. Yet none of the journalists accompanying Trudeau on that campaign or this one thought Trudeau's climate hypocrisy was newsworthy. Again, one standard for Conservatives, another for everybody else.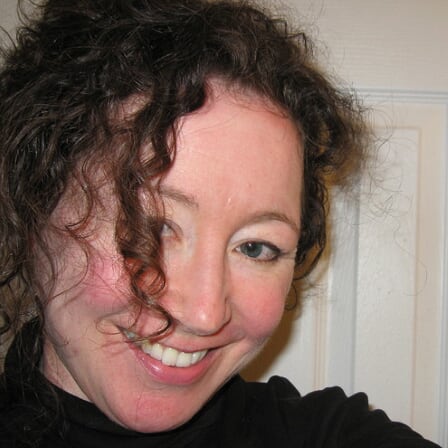 Joan Tintor is a writer and researcher. Her political experience includes having served as legislative assistant to Ontario transportation minister Al Palladini, and as a writer/researcher for the Ontario PC Caucus. She earned a degree in journalism from Ryerson Polytechnic University in 1994.