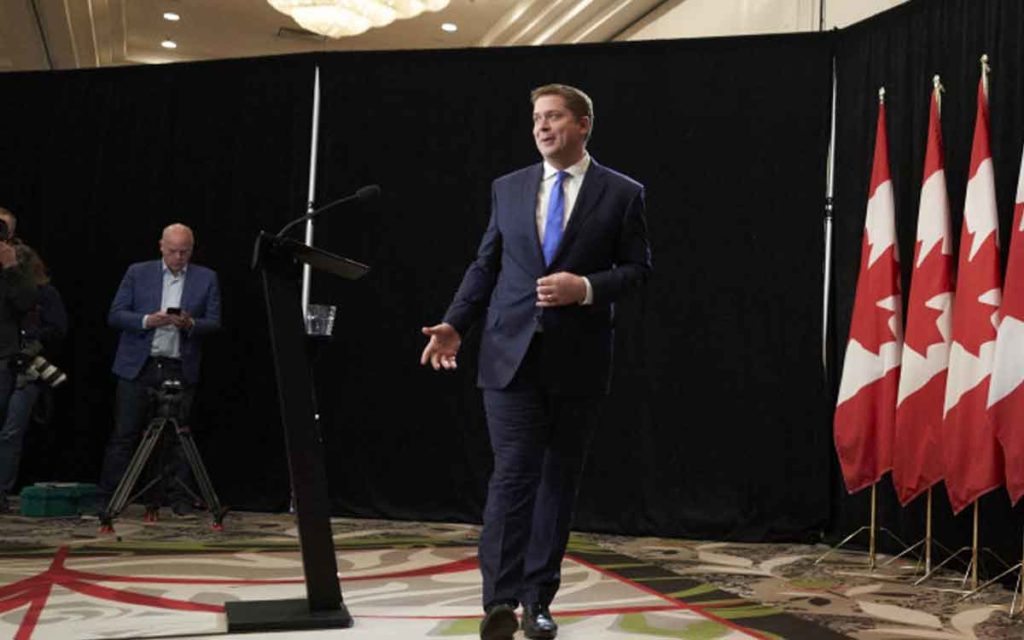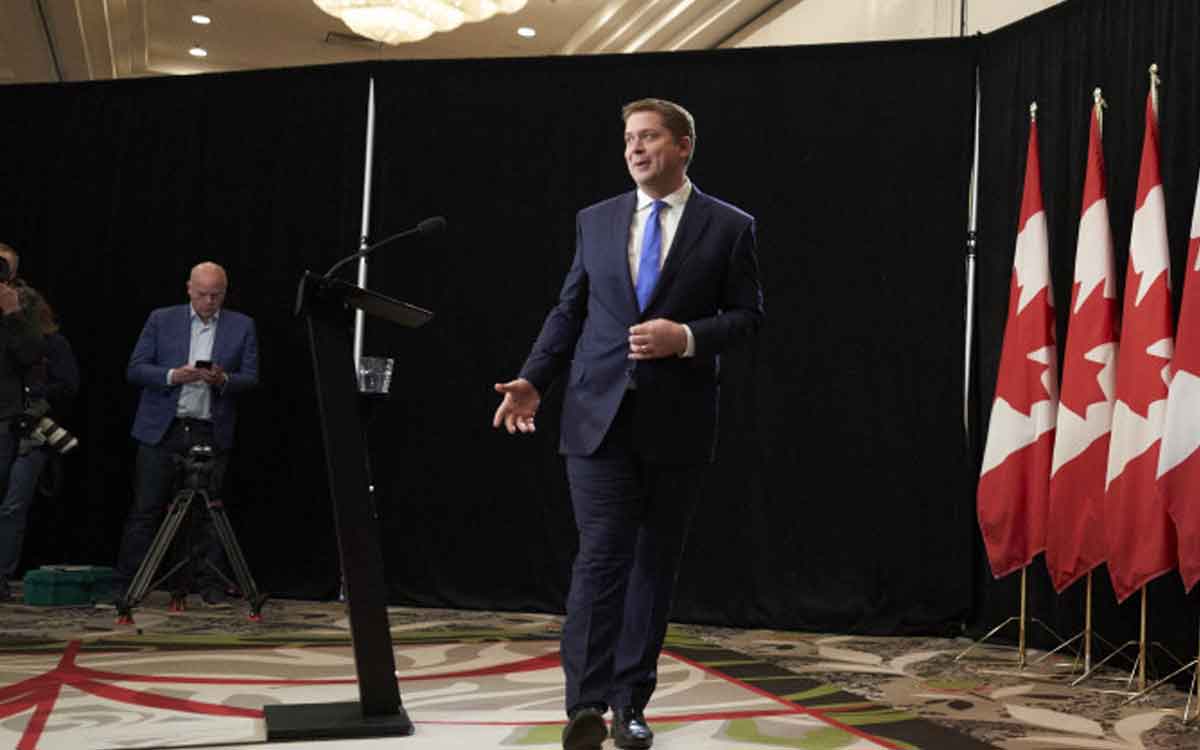 Conservative Leader Andrew Scheer walks away following a press conference in Regina on Oct. 22, 2019 (GEOFF ROBINS/AFP via Getty Images) 
I think there's an old joke that a war correspondent's job is to show up after a battle and shoot the wounded. For political journalists in Canada, the equivalent would be to shoot conservatives after an election. Maybe it's because journalists merely want to get a head start on the inevitable crossfire of conservatives shooting each other, which in election 2019 started before the ballots had even been cast.
The conservative tendency towards public warfare aside, the post-election reporting and commentary portray a media that is near unanimous in its assessment that Conservative leader Andrew Scheer was the big loser, and will never be prime minister unless he renounces his Catholic faith and drives the lead float in every pride parade in full drag, until that glorious carbon-free day when every pride parade is comprised entirely of self-driving vehicles.
Yes, Andrew Scheer was the loser, despite gaining seats, and gaining votes (he won the most votes, actually). The loser was certainly not Justin Trudeau, who lost his majority, every seat in Alberta and Saskatchewan, several cabinet ministers, and whose blackface antics exposed him as a diversity/sensitivity hypocrite.
The loser was not Jagmeet Singh, who lost 15 seats, including all but one the NDP had held in Quebec. NDP strategist Karl Bélanger described Singh's election night triumphalism as "a bit indecent. Here they were, celebrating on the grave of the Orange Wave" (Jack Layton's 2011 success in Quebec). But having driven expectations down so low during his two years as leader, retaining party status somehow qualifies Singh as one of the campaign's winners.
The loser was not Elizabeth May, who failed again to meet media-fuelled expectations of a Green "breakthrough." She managed to add just one more seat to her two-seat caucus. May even claimed on election night that the Green Party had more than doubled its vote (no, they didn't).
And the loser was not People's Party leader Maxime Bernier, who failed to retain even his own seat. Well, maybe picking on Bernier at this point is just cruel. A few days ago Bernier tweeted a photo of himself gathering wood for winter at his cottage. Perhaps he was trying to invoke famous log-splitter Abe Lincoln, who struggled through many political and personal failures before becoming US president.
In addition to declaring Andrew Scheer the loser, the media also performed another notable task in the days after the election. They reassured Canadians that, despite Justin Trudeau's arrogant and disrespectful election night performance, he was really, really humbled by losing his majority and was going to think really hard about what Canadians were telling him.
If you were not up until the wee hours on election night, then you missed Trudeau's speech, which began mere seconds after Andrew Scheer started making his speech. It was a spectacularly rude big-footing that stunned most commentators, who nevertheless had no choice but to broadcast Trudeau instead of Scheer.
Trudeau began his victory speech with a boast that "tonight, Canadians rejected division and negativity." This was followed by "you are sending our Liberal team back to work, back to Ottawa with a clear mandate." In a much-shared clip, former Conservative minister James Moore savaged Trudeau's speech, while CBC host Wendy Mesley stared daggers at Moore:
Justin Trudeau won tonight and congratulations to him of course. But he is the prime minister. The bar is set higher for the person who was chosen to be prime minister. And except for that one short clip that you showed, his speech tonight was extraordinarily tone deaf and irresponsible, frankly.
He lost 1.4 million votes, he lost his majority government, he lost the popular vote, he got swept out of Saskatchewan and Alberta and he lost cabinet ministers, and he won his government by castigating and wedging Quebec against particularly Alberta and Saskatchewan on the energy issue.
And so for him then now to lecture Canadians about the importance of coming together after having gotten elected by wedging Canadians against each other – and then continuing to do it tonight – is extraordinarily irresponsible for the man who was just selected as prime minister. No sense of humility whatsoever.
Two days after the election, Trudeau held a news conference, where he appeared more somber than he did on election night and admitted that "Canadians gave me a lot to think about." He also said that "There were big substantive ideas that weren't fully debated in this election campaign, and I regret that," a strange admission from someone who set up a government debates commission designed to minimize the number of leaders' debates (which is exactly what it did).
Trudeau also acknowledged the hardships faced by the oil and gas industry, but did not acknowledge that any of those hardships were due to his legislation and regulations that killed two pipelines and made Kinder Morgan walk away from the Trans Mountain pipeline expansion. And despite buying the pipeline, Trudeau's government has done little to advance that expansion, even refusing to argue the government's case in federal court. According to humble Justin, however, the hardships of the oil and gas industry are the fault of falling oil prices, not the now-diminished Team Trudeau.
But the content of Trudeau's answers on Wednesday was not the point. The point was to look humble and chastened, and thanks to Trudeau's acting ability and a helpful media, that impression was cemented and distributed from "coast to coast to coast," as the saying goes.
This was merely a repeat of much of the media's conduct throughout the election campaign. As the National Post's Chris Selley observed: "The first week in particular was almost entirely consumed by talk of abortion and same-sex marriage, for no reason except that the Liberals wanted it to be: Every morning they beamed out on-the-record information about Scheer or someone he was campaigning with, and that became the story. It shouldn't work like that."
No, it shouldn't. So before Conservatives get out the torches and pitchforks for Andrew Scheer, they might include in their post-election analysis a hard look at how they handled the media and vice versa. There is little point in swapping out Andrew Scheer for Rona Ambrose or Peter MacKay if they are going to face the same firing squad that Scheer did. Maybe Conservatives should be asking themselves how they can reduce a hostile media's firepower.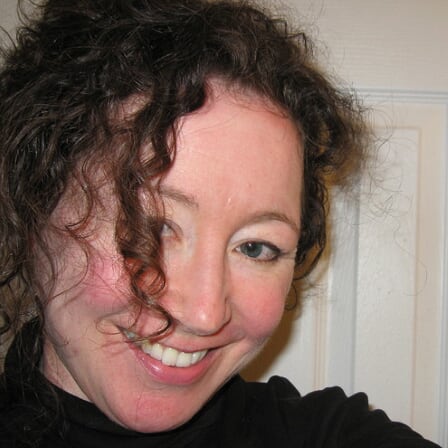 Joan Tintor is a writer and researcher. Her political experience includes having served as legislative assistant to Ontario transportation minister Al Palladini, and as a writer/researcher for the Ontario PC Caucus. She earned a degree in journalism from Ryerson Polytechnic University in 1994.