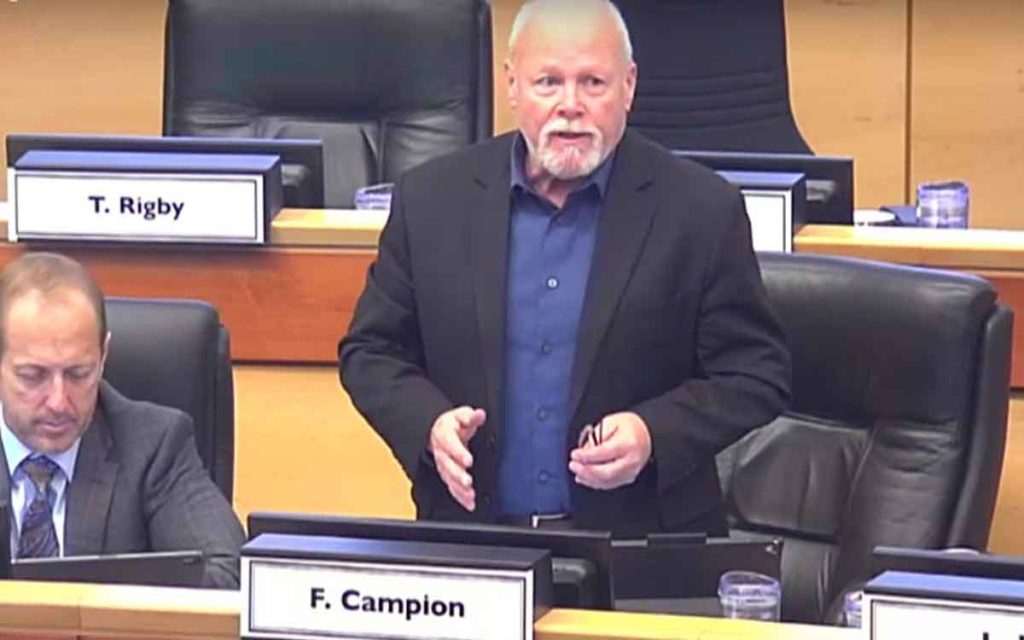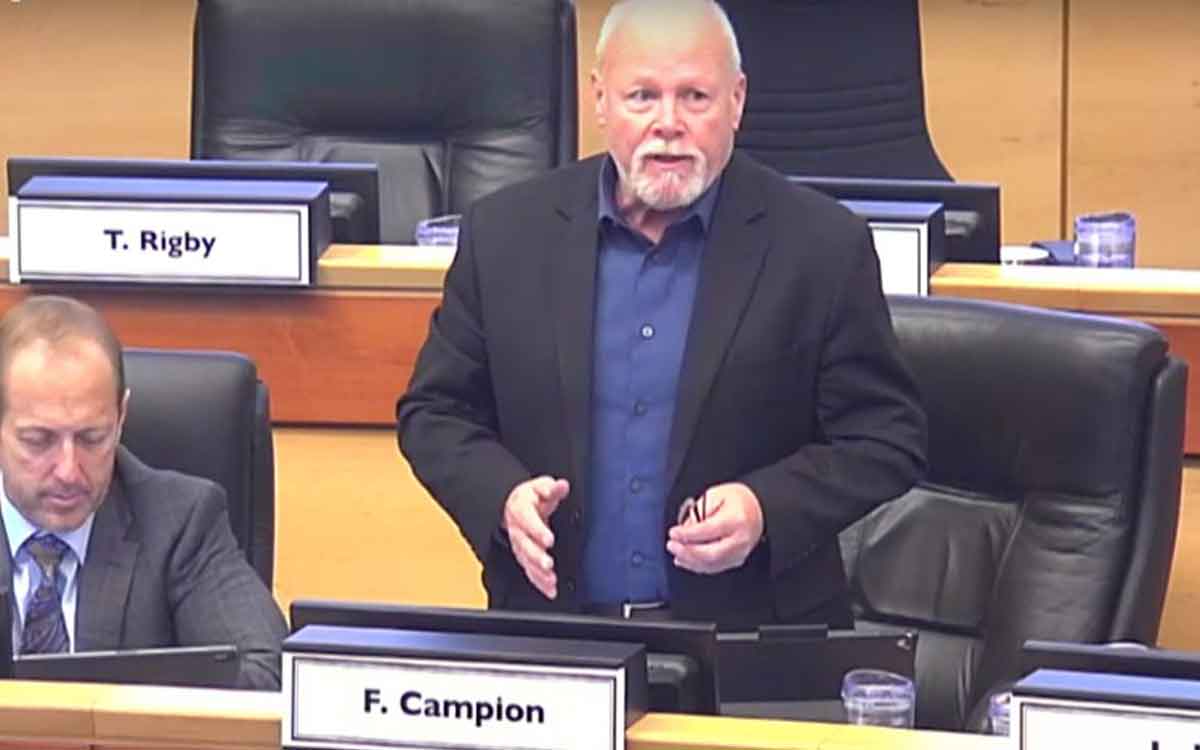 Welland Mayor Frank Campion at December's council meeting lobbying to keep the Region's Smarter Niagara Improvement Program in place.
Despite almost being snipped from the budget by Niagara Regional Council, the Niagara Region's Smarter Niagara Investment Program (SNIP) was maintained thanks to passionate pleas from regional councillors whose communities have benefited greatly from the incentive.
The Smarter Niagara Investment Program at its core supports local municipalities in offering incentives to local businesses in order to attract new development or significant improvements to existing buildings.  Investments made into façade improvements in downtown communities for example have brought public benefit via improved streetscaping and rising property values. The program also helps entice new developments that in the long run increase tax revenues.
Ironically at a time when the cash strapped region is in desperate need to find revenue sources it debated cutting one of the few programs that generated a return on its investment.
Peter Nicholson, Regional Councillor for Niagara Falls is, for one, pleased that Regional Council continued funding SNIP.
"This program offers residents good value for their tax dollars as it encourages small builders to undertake those repurpose and renovation projects that will be noticeable by residents and will make our community a better place to live."
SNIP is very popular with local communities across Niagara to help spur development.  During the Region's debate over cutting SNIP, Fort Erie Mayor Wayne Redekop reminded his colleagues that his Town had received 76 applications over the past six years and 45 of them were approved.
"The reality is, many of these improvements in our downtown cores wouldn't have occurred except for this kind of grant funding, or if they would've occurred, they would have been delayed."
Welland Mayor Frank Campion whose community was able to have a tax cut due to the development and growth in the Rose City also championed the importance of keeping the support available. "I just want to point out how important these SNIP grants are to our community and to the Niagara region in general," Campion told his fellow councillors. "These grants generate an awful lot of private sector investment. For example what we've experienced in our community over the past several years it has a return of $66 for every dollar invested." Campion also said that in order to get the private sector involved in participating in developing affordable housing, incentives are needed.
St. Catharines regional councillor George Darte said he was initially not in favour of keeping the SNIP but changed his mind and spoke in favour of having a program that incentivise new business, job creation and economic development. "When I campaigned I campaigned on the idea that we need jobs here in Niagara in order to help those less fortunate, for affordable housing… I'm definitely in favour of it. We need to land businesses here. We need to have people making money so they can support those less fortunate."
Regional Councillor Pat Chiocchio from Welland was blunt in his assessment saying it would be "ludicrous" to cut the program. "How do you think the GE plant happened?"
Despite a final Regional Tax increase of 5.85%, the largest in a decade, not all Regional Councillors shared the same enthusiasm for SNIP and its potential economic benefits during the Region's discussion.
"To me, it was just a way of giving developers the inevitable grant that they should be paying anyway," Niagara on the Lake Mayor Betty Disero said.
Lincoln Councillor Rob Foster noted, "We need to be looking at those things we must do, so I can't support this."
St. Catharines representatives Laura Ip and Kelly Edgar also spoke against with Edgar saying, "The tax payer relief fund is there to give the tax payers relief not to fund another set of developers. We give them enough money as it is."
The issue of business support is something that is appearing at other Councils in Niagara as well.  Recently, the City St. Catharines twice denied a tax rebate applied for by the Port Dalhousie Harbour Club to rehabilitate the former Lincoln Fabrics building.  The rejections came despite the grant being recommended by City staff, similar applications approved by City Council, and the tax rebate program advertised on the City website.
On that issue, Sheldon D. Rosen, President of the Port Dalhousie Harbour Club recently commented during a 610 CKTB interview that some on council "just don't get it" and "don't understand the long-term benefits to the city that being forward thinking would bring to them."
Overall the Region has increased its support for development grants and development charges for new and brownfield projects.