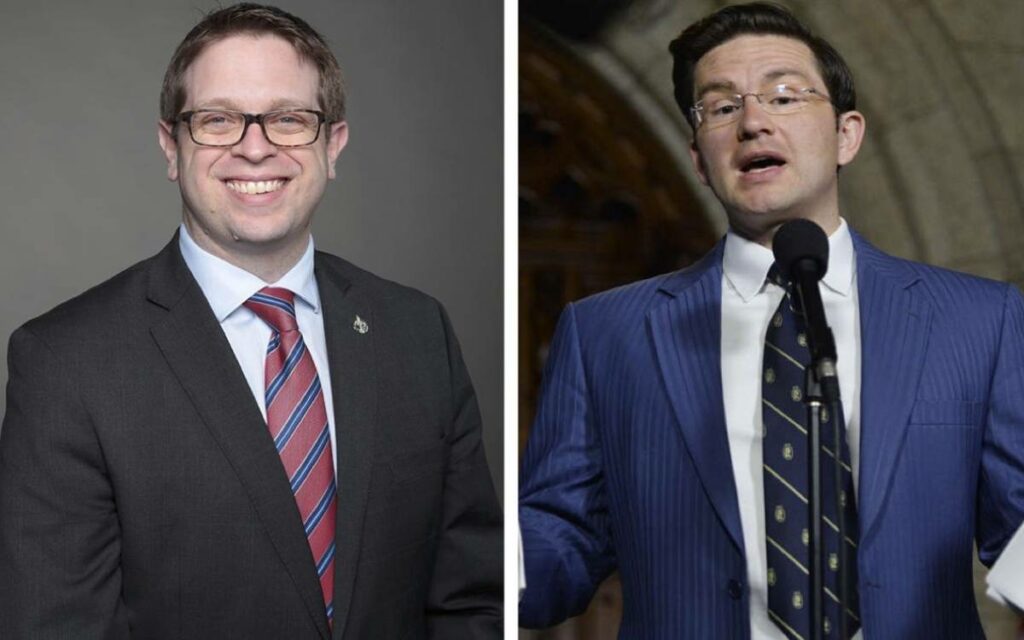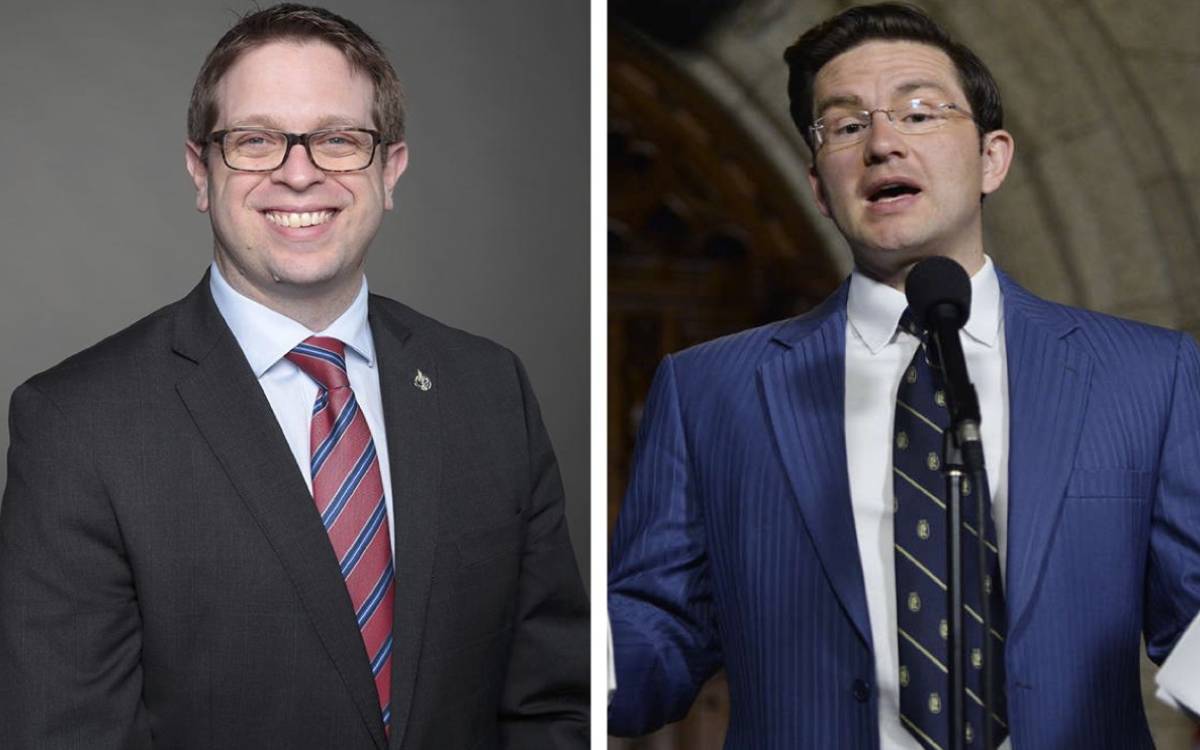 Liberal MP for St. Catharines Chris Bittle (left) attacked Conservative MP Pierre Poilievre (right) for simply retweeting a comment from Dr. Jordan Peterson on social media. Photo credit: iPolitics/Matthew Usherwood
A local politician no stranger to social media flubs was back at it again earlier this week. 
On Monday, Liberal MP for St. Catharines Chris Bittle decided to attack Conservative finance critic Pierre Poilievre for reposting a comment made by well-known Canadian public intellectual Jordan Peterson.
Dr. Peterson, a clinical psychologist, worldwide best-selling non-fiction author, and professor emeritus at the University of Toronto, told his 2.2 million Twitter followers on Jan. 10: "These mandates bring out the petty authoritarian in everyone tasked with enforcing them. Not a good practice in a free society @JustinTrudeau". 
Shortly after posting, Poilievre retweeted Peterson's comment. 
Bittle apparently took exception to Poilievre reposting the prominent academic's opinion, screenshotting the retweet and adding the caption: "Just Erin O'Toole's finance critic retweeting Jordan Peterson and undermining public health, while ICUs fill up fast." 
It's not clear whether the federal representative for St. Catharines was more offended by Poilievre's decision to engage with Dr. Peterson generally, or the content and/or alleged implications of the latter's original post. 
Regardless, the long-time Ottawa-area MP and former Harper cabinet minister saw Bittle's swipe and replied: "There's more brainpower in Dr. Peterson's pinky finger than in all the bobbleheads of your Liberal caucus combined. As for ICUs, you guys added a half-[trillion] of debt in 2yrs supposedly to fight COVID. How much intensive care did you buy with that?"
Poilievre's reply received nearly 7,000 'likes' and close to 2,000 retweets, with the majority of users supporting the Conservative MP over his Liberal counterpart.
"Just one of Justin Trudeau's trained seals stoking division and undermining the Charter of Rights and Freedoms, while our way of life is being stripped from us fast," tweeted Jacqui Budden to Bittle. 
"Chris is out here making ad hominem attacks while @PierrePoilievre addresses the real issue. Checkers vs. 3-D Chess," added Rob Hunter. 
Bittle did not respond to Poilievre, nor the backlash that precipitated.
Monday's incident was not the first time Bittle has posted something to social media that's garnered widespread condemnation. 
As reported by The Niagara Independent in Dec. 2020, the St. Catharines MP told a local business owner via Facebook that he was "pro-death" for simply recommending people do their homework before getting vaccinated, so as to make an informed decision. 
Duane Gibson, owner of Gibby's Electronic Supermarket in St. Catharines, said at the time he was not anti-mask nor anti-vaccine, he was simply offering a suggestion. 
For this, Bittle told Gibson: "You are just pro-death and I'll gladly take my business elsewhere and will let others know too."
After intense pushback from people for trying to use his political influence to negatively impact a small business owner, Bittle deleted the exchange. 
Funny enough, just as he did with Poilievre on Monday, Bittle told The Niagara Independent in 2020 that Gibson was "undermining" public health.
"In the middle of a pandemic there is no room for undermining our public health experts, including suggesting vaccines approved by Health Canada aren't safe," said Bittle in an emailed statement. "Misinformation is dangerous and I will not allow it to be spread on my social media accounts."