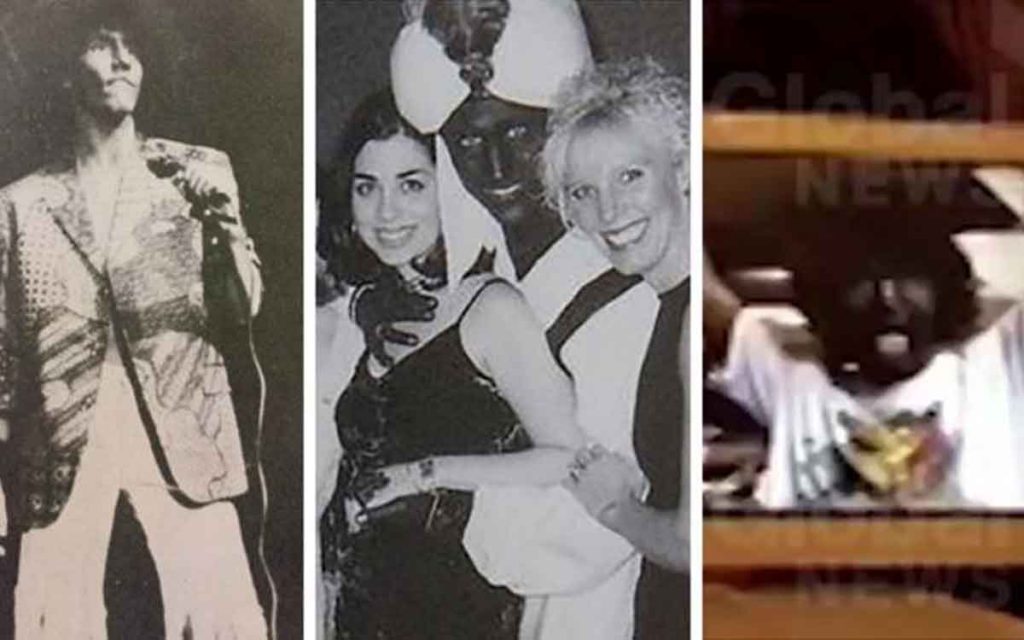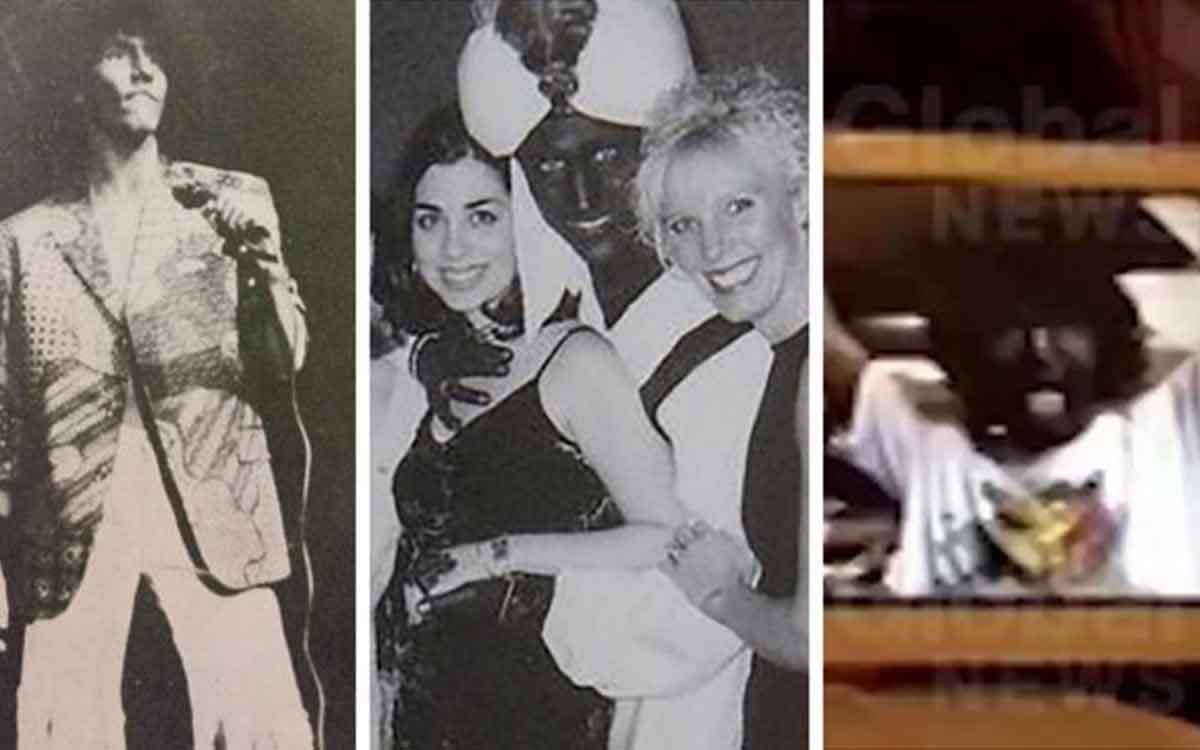 The BBC published all three photos of Prime Minister Justin Trudeau in blackface.
American publication Time Magazine first broke the story with a shocking photo of Justin Trudeau in blackface wearing a turban, with one of his hands placed across a woman's chest. This photo was published in a 2000-01 yearbook of the West Point Grey Academy, a private school in Vancouver, taken at an "Arabian Nights" themed gala. It was obtained by the American magazine from a Vancouver businessman who thought it should be made public.
Later Wednesday evening, Globe and Mail reporter Robert Fife tweeted out another photo with Trudeau in blackface from his Jean Brebeuf high school year book. Then Thursday morning, Global News released a video of Justin Trudeau in blackface and his body darkened, jumping up and down with his tongue out. And, it now appears, other photos are being released…
With the public disclosure of the first photo, Trudeau said: "I'm really sorry. I shouldn't have done that. It was something that I didn't think was racist at the time…" Whether his apology is enough to salvage Trudeau's political career is unknown and will be decided on Oct. 21. Unquestionably, there is much more to this story that will unfold in the coming days.
But, with the initial fallout from this news bombshell, there are three issues that are all equally deserving of condemnation: 1) Justin Trudeau's initial insensitive acts of racism; 2) Trudeau's supporters (in the Liberal Party and in the media) spin on this apology and his right to carry on; and, 3) the conduct of our Canadian media.
First and foremost, what Trudeau thought back in 2001 (and on the other occasions) when he donned blackface is a serious matter. Justin Trudeau was raised in a worldly, wealthy family; son of a Prime Minister who, ironically, is responsible for Canada's Charter of Human Rights and Freedoms. He was educated in Canada's best schools and he went on to teach in a private school. This photo (and at least one other) was taken when he was a 29-year old teacher – who should have been setting an example for his students. Only months earlier, Trudeau had delivered a eulogy at his father's funeral. Also, at that same time, Trudeau enjoyed a "Kokanee Grope" with a female B.C. reporter. Justin Trudeau was old enough at 29 years of age to know right from wrong; the fact that he had a difficult time discerning the difference between the two is disturbing.
John Ibbitson of the Globe and Mail points out that it was not so much the act in 2001, but the time since that is troubling: "The biggest problem is that for 18 years, he kept silent about it. The offence lay not only in the act, but in the silence." Ibbitson writes: "This is about me taking responsibility," Mr. Trudeau told reporters. No, it isn't. It is about not taking responsibility, and then apologizing when you get caught. All those years, when he could have told us himself, he didn't. That is what he should be ashamed of. That is what voters need to think about."
Just as reprehensible as Trudeau's actions, are the Liberal supporters who are attempting to explain away Trudeau's multiple racist displays. Brian Lilley of Sun Media states: "The answers that Justin Trudeau gave to questions about his appearance in blackface would not be acceptable to Trudeau if any other candidate was saying those words…. Let's be honest, if any other candidate in any other party was found to have a photo like this, they would have been fired, dropped as a candidate and pushed out of politics."
Christie Blatchford nailed it when she opined why Trudeau supporters would have a difficult time with conjuring up sympathy for him: "He is always quick to judge others, condemn them, and always with that rich Trudeau smarminess. In other words, it's his hypocrisy that is so galling…. He's different, you see. He can judge the rest of us harshly, but not himself."
Given how mean-spirited the Liberal attacks have been on Conservative candidates during the first week of the election campaign, the appropriate adage is, "Live by the sword; die by the sword"; or perhaps for Liberals in 2019, "When you live by virtue signaling, you die by social justice."
The breaking story of Trudeau's racism is also a case study of our country's media. What does it say about Canadian media when a foreign news agency has to break this story? When major foreign media outlets carry the substance of the story while Canadian news headlines carry Trudeau's apology?
Many Canadians are openly questioning the bias and double standards that exist in the Canadian media corps. Is it possible Canadian news agencies would have withheld this story and buried what are otherwise facts that are easily accessible and verifiable? Norman Spector tweeted out: "No doubt in my mind that had @CBC obtained the photo, they would have lined up talking heads to excuse Trudeau when first reporting it."
Thursday's Twitter hashtag #brownfaceTrudeau streamed many disparaging comments about the country's media coverage:
"CBCs Rosemary Barton looked like she was going to cry when talking about this story."
"Katie Simpson seems to be bitter. In her report she said Scheer put on a suit & "tried to appear Prime Ministerial."
"Canadians expect the media to treat this story the same as if the photo was of Scheer in blackface. We all know if it was Scheer, the central question would be, should Scheer continue as leader?"
To this point, CBC's lead headline on the breaking news is a pitiful attempt to soften the story's impact: "Trudeau says he is 'deeply sorry' he appeared in brownface at school gala in 2001." And the CBC analysis piece concludes with a pitiful attempt to excuse Trudeau and give him the last word on the issue: "I'm going to be thinking about how much harder I'm going to have to continue to work to demonstrate to Canadians that I'm focused on building a better world with less discrimination, less intolerance and less racism."
Yet, there are no excuses for the embarrassment Trudeau has caused for Canadians. No excuse for 29-year old Justin Trudeau's racist acts. No excuse for the 2019 Liberals who defend the indefensible. No excuse for our biased Canadian media.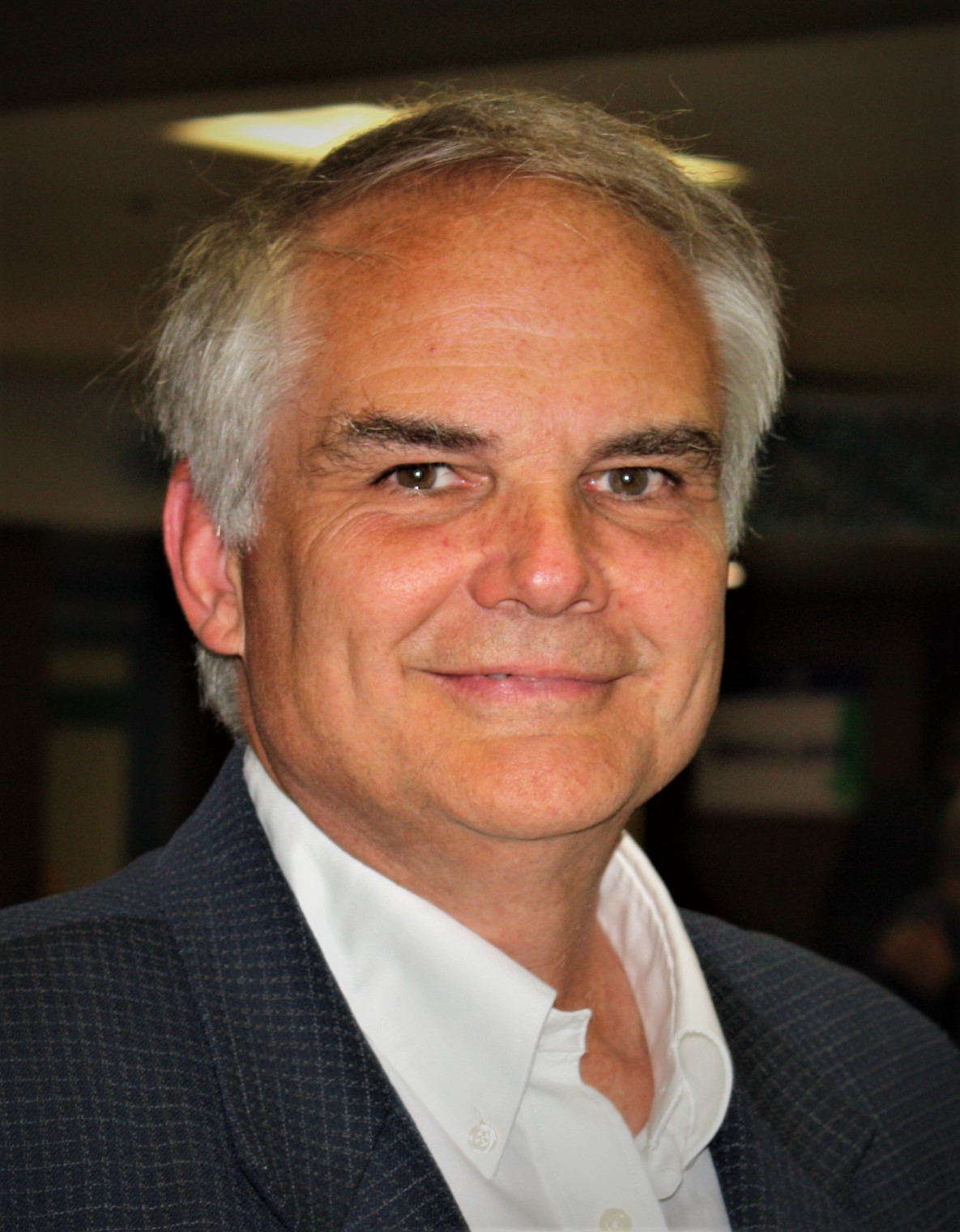 Chris George is an advocate, government relations advisor, and writer/copy editor. As president of a public relations firm established in 1994, Chris provides discreet counsel, tactical advice and management skills to CEOs/Presidents, Boards of Directors and senior executive teams in executing public and government relations campaigns and managing issues. Prior to this PR/GR career, Chris spent seven years on Parliament Hill on staffs of Cabinet Ministers and MPs. He has served in senior campaign positions for electoral and advocacy campaigns at every level of government. Today, Chris resides in Almonte, Ontario where he and his wife manage www.cgacommunications.com. Contact Chris at chrisg.george@gmail.com.