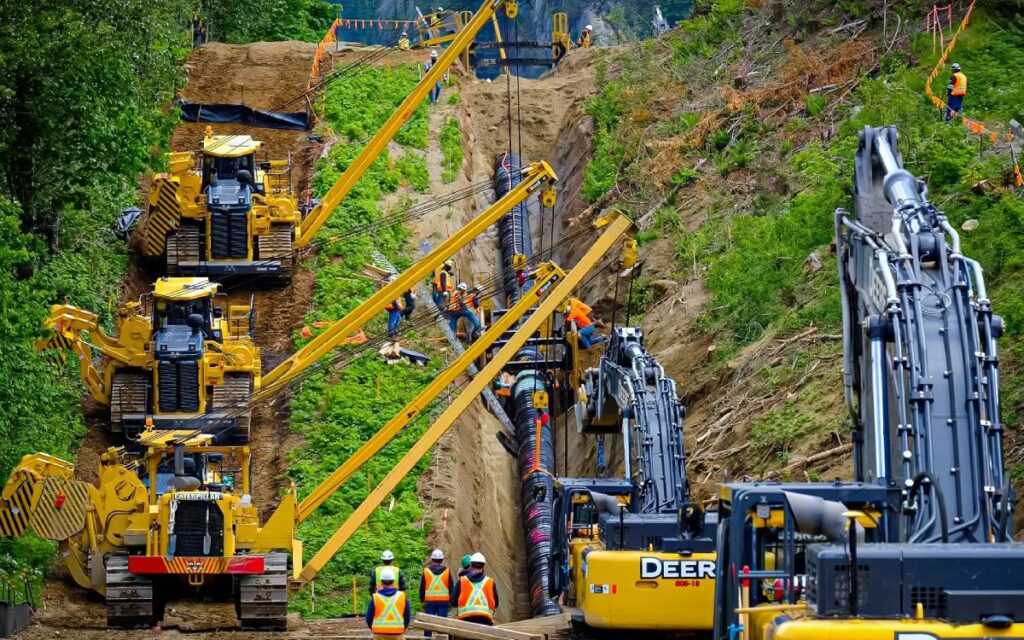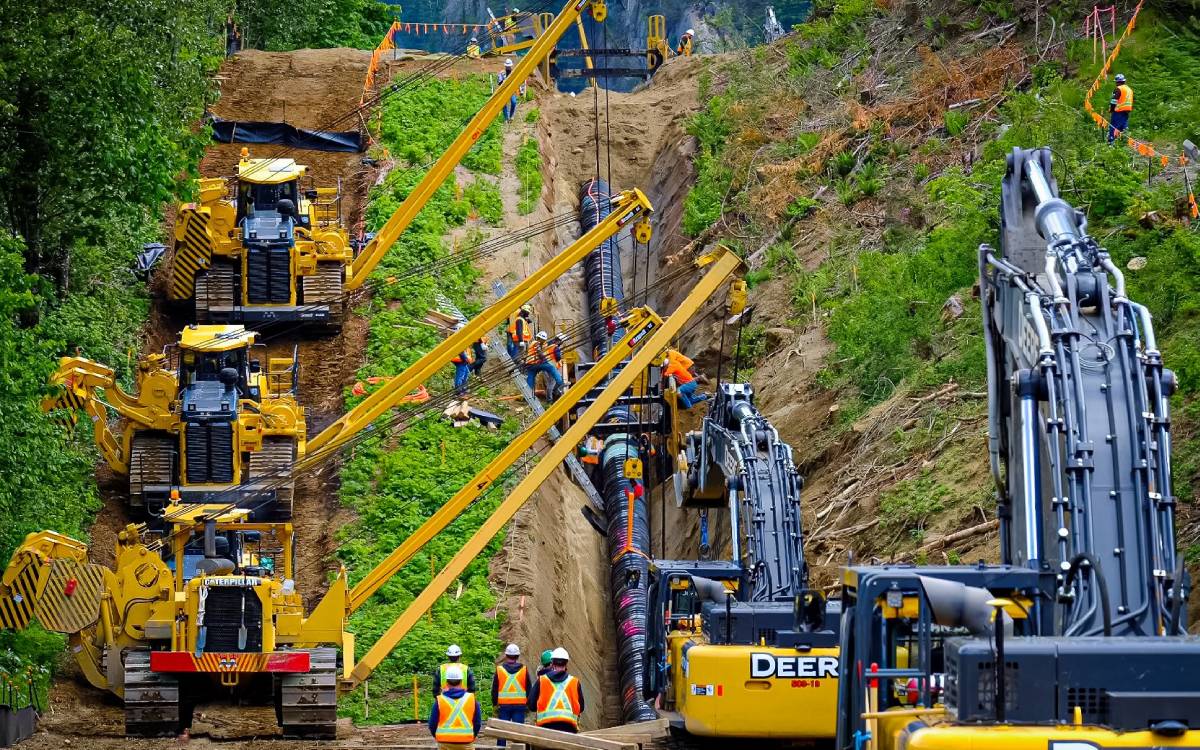 This is the second installment in a two-part series that looks at the economic contributions of the country's oil and gas industry and what the current government's approach to the industry will mean for Canada. To read part one click here. Photo credit: Facebook/Trans Mountain


Calgary-based TC Energy Corp announced this week that it is terminating the Keystone XL pipeline project. Gone is the promise of the daily export of 830,000 barrels of Canadian crude. Gone are the tens of thousands of direct and indirect jobs, the billions of dollars in taxes, and decades of prosperity for Albertan communities. After a 13 year odyssey of regulations and government doublespeak, the company is absorbing its loses, closing its doors, and walking away.
Shouldn't this loss make headline news? Should there not be some statement from the prime minister?
We are speaking of a blow to arguably Canada's most significant economic sector – oil and gas production. Canada ranks fifth in the world with significant reserves to develop. There are thousands of Canadian companies and nearly one million jobs dependent on a healthy oil and gas industry. The billions of dollars of gas and oil exports account for 22 per cent of all Canadian exports. This bolsters the country's GDP and provides tax revenues for governments of all levels across the country.
Despite the oil and gas industry's importance to the Canadian economy, the governing Trudeau Liberals have devalued its contributions and have pursued an energy policy course that is intent on curtailing future development. In June 2019, prior to the last federal election, the Trudeau government pushed two controversial initiatives through parliament: 1. Bill C-69 established an unparalleled, onerous federal environmental assessment process for major resource projects in Canada; and 2. Bill C-48 placed a moratorium on Canadian oil tanker activity along the BC coast – effectively cutting off the Asian market to Canadian energy producers.
Together, these legislative initiatives were seen as further evidence of a federal government that is intent on closing down the western oil and gas industry. They were central to the Liberals' campaign election promise to introduce a green agenda designed to win votes in urban central Canada.
With Trudeau's 2019 re-election, these policies are now established in spite of the obvious ironies:
Canadian resource development projects are subjected to the rigor of the new regulations, but the same carbon emission and environmental standards are not applied to oil and gas imported from Saudi Arabia and Venezuela.
Quebec can obstruct western pipeline development while its Montreal and Quebec City ports handle significant increases of imported Saudi oil.
BC can object to exporting Alberta crude oil while, at the same time, the Vancouver port is the North America's top exporter of coal.
Canadian oil tankers are banned off the coast of BC, but coal tankers and foreign mega-cruise ships remain free to traverse BC coastal waters.
Since first gaining office, the Trudeau government's statements and actions have delivered irreparable blows to investor confidence in Canadian energy projects. Statistics Canada data reveals that, since 2015, investment in 10 of our 15 major business sectors has dropped by 17 per cent, as both Canadian and foreign investors have headed elsewhere.
With respect to the oil and gas sector, Enbridge's Northern Gateway project and TC Energy's Energy East project were scrapped when the two companies were forced to manage uncertain regulatory delays. In the last 24 months mega-resource projects Teck Frontier and Energie Saguenay have been abandoned. Many exploration and drilling companies have pulled up stakes and headed south. In fact, it is estimated that within the last seven years Canada has lost an alarming $213 billion of resource projects.
In the face of this upheaval, the prime minister and certain cabinet ministers, such as Chrystia Freeland and John Wilkinson, continue to boast how the government will double down on its efforts to decarbonize the Canadian economy. Environment Minister Wilkinson has spoken about how renewable resources will ensure Canada meets its net-zero target for 2050. PM Trudeau recently told American president Joe Biden that Canada will pursue a more aggressive emissions reduction target for 2030.
However, the government's green agenda and a healthy Canadian oil and gas sector does not have to be mutually exclusive, as president of the Progressive Contractors Association of Canada Paul De Jong points out. De Jong reasons that, "Canada stands out in global energy markets with environmental, social, and governance practices that lead the world." He argues that the government should embrace both natural and renewable resources so that Canadian industry can be supported as an energy leader on the international stage.
De Jong states: "It's time for a shift in mindset, and acceptance that a growing and expanding petroleum energy sector has a strong role for decades to come. Canada and the world need both natural and renewable resources. The transition from one to the other will take many years. So let's be smarter about it now. If predictions are right, and the world is headed for an oil supply crunch, elected officials owe it to Canadians to be more practical, strategic and upfront; and to stop picking sides."
Energy industry analyst Professor Jeff Kucharski agreed in an editorial piece he recently penned for the Globe and Mail. Kucharski observed that with the cancellation of the Keystone XL pipeline project, there are only two export pipeline projects left under construction in Canada: the Trans Mountain expansion to the pacific coast and Enbridge's Line 3 replacement to the U.S. Midwest.
Kucharski's piece underscored the financial importance of Trans Mountain for the country. It is estimated that the pipeline will increase western oil producers' revenues by $73.5 billion over 20 years. The Conference Board of Canada stated this pipeline, and the Asian pacific trade it will enable, has the potential to support between $12 billion to $21 billion in annual sales of Canadian crude. On top of this economic activity, a total of $46.7 billion of federal and provincial taxes and royalties will be paid to Canadians.
"Most Indo-Pacific countries are net energy importers and many are among the fastest growing economies in the world," explained Kucharski. "From a geopolitical standpoint, Canada is well-positioned to become a supplier of choice to countries such as Japan, South Korea, China and possibly even India…the sea lanes between Canada's West Coast and East Asia are uncontested, safe and secure. Canadian ports are also in closer proximity to customers in Northeast Asia than U.S. ports," said Kurcharski.
This scenario suggests promising prospects for Canadians if the Trudeau government drops its bias against the oil and gas sector and takes the necessary steps to ensure Trans Mountain successfully reaches tide water.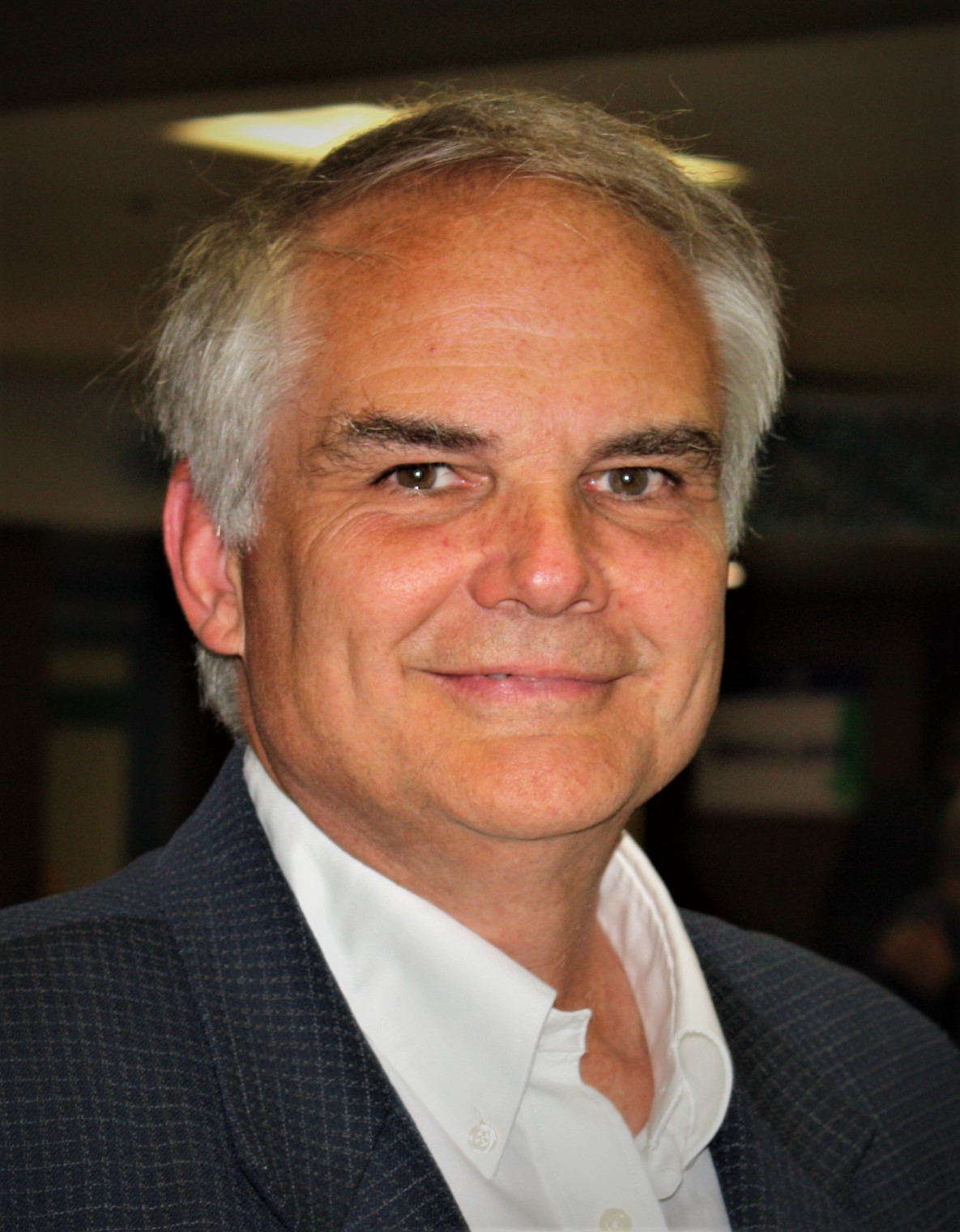 Chris George is an advocate, government relations advisor, and writer/copy editor. As president of a public relations firm established in 1994, Chris provides discreet counsel, tactical advice and management skills to CEOs/Presidents, Boards of Directors and senior executive teams in executing public and government relations campaigns and managing issues. Prior to this PR/GR career, Chris spent seven years on Parliament Hill on staffs of Cabinet Ministers and MPs. He has served in senior campaign positions for electoral and advocacy campaigns at every level of government. Today, Chris resides in Almonte, Ontario where he and his wife manage www.cgacommunications.com. Contact Chris at chrisg.george@gmail.com.