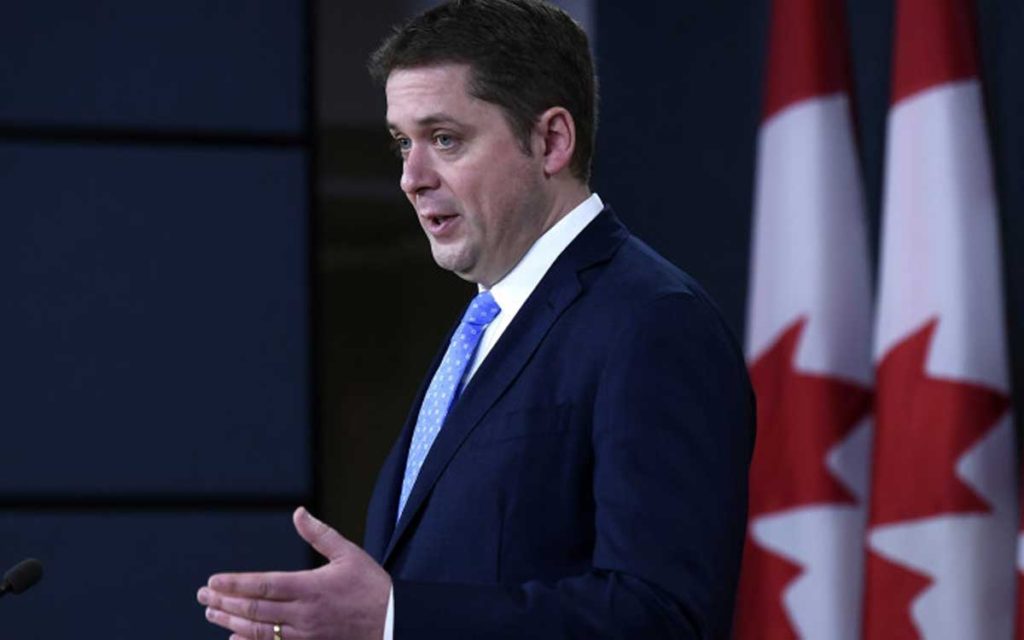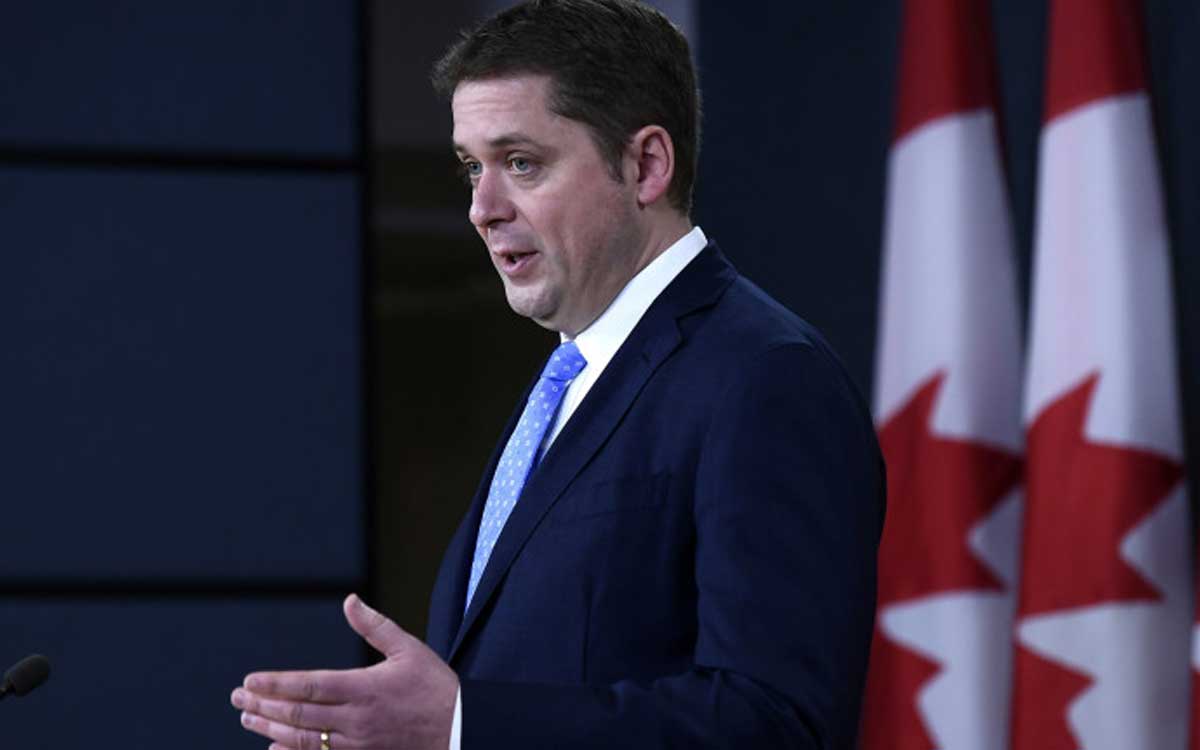 Conservative leader Andrew Scheer during a news conference at the National Press Theatre in Ottawa on Sunday, April 7, 2019. (Justin Tang/CP)
After enduring seven weeks of negative press over SNC-Lavalin and his underlings' attempts to secure the deferred prosecution the company desired, a bruised Justin Trudeau thought it would be clever to hand dimple-cheeked Conservative leader Andrew Scheer an opportunity to look tough, while prolonging the controversy at the same time.
Maybe Gerry Butts really was the prime minister.
News broke Sunday that a week before, Justin Trudeau had sent a lawyer's letter to Andrew Scheer, threatening a libel suit for Scheer's comments in a March 29 news release. The lawyer's letter alleged that Scheer libelled Trudeau by, among other things, accusing him of leading a campaign to politically interfere in SNC-Lavalin's prosecution, and calling the entire SNC-Lavalin matter "corruption on top of corruption on top of corruption."
As several news reports have noted, politicians suing each other for libel is not unheard of. Ontario premier Kathleen Wynne sued PC leader Patrick Brown. Stephen Harper sued Stephane Dion and the Liberal Party. In 2000, Ontario cabinet minister Tony Clement sued then-Liberal leader Dalton McGuinty. None of these cases saw the inside of a courtroom. But in every case, it was the would-be plaintiff who announced the lawsuit, not the defendant. The bizarre thing about Trudeau's libel letter is that it was Andrew Scheer who made it public, not Trudeau.
So Team Trudeau decides to threaten a lawsuit over the worst controversy his government has faced to date, a controversy which they would desperately like to go away. Then they hand their opponent – currently leading the opinion polls – the opportunity to release and frame the libel suit. Sorry, you all just failed Communications 101. Yet this is how Trudeau's director of communications tried to spin it on Sunday: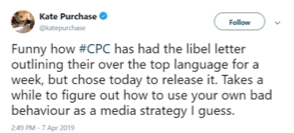 If it's Scheer whose "bad behaviour" was so egregious that your boss is threatening a libel suit, shouldn't you be the one to break the news, instead of being relegated to reacting to it? Instead, Scheer had the opportunity to hold a news conference that offered real news, and anticipate holding the suit over Trudeau like a magnifying glass over a fly. From Scheer's Sunday statement:
I stand by every single criticism I have made of Trudeau's behaviour in this scandal. If he intends to sue me, if he believes he has a case against me, he should get on with it right away. I welcome the opportunity to question Trudeau directly at the earliest possible date. I look forward to him testifying under oath in front of Canadians in open court.
As the Globe and Mail's Campbell Clark observed:
The Liberal strategy to put the SNC-Lavalin affair behind them is going exactly according to plan. Unfortunately for the Liberals, it is Conservative Leader Andrew Scheer's plan.
This time, the strategists behind Prime Minister Justin Trudeau thought it would be a good idea to threaten a libel lawsuit against the Conservative Leader, apparently because the Liberals were concerned a slow Sunday might go by without mention of the story that has been dogging them for months.
As dumb as the secret libel threat was, it was just the latest failed attempt by the Trudeau PMO to shut down the SNC-Lavalin story. Way back in the first days of the SNC-Lavalin controversy, a Canadian Press story quoted anonymous sources who described former Liberal Jody Wilson-Raybould as a self-promoter who was difficult to deal with. It took Trudeau 11 days to condemn the story, a time lapse which suggests the story came from his camp in the first place.
Two weeks ago, it was leaked that Wilson-Raybould proposed elevating to the Supreme Court a Manitoba judge who had committed the unpardonable sin of questioning how the Charter had altered the balance between the courts and legislatures. Then, after Wilson-Raybould and Jane Philpott had been booted from the Liberal caucus, it was leaked that Wilson-Raybould had made a series of unprecedented demands on Trudeau, as the price of remaining in cabinet.
None of the anonymous smears against Wilson-Raybould has diminished her in the eyes of anyone outside the Liberal caucus room. They have only succeeded in making her "a star" and the "second-most famous politician in Canada" as Jean Chrétien's communications director Peter Donolo said on Sunday. Donolo also offered Team Trudeau some free advice: "Stop leaking stuff that tries to make Jody Wilson-Raybould look bad. Every time they've done it, it's been like Wile E. Coyote and the Road Runner. Every time they've tried it, it blows up in their face. They look bad, and it just further enhances her. So they should stop that, if they are doing it."
Anonymously smearing former native leader Wilson-Raybould, then booting her and Jane Philpott from the Liberal caucus, after arguing with a black Liberal MP (Celina Caesar-Chavannes) who then decided to quit caucus is decidedly off-brand for the feminist avatar of diversity that Trudeau imagines himself to be. Suing your opposition for criticizing you – even if it is Andrew Scheer – will prompt many voters to ask: exactly who is this guy we took a chance on three years ago?
Maybe the reason Trudeau continually inveighed against negative campaigning in the last election is not because he doesn't believe in it. It may be because he's just not very good at it.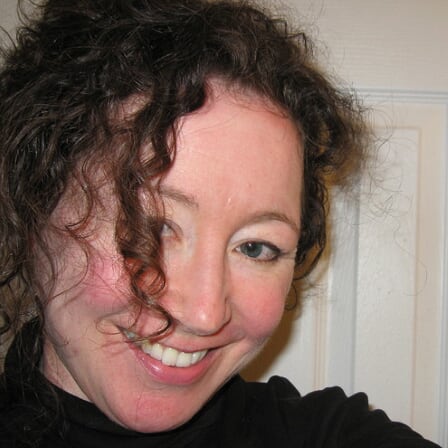 Joan Tintor is a writer and researcher. Her political experience includes having served as legislative assistant to Ontario transportation minister Al Palladini, and as a writer/researcher for the Ontario PC Caucus. She earned a degree in journalism from Ryerson Polytechnic University in 1994.