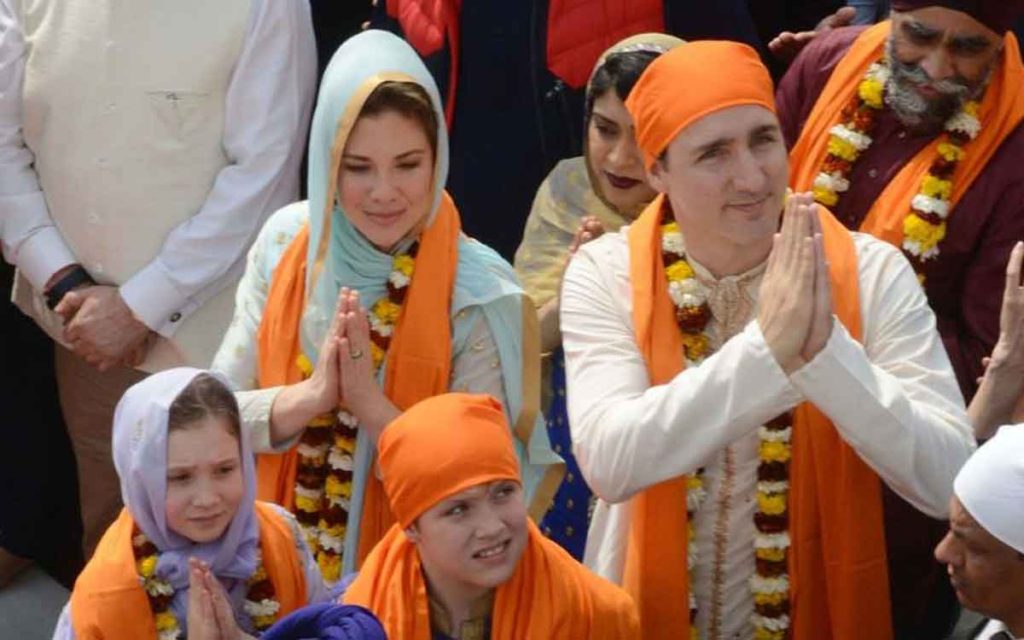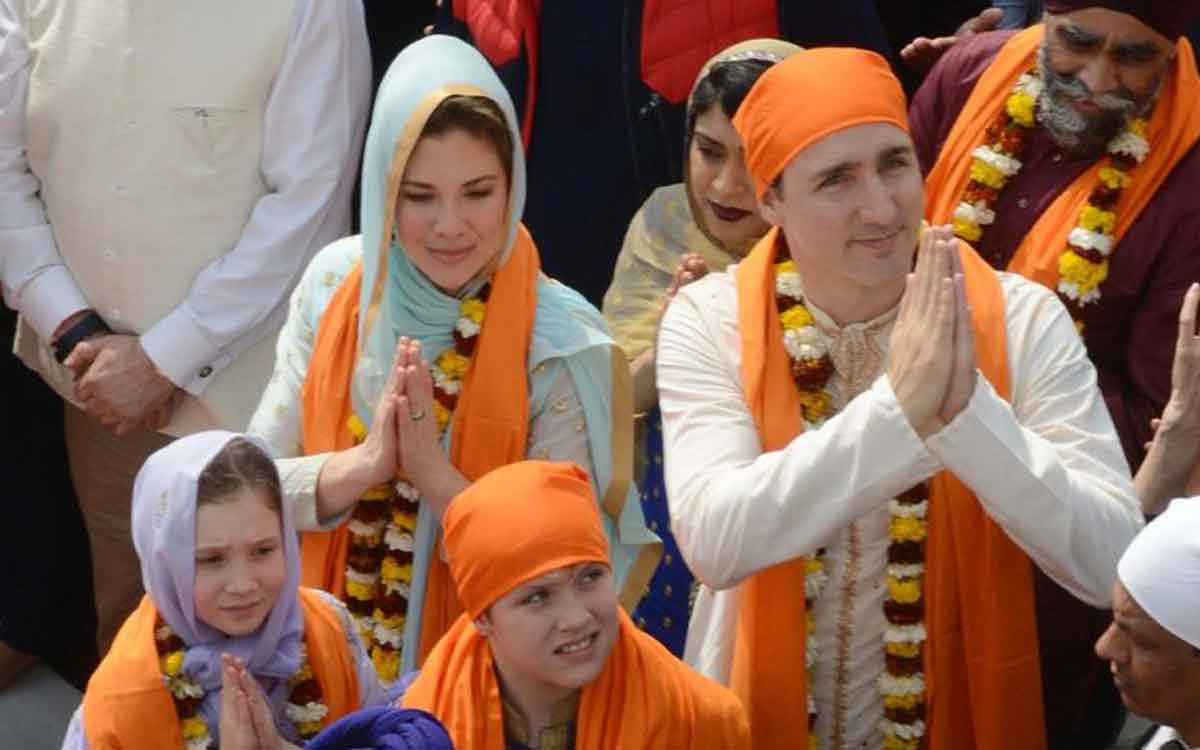 Prime Minister Justin Trudeau along with his wife Sophie Gregoire at the Sikh Shrine Golden temple in Amritsar on February 21, 2018. Photo: NARINDER NANU/AFP/Getty Images
"We walked into a buzz saw — (Narendra) Modi and his government were out to screw us and were throwing tacks under our tires to help Canadian conservatives, who did a good job of embarrassing us."
Just when memories of Justin Trudeau's disastrous tour of India had faded from memory – just in time for this fall's election – the above assessment from top Trudeau adviser Gerald Butts landed on the National Post's front page, like a Facebook memory of a vacation with an ex-boyfriend.
Merely saying "Trudeau's India tour" now brings to mind images of Trudeau and his family sporting different costumes daily, Trudeau dancing onstage Bollywood-style, and inviting a man convicted of trying to murder an Indian cabinet minister to a Canadian government reception in Mumbai.
Jaspal Atwal was convicted of attempting to assassinate Indian cabinet minister Malkiat Singh Sidhu while Sidhu was visiting Vancouver Island in 1986. He served time and was paroled. After the India trip last year, Atwal was charged with uttering threats against the host of a daily Punjabi-language talk show in B.C. Those charges were stayed this June.
Butts' quote blaming the Indian PM and the Conservatives is from the book, Trudeau: The Education of a Prime Minister, by Post columnist John Ivison, which is scheduled to be released today. Releasing an excerpt about the India trip with Butts' juicy quote was no doubt designed to spur interest in the book. I will certainly be using one of my Indigo gift cards to get a copy.
Where to begin with Butts' outburst, which was made when he was still Trudeau's principal secretary before resigning over the SNC-Lavalin affair earlier this year? (Butts has since joined the Liberal election campaign, his specific title and duties remain unspecified and/or undisclosed.)
For starters, his claim that the leader of the second most-populous nation in the world was out to 'screw' Trudeau is the kind of claim that – had Donald Trump made it – would include the snarky phrase "without evidence."
More to the point, every single wound from the India trip was self-inflicted: the costumes, the dancing, inviting the guy convicted of trying to assassinate an Indian cabinet minister, flying the Vancouver chef to India to prepare Indian food (yes, really).
Sure, the would-be assassin needed the Indian government's permission to travel from Canada to India, but prime minister Modi didn't invite Atwal to the Canadian government's reception, or let him take a photo with Trudeau's wife, did he? In fairness to Butts, I guess it is possible that Modi thinks the Trudeau government indulges Sikh separatism, and set out to hurt Liberals and help Conservatives while Trudeau was visiting India. But if that is what happened, Canadians deserve to know the specifics. You know, 'transparency' and all that.
It is a testament to Butts' audacity that he would try to put forward such a ridiculous claim, which was met with instant derision from the opposition and commentators. Guy Caron, foreign affairs critic for the NDP, said in a statement: "It's not appropriate for the prime minister's former principal secretary to be making such comments while both governments are still in place. This does not help our diplomatic relationships." Conservative leader Andrew Scheer called Butts' comments troubling, and urged Trudeau to fire Butts for his "baseless allegations."
Another audacious gambit resulted in another self-inflicted Liberal wound over the long weekend. Katie Simpson, the CBC's senior reporter in Ottawa, reported that an unnamed senior Liberal offered to brief her on their plan to run a 'positive' election campaign:
In a conversation that lasted about 45 minutes, this official outlined on deep background how the Liberals plan to rely on positivity in the upcoming election campaign, in the hopes of inspiring Canadians to go to the polls.
Expect no pointed attacks against the NDP or Green Party, the source said, as progressive voters (ones they hope to attract) don't like negative politics. 
But that is where the positive rhetoric and the path along the high road will end.
The Liberals have already attacked, and will continue to attack, Conservative Leader Andrew Scheer. No rules around positivity apply here.
If Simpson bought the Liberal spin, the CBC's web editor did not. The story's headline – "Liberals promise 'positive' politics, but have attack lines at the ready" – reveals both the Trudeau Liberals' hypocrisy and cynicism at the same time.
And just yesterday, prominent Liberal Rob Silver (spouse of Trudeau's chief of staff Katie Telford) retweeted a false accusation that a woman in a video with Andrew Scheer is an actor. The tweet included the line: "Andrew Scheer has to hire people to pretend to be random people who like him for awkward planned photo ops." Silver later acknowledged screwing up, but not without taking a swipe at Conservatives.
Sorry Gerry, it's your team that's running the buzz saw. And you're walking into it all by yourselves.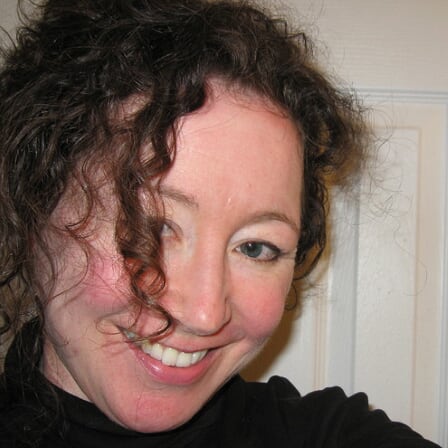 Joan Tintor is a writer and researcher. Her political experience includes having served as legislative assistant to Ontario transportation minister Al Palladini, and as a writer/researcher for the Ontario PC Caucus. She earned a degree in journalism from Ryerson Polytechnic University in 1994.