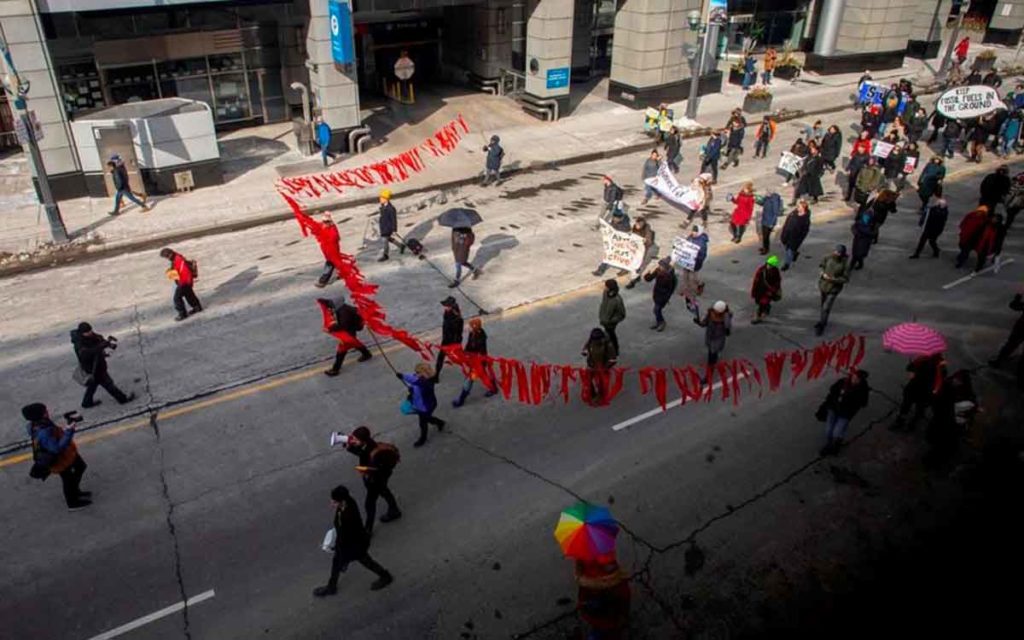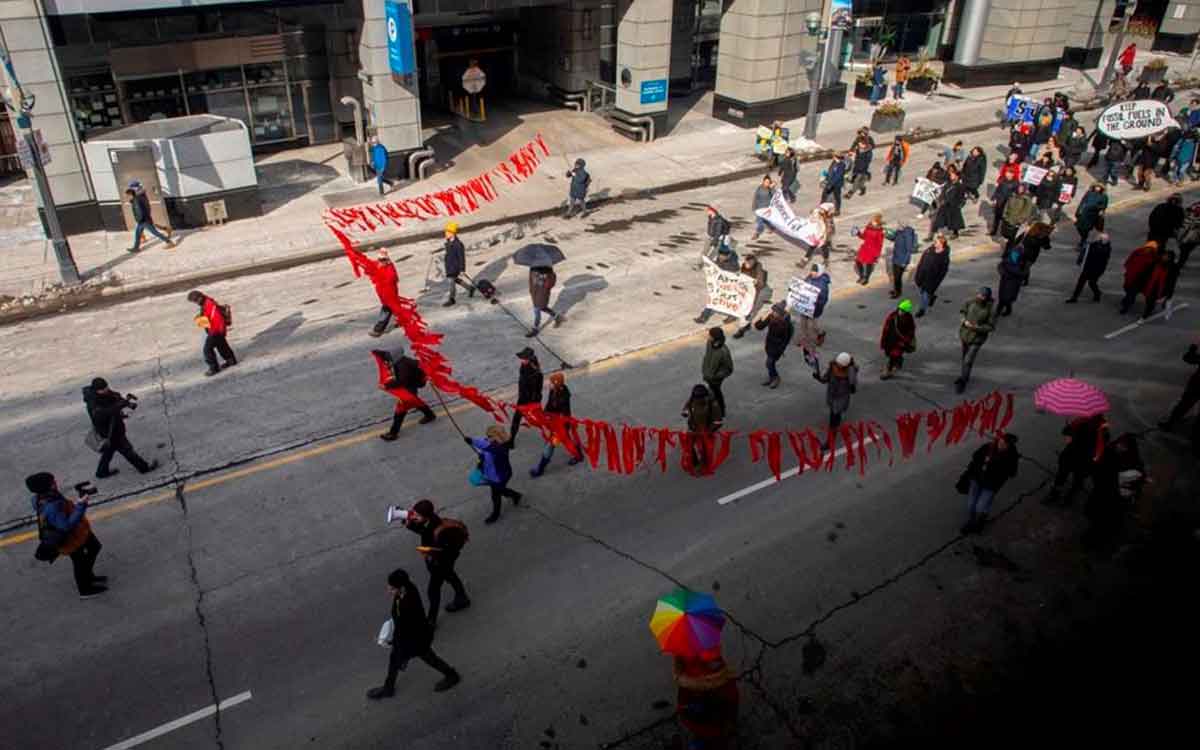 Protesters gather outside the Prospectors & Developers Association of Canada mining industry convention in Toronto on Sunday, March 1, 2020. THE CANADIAN PRESS/Chris Young
Word came at lunchtime Monday that Justin Trudeau would address the annual convention of the Prospectors & Developers Association of Canada that very afternoon. Perhaps the surprise nature of the appearance was owing to some misapprehension in the prime minister's office that, given enough notice, the Metro Toronto Convention Centre would be crawling with dungareed men wielding pick axes.
Then there's the inconvenient fact that the convention's lead sponsor is Teck Resources, whom Trudeau might remember as the proponent of the most recent energy megaproject abandoned during Trudeau's tenure. Teck will certainly remember Trudeau.
Luckily for Trudeau, mining industry folks – while overwhelmingly male – are generally neatly dressed, and unarmed aside from their smartphones. A friend even dragged me to one of the conventions years ago, in search of free shrimp. No, the scruffy people carrying makeshift weapons were not inside the convention, but outside. A group called the Mining Injustice Solidarity Network blocked entrances to the convention on Sunday, tried to get into the building, and briefly closed down Front Street with a parade of sorts.
Obviously, Sunday's protest is why Trudeau decided to fire up the government jet to deliver a speech to a business crowd that has not recently donated to the Liberal Party of Canada. The Independent's deadline precludes my reporting the details, but no doubt it included Trudeau's standard message about resource development requiring both native support and environmental responsibility, as if the last four years hadn't happened. As if Teck and Coastal GasLink had not been through years of regulatory approval and native consultation. As if Trudeau's audience did not already know these facts better than Trudeau or any of his half-witted minsters ever will.
Many pundits have been advocating that Trudeau should engineer a "just watch me" moment to project toughness and quell the nationwide protests aimed at shutting down Canada's resource industry. I wouldn't put it past Trudeau to decide that he should be aiming such an ultimatum not at protestors, but at the resource industry: an industry that has been doing a lot of things right on the environment and native relations since Trudeau was last photographed in blackface.
Whatever happened Monday, no last-minute appearance, impassioned speech or ultimatum will reverse the economic stagnation that has characterized Canada's economy since Team Trudeau took over. While campaigning and in his first years in power, Trudeau often invoked the phrase "better is always possible" in addition to the well-remembered "sunny ways."
Statistics Canada reported on Friday that Canada's economy grew by just 0.1% in the last quarter of 2019, the worst performance in almost four years. This was before the rail blockades and Corona virus.
For all of 2019, Canada's real GDP growth was 1.6%, down from 2.0% in 2018. By comparison, real GDP in the United States increased 2.3% in 2019. Tied as we are to the American economy, we should be doing a lot better. The Liberals' first budget in 2016 predicted that GDP growth would be 2.0% in 2019, and 1.9% in 2020. On Monday I heard a private sector prediction of just 1.2% GDP growth for 2020.
A survey by Pollara in January found that 47% of Canadians feel the economy is in recession, though this was an improvement over last year, when 56% believed so. Naturally there are regional variations, with Quebeckers feeling more positive about the economy, and Albertans and Saskatchewanians less so. Another fact released by StatsCan last week was the median after-tax income of Canadian families and unattached individuals, which remained the same in 2018 as it was in 2017.
In fairness, Pollara's Craig Worden told Maclean's that "Canadians have been in a psychological recession since the recession hit in 2008, even though it ended in 2009." But people whose business it is to predict such things are starting to agree with pessimism-prone Canucks. Oxford Economics analyst Tony Stillo told the Financial Post: "Auto, rail, and teacher strikes, manufacturing and retail sector layoffs, the COVID-19 outbreak and now rail blockades are all hitting an already vulnerable Canadian economy. We think Canada's 12-month recession odds remain worrisome at 40 per cent."
These predictions, the rail blockages and the Corona virus mean that a cut in the Bank of Canada rate is almost certain on Wednesday. Governor Stephen Poloz is set to leave his post in June, and could not be blamed for wanted to forestall a recession until after his departure.
On Friday, February's jobs numbers will be released on the same day that finance minister Bill Morneau will deliver an economic update in Toronto. I don't envy the poor soul who is writing his speech. Well, that Oxford Economics analyst did mention Ontario's teacher strikes. Maybe Morneau can try to blame Doug Ford. That worked for the last election. It may not work if Canada is in a real recession.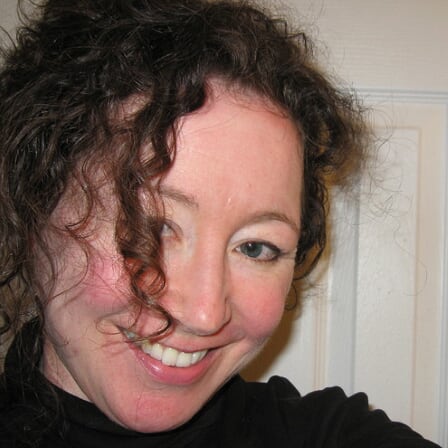 Joan Tintor is a writer and researcher. Her political experience includes having served as legislative assistant to Ontario transportation minister Al Palladini, and as a writer/researcher for the Ontario PC Caucus. She earned a degree in journalism from Ryerson Polytechnic University in 1994.