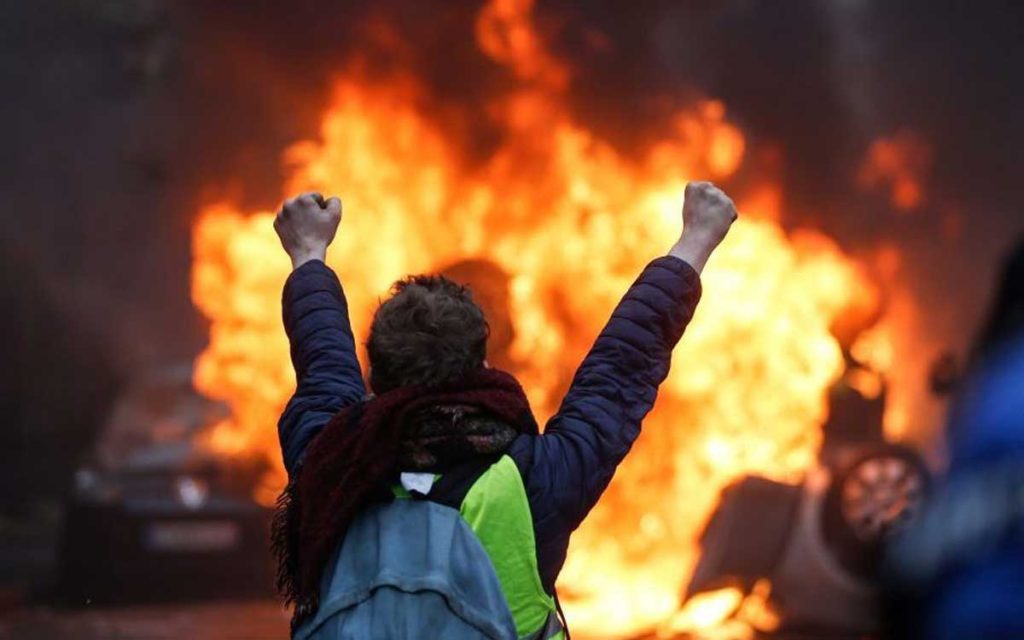 A protester gestures in front of a burning vehicle as "yellow vests" (Gilets jaunes) protesters demonstrate against rising oil prices and living costs in Paris. Geoffroy Van Der Hasselt / AFP / Getty Images
If your Boxing Day was spent cleaning up, at a mall, or on the couch watching the world juniors, you might have missed the Global News/Ipsos poll on the carbon tax that Justin Trudeau has staked his re-election on.
The results make for some grim reading for the Liberal government. Its proposed carbon tax for 2019 – which would add 4.42 cents to the cost of a litre of gasoline – would prompt only 18% of motorists to switch to more fuel-efficient cars or alternate modes of transportation. The survey found that even if gas went up to between $2.00 and $2.25 a litre, only 30% of Canadians would switch cars, use public transit or cycle.
If the object of the carbon tax is to change consumers' behavior, it is going to have to be a lot higher before Canadians stop driving gas-powered cars and trucks, living in heated, good-sized homes where they have a hot shower at least once a day, and flying to a vacation once or twice a year. But electoral realities will stop the Liberals from implementing a carbon tax that high. And if there was any temptation otherwise, the yellow vested anti-carbon tax protests in France probably squelched it.
As Darrell Bricker of Ipsos told Global News: "The penalty that someone would face, particularly in the situation of a government increasing [the carbon tax] to a level that it would have to get to in order for people to consider another option, is probably something that would imperil them politically." So the Liberals are going to keep the carbon tax too low to reach Canada's carbon reduction targets, but high enough to generate rebate cheques before the election.
In addition to finding that a carbon tax will do little to reduce carbon emissions, the poll also suggests that climate change does not rank very high among voters' concerns. Only 19% of those surveyed said that climate change was one of the three issues most likely to influence their vote in the federal election. Health care was at the top at 32%, followed by taxes (30%) and the economy (27%).
I suspect that people who answer these surveys say "health care" reflexively, lest anyone think they are heartless Scrooges who only care for their pocketbooks and their grandchildren's prospects for employment. Which is to say that economic concerns will likely be the biggest determinant for how people vote in October, especially if there is an economic downturn.
The Trudeau Liberals may not care that the carbon tax will not substantially reduce carbon emissions. They may not even care that most Canadians are not that concerned about climate change. But they very much care that they get re-elected. As Sun Media's Lorrie Goldstein wrote on Boxing Day:
The Liberals, from Trudeau on down, aren't acting as if they believe man-made climate change is an imminent, existential threat to humanity, but as just another political problem that has to be managed so they can win the next election and stay in power for four more years.
Because for Liberals, while climate catastrophe is one thing, the defeat of Canada's self-described natural governing party, would be the real disaster.
Unfortunately for Trudeau, he will be maneuvering on a different political landscape in 2019. For starters, he will be carrying the baggage of his own record everywhere he goes: the blown deficits and cancelled pipelines, his ethics violations from his luxury vacay with the Aga Khan, the India embarrassment, his broken promise on electoral reform, the steel and aluminum tariffs that he can't get Donald Trump to remove, etc.
He will also be up against a force that Macleans' Paul Wells has labelled "The Resistance" – conservative politicians across the country who are opposed to the Liberal carbon tax. The five are: Scott Moe of Saskatchewan, Brian Pallister of Manitoba, Doug Ford of Ontario, Jason Kenney of Alberta, and federal Conservative leader Andrew Scheer.
Doug Ford's pledge to 'cap the tax and trade Kathleen Wynne' was one of his more explicit platform promises in the spring election that led him to the premier's office. Scott Moe told Canadian Press in a year-end interview that the carbon tax is one of the biggest problems the Saskatchewan economy faces: "We need to ensure that we are able to stand up against these policies and ensure that we can continue to grow our economy so that we can have the opportunity to invest in the services that people expect." In Manitoba, a year-end poll found that cancellation of the previous government's carbon tax had no effect on the popularity of Brian Pallister's PC government.
Since the Macleans' piece in November, the resistance has been joined by the new conservative premier of New Brunswick, Blaine Higgs. Higgs has said that New Brunswick will meet the federal government's emissions targets, but will launch a legal challenge against the federal carbon tax, and join the challenge already announced by the Saskatchewan and Ontario governments. While Higgs leads a minority government, he will likely still be premier a year from now.
Justin Trudeau may well behold this wall of blue-suited white guys, and see a perfect foil for his 'let's put a price on carbon to save the planet for our children' flim flam. He can also count on a little help from the print media outlets that his government is poised to subsidize. But with science and popular opinion against him it will be very hard work, something that Prime Minister Personal Day is not known for.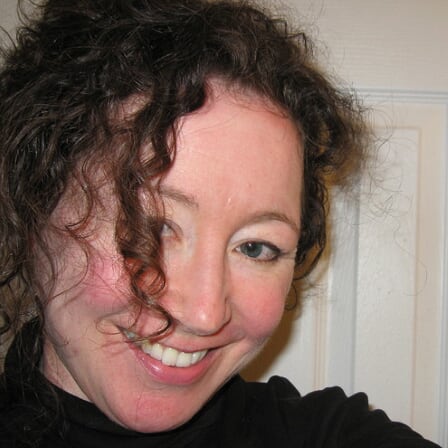 Joan Tintor is a writer and researcher. Her political experience includes having served as legislative assistant to Ontario transportation minister Al Palladini, and as a writer/researcher for the Ontario PC Caucus. She earned a degree in journalism from Ryerson Polytechnic University in 1994.