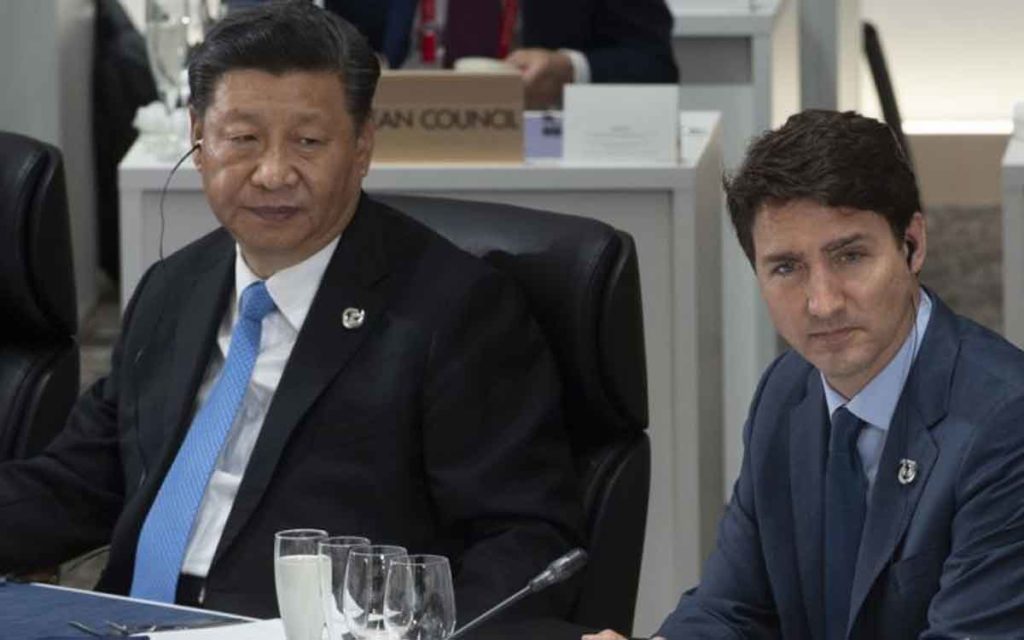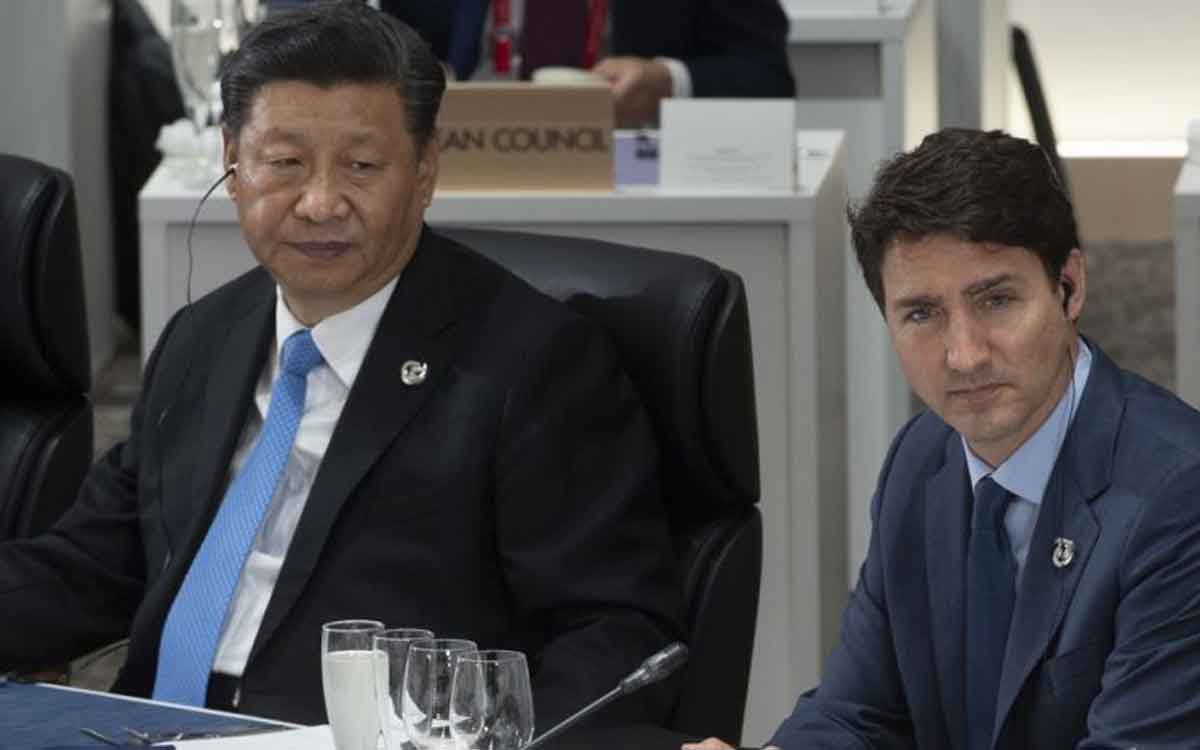 Prime Minister Justin Trudeau and Chinese President Xi Jinping listen to opening remarks at a plenary session at the G20 Summit in Osaka, Japan, on June 28, 2019.Adrian Wyld/CP
Today marks one year since Canadians Michael Kovrig and Michael Spavor were arbitrarily arrested in China for unspecified violations of Chinese state secrets laws. A lengthy piece in Monday's Globe and Mail detailed the conditions under which they are now held: Kovrig in a jail outside Beijing, and Spavor in the Dandong Detention Centre.
Their initial conditions in a facility run by the Ministry of State Security – featuring solitary confinement, lengthy interrogations and 24-hour fluorescent lighting – were apparently ended after six months. Since being moved to their separate jails, the two men's conditions have improved slightly:
As the months have passed, both men have been granted a few additional liberties. They have exchanged letters with family and other supporters. Both have passed time reading books sent via diplomats, who have been restricted to heavily monitored visits of just 30 minutes per month. 
Mr. Kovrig exercises and has practised meditation. Other foreigners detained in Beijing have described lengthy periods of forced sitting and a diet of thin soy broth and boiled potatoes, cabbage and turnips. Mr. Spavor, an accomplished Korean speaker, has sought to further his linguistic skills by reading Korean-language books.
Kovrig has even been given a pair of eyeglasses, after his own were seized. While the men are allowed supervised visits by Canadian consular officials, they are not allowed visits from lawyers or family members.
As is well known, the two Michaels were arrested days after the RCMP detained Huawei executive Meng Wanzhou in Vancouver at the request of the American justice department, for extradition to the US. Meng's extradition hearing is scheduled for next year. In the meantime, she is on bail while under 24-hour guard and living in one of her Vancouver mansions. Though she must stay at home during the night hours, she is free to come and go during the day with her private security.
But the taking of two hostages was just the beginning of China's heavy-handed attempts to pressure Canada into releasing Meng, despite her arrest being pursuant to a longstanding extradition agreement between Canada and the US. They blocked exports of Canadian soybeans, canola, pork and beef, though they recently ended the pork embargo because of domestic pork shortages.
Justin Trudeau has insisted, including yesterday in the House of Commons, that the government is working to release the two men. Yet he has implemented no trade or diplomatic retaliations for China's flagrant false arrests and illegal interrogation of Kovrig, a Canadian foreign affairs employee on leave. He has allowed China to replace its ambassador to Canada on schedule. Canada's new, China-approved ambassador to China is Dominic Barton, a management consultant who helped companies do business in China, and has advocated for deeper business ties with China.
Trudeau continues to drag his feet on whether Huawei will be permitted to supply equipment to Canada's 5G network, despite several of Canada's five eyes partners having banned the company. Meanwhile, the Canada-China-Liberal political industrial complex continues. Sadly, even some Conservatives are now on the China business and government relations train.
But even as Trudeau thinks he can keep up this two-faced dance with China, events may decide otherwise. No doubt Trudeau was lobbied at last week's NATO summit to finally bar Huawei from Canada's 5G. Coincidentally, the Chinese regime has ordered all government offices and public institutions to remove foreign computer equipment and software within three years, as part of its trade war with the US. Trudeau cannot defer the Huawei 5G decision much longer without harming Canada's security relationships and looking like a patsy for the Chinese.
Human rights groups are pressuring the government to implement Magnitsky-style sanctions against Chinese officials responsible for brutality against Hong Kong protestors, and for the detention of one million Muslim Uyghurs in internment camps in the western Xinjiang region.
Last month, the US Congress passed a law threatening sanctions, including visa bans and asset freezes, if China does not maintain Hong Kong's autonomy from Beijing. Donald Trump signed the legislation, despite some critics' predictions that he would refuse. The European Union has voted to establish a sanctions regime against human rights abusers that would include asset freezes and travel bans, though implementation will take some time.
Conservative Senators Leo Housakos and Thanh Hai Ngo plan to table a motion in the Senate this week that calls on Canada to impose sanctions against Chinese officials "relating to the ongoing protests in Hong Kong and of the systematic persecution of minority Muslims in China." China's ambassador has threatened that sanctioning Chinese officials over Hong Kong and the detentions in Xinjiang would cause "very bad damage in our bilateral relationship," and result in "very firm countermeasures." Housakos told the Globe and Mail that Trudeau should not be frightened off by the Chinese envoy's threats:
"It shows once again they [China] constantly believe they can push the Canadian government around and can slap our Prime Minister around. They have shown very little respect for our country," he said. "It is sad that it has come to the point where a number of senators feel compelled that we have to do this because the Trudeau government isn't fighting for these values."
Sure, Trudeau can dismiss a few Conservative senators pointing out that he is not walking the talk on human rights when it comes to China. But he may soon be facing a lot more fingers pointing in his direction.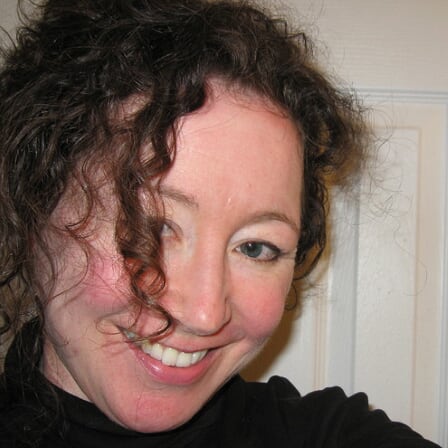 Joan Tintor is a writer and researcher. Her political experience includes having served as legislative assistant to Ontario transportation minister Al Palladini, and as a writer/researcher for the Ontario PC Caucus. She earned a degree in journalism from Ryerson Polytechnic University in 1994.