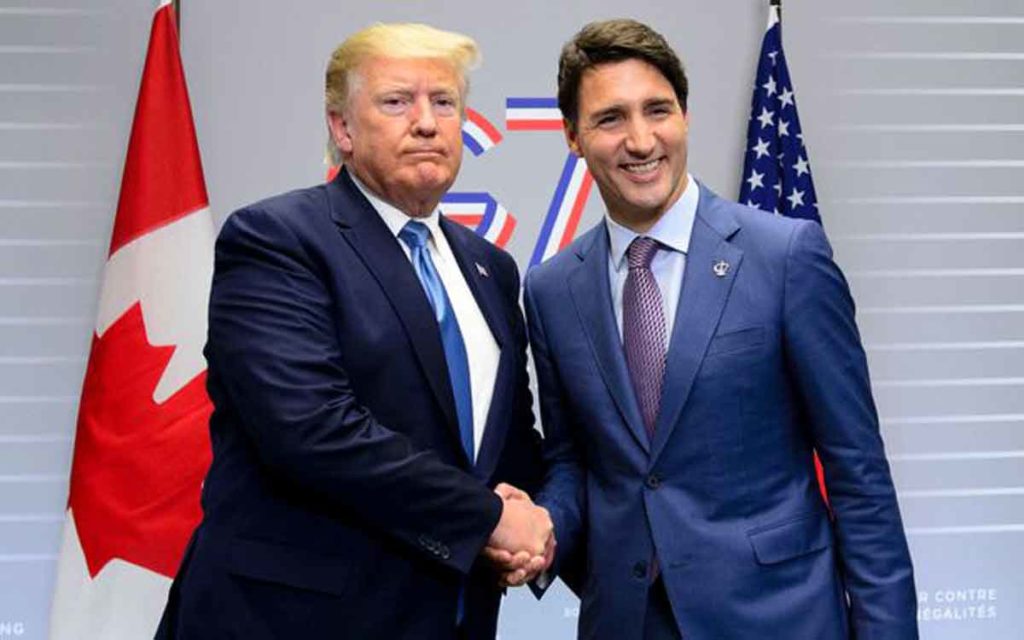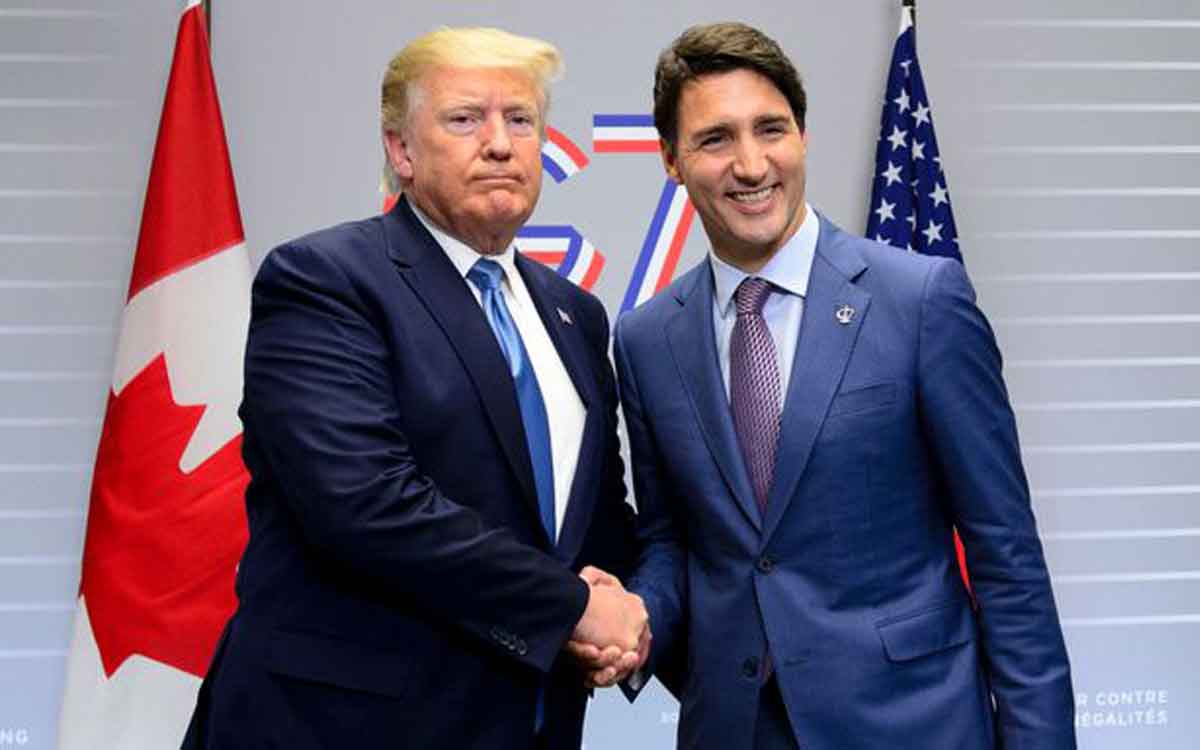 U.S. President Donald Trump and Prime Minister Justin Trudeau. Photo: Sean Kilpatrick/The Canadian Press 
Something weird happened last week. Justin Trudeau blamed America for the circumstances that led to Iran downing a passenger plane with 57 Canadians onboard. In response, US president Donald Trump … did nothing.
In an interview with Global News, anchor Dawna Friesen asked Trudeau whether the Canadians were "collateral damage" to US-Iran tensions. Trudeau's answer was in obvious agreement with the question's premise: "If there were no tensions, if there was no escalation recently in the region, those Canadians would be right now home with their families."
This came after CBC reporters had been pressing Trudeau to blame the Americans at Trudeau's news conference the week before. Trudeau danced around the issue then, but with Friesen the dam burst, and down came the blame. In the same interview, Trudeau added: "This is something that happens when you have conflict and war. Innocents bear the brunt of it and it is a reminder why all of us need to work so hard on de-escalation, moving forward to reduce tensions and find a pathway that doesn't involve further conflict and killing."
Trudeau shifting blame from longtime bad actor Iran, which had failed to manage its own airspace and initially lied about it, was condemned by many commentators and politicians. Outgoing Conservative leader Andrew Scheer tweeted: "The blame for this horrible atrocity lies with the Iranian Regime alone."
Scheer's tweets also called on Trudeau to: immediately implement a Conservative motion (passed by Parliament in 2018) to list Iran's Islamic Revolutionary Guard Corps (IRGC) as a terrorist organization; demand Iran compensate all victims of the crash and repatriate their remains, and threaten Magnitsky sanctions on Iran if they don't fully cooperate with the international investigation.
Asked about Trudeau's comments, Republican congressman Kevin McCarthy told reporters in Washington: "There's no blame here for America. America stood up once again for freedom. Iran went past a red line they had not gone past before killing a U.S. citizen — Iran shot down a commercial airliner, there's no doubt where the blame lies."
Trudeau's interview was even picked up by the New York Post – a paper avidly read by Donald Trump – in a story entitled "Canadian PM Justin Trudeau blames downing of Ukraine jet on US 'escalation.'" The story's lede: "Canadian Prime Minister Justin Trudeau on Tuesday appeared to cast blame on President Trump and the US for the downing by Iran of a Ukrainian jetliner that was allowed to take off from Tehran following an Iranian airstrike on US troops in Iraq just hours earlier."
And still, nothing from Trump, who is infamous for hitting back at critics, no matter how large or small.
Later in the week, while announcing interim compensation for victims' families, Trudeau seemed to back off his comments to Global, telling reporters that: "the Iranians bear full responsibility for having shot down a civilian airliner with 57 Canadians aboard, 176 passengers." As Sun Media's Brian Lilley speculated, "Maybe his change of tune came from the meetings he has said he had with families over the past week. Iranian-Canadians are furious with the regime in Tehran whose reckless actions took the lives of their loved ones, there is not much appetite for spreading blame among those hurt most directly."
Whatever the reason for Trudeau putting the blame solely on Iran, Donald Trump did not find Trudeau's clarity tweet worthy. One wonders why. There is no reason for Trump to exercise discipline – of which he is, from time to time, capable – when it comes to Trudeau. Canada's election is well over, so there's no danger of him affecting it one way or another.
Trump is certainly very busy (especially on the cusp of an impeachment trial in an election year), but having a full schedule has not stopped him from attacking people before. Maybe he is going to try and avoid attacking other world leaders during an election year, and save his vitriol for the Democrat candidates and media. Or maybe he has decided that Justin Trudeau – whom Trump labelled "two-faced" at the NATO summit – is irrelevant.
In his early years as prime minister, Pierre Trudeau made this famous observation in a speech to the Washington Press Club: "Living next to you is in some ways like sleeping with an elephant. No matter how friendly or even-tempered is the beast, if I can call it that, one is affected by every twitch and grunt." A week after announcing his (final) retirement from politics in 1984, he told a university audience that: "If anything, the United States is indifferent to us. And it's not a bad thing to have a big guy indifferent to you."
After being on the end of a few Trump attacks in recent years, Trudeau the Younger may be sharing his father's sentiment today.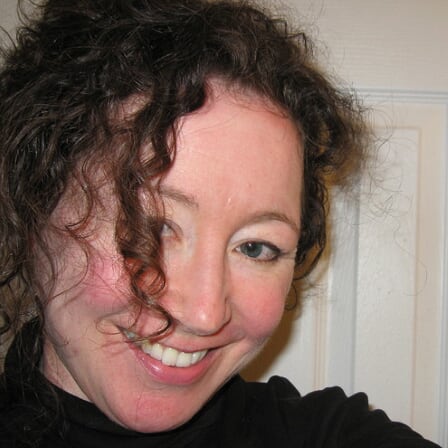 Joan Tintor is a writer and researcher. Her political experience includes having served as legislative assistant to Ontario transportation minister Al Palladini, and as a writer/researcher for the Ontario PC Caucus. She earned a degree in journalism from Ryerson Polytechnic University in 1994.