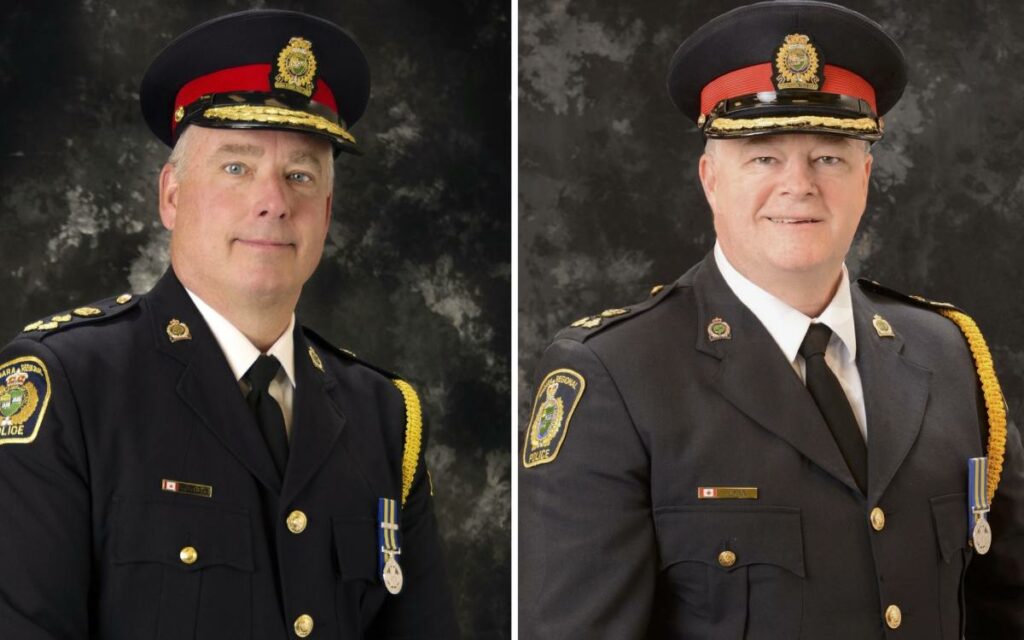 Chief of Police Bryan MacCulloch and Deputy Chief Brett Flynn set to retire on Feb. 1, 2024. Photo credit: NRPS
Over 73 years of experience: that's what the Niagara Regional Police Service (NRPS) will lose when both Chief of Police Bryan MacCulloch and Deputy Chief Brett Flynn simultaneously retire on Feb. 1, 2024. 
Chair of the Niagara Police Services Board Jen Lawson announced the pair's retirement last week, thanking them for their service and dedication to the community throughout the decades.
Said Lawson in reference to Chief MacCulloch, "His leadership, vision, and passion for policing have been essential for the growth of the Niagara Regional Police Service, as well as countless community organizations and aspiring leaders." 
"We congratulate him on a legacy of excellence and wish him well in his retirement." 
MacCulloch first joined the NRPS in December 1984. 
Prior to becoming Chief of Police in September 2017, he served for over four years as the Deputy Chief of Operational Services, where he provided oversight and leadership to more than 650 frontline Uniform Officers and Detectives assigned to District Operations, and Emergency and Investigative Services. 
Throughout his diverse policing career, MacCulloch has held a variety of operational and senior leadership positions within the NRPS, including District Operations, Tactical Unit, Marine Unit, Fraud Unit, Detective Services, Homicide Unit, Executive Officer to the Deputy Chief, Court Services and Prisoner Management, Professional Standards Unit, and Operational Support Services. 
A perennial community volunteer, including years as a youth sports coach, MacCulloch is a recipient of the Governor General of Canada's Peace Officer Exemplary Service Medal and Bar. In October 2019, he was invested as a Member of the Order of Merit of the Police Forces.
"It's truly been an honour to serve as the ninth Chief of Police in the history of the Niagara Regional Police Service, and I thank the Police Services Board for having the trust and confidence in me to lead the men and women of this great police service," MacCulloch said in a statement last Thursday. 
"While not an easy decision, I leave this incredible organization confident in the leadership, professionalism, and the unwavering commitment of our members to continue to provide the highest quality of policing to the citizens of Niagara, while continuing to meet the growing needs of our community." 
MacCulloch became eligible to retire in 2019. Despite his eligibility, he reached an agreement with the police board to stay on until Jan. 31, 2025. It's unclear why he elected to leave one year early. 
MacCulloch made headlines earlier this year when, in anticipation of his upcoming retirement, it was revealed he received a one-time payout of around $336,000 for time-in-lieu compensation – which ballooned his 2022 'salary' to $675,509, making him one of the highest paid public servants in the entire province last year. 
Brett Flynn first joined the NRPS in July 1990. He was named Deputy Chief of Police in September 2017 – the same time MacCulloch was promoted. 
Flynn currently leads the Operational Services functions of the NRPS. In his role, he is responsible for all frontline policing, and oversees District Operations – Central, Western and Eastern Regions, and Emergency and Investigative Services. This includes Canine, Marine, Explosives Disposal, Crisis Negotiations, Traffic Management and Road Safety, Major Crime, Special Investigative Services, and Special Victims. 
The Deputy Chief made his way up the ranks over a 33-year career, serving in a variety of positions including Superintendent of District Operations, overseeing frontline policing across Niagara, and Superintendent of Emergency Services and Investigative Support Services, leading the members of centralized investigative and emergency response units. He has also held a variety of operational and administrative positions.
Flynn has received numerous awards for his career contributions, including the Governor General of Canada's Peace Officer Exemplary Service Medal for distinguished service and the prestigious Order of Merit of the Police Forces. 
"I would like to express my gratitude to all those who have been part of my journey in policing. The memories, friendships, and accomplishments will forever hold a special place in my heart, and I will carry the lessons learned and the cherished moments with me as I embark on this new phase of life," Flynn said. 
"To the civilian and sworn members of this Police Service who serve our community, please know that you are my heroes, and I am so proud of the work you do every day. Please continue to look out for one another in your continuous efforts to keep Niagara safe." 
According to Chair Lawson, the police board will "determine the processes it will follow to recruit a new Chief of Police and Deputy Chief over the next several weeks."
It's anticipated the search will begin in earnest "in the coming months."
President of the union that represents NRPS members Patrick McGilly recently told local media that he hopes the service will recruit the region's next two top cops within its own ranks. 
The service's other Deputy Chief of Police, Bill Fordy, is naturally a top contender for the Chief's position. However, he too is currently eligible to retire.