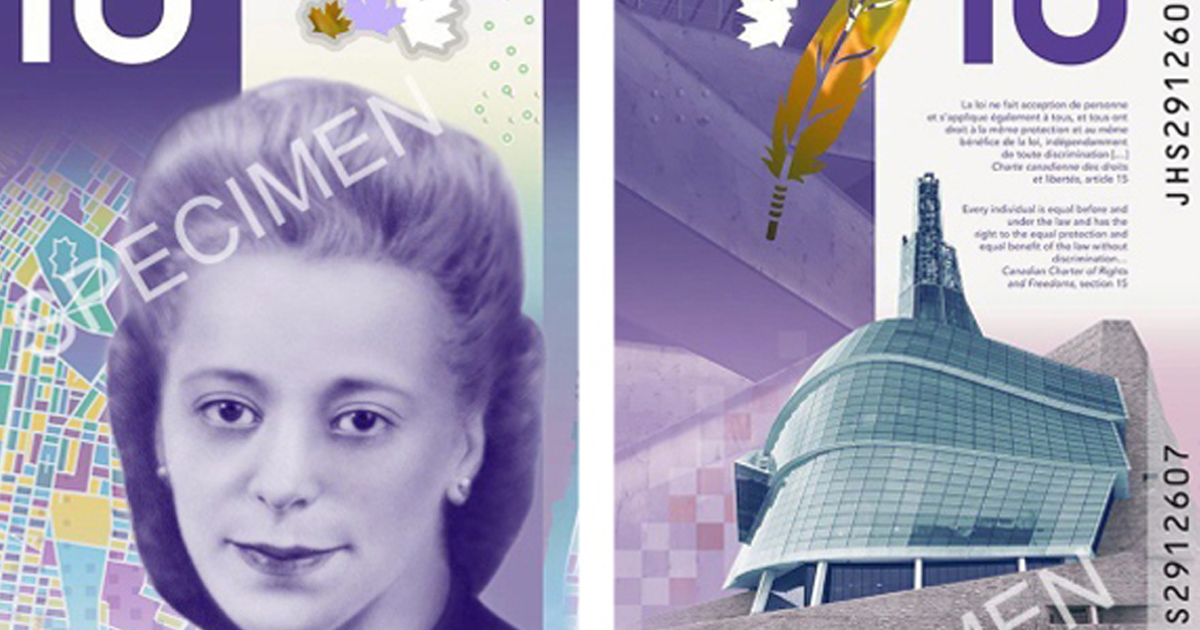 Last week the federal government and Bank of Canada unveiled the latest re-design of the $10 bill, featuring Viola Desmond. Desmond replaces tired old nation-founder John A. Macdonald, whom the government had already started "disappearing," Where's Waldo-style, on a new $10 bill issued just last year. On that $10 bill, Macdonald was thrown into a lineup with three other former parliamentarians. Quick – name the other three! Just kidding. Of course you can't.
Do not let anyone tell you, however, that this is some kind of insult to Sir John A.  Reportedly, Macdonald is to be moved to the $50 note, and Wilfrid Laurier from the $5 to the $100. No, this is really a step up for Macdonald, who will be honoured in your wallet for years to come, every time a convenience store refuses your $50 bill.
The other notable feature of the Desmond decadollar is that it is the first Canadian banknote to be printed in a vertical orientation. I guess it's not sufficiently attention-seeking to be replacing our money every few years like a new edition of Monopoly. We have to make it look crazy too. It seems odd to dedicate a standing-up banknote to a woman honoured for sitting down in a movie theatre, but then the entire affair is odd.
Despite the pluck and courage demonstrated by Desmond and the Nova Scotia Association for the Advancement of Coloured People in 1946, Desmond is a figure most Canadians were unaware of until very recently. The uber-progressive Toronto Star has no mention of her for 45 years: from 1946 to 1991. The Star did not even do a follow-up story on the denouement of Desmond's lawsuit against the theatre manager for ejecting her and causing her arrest and detainment.
So why Desmond? Like almost everything in this country, starting with our founding, it is tied to America. Hollywood's screenwriters are pikers compared to Canadian media and politicians when it comes to easy copy-catting. It's why we got Trudeau after John F. Kennedy, and another Trudeau after Obama. And it's why we have to invent our own Trumps (e.g. Doug Ford) and Rosa Parks. The similarity of Desmond's story to Rosa Parks' made it an easy narrative to pick up and run with for 110 yards, despite Desmond remaining unknown for decades after her initial protest.
The malleability of Canadian history and the attention seeking of the Bank of Canada open up some tantalizing possibilities for the future of our banknotes between now and our presumed bicentennial in 2067. Of course, by then a prime minister Trudeau, Mulroney or Bieber may have eliminated physical currency. But assuming it is still around, whose faces will adorn our $1,000 and $5,000 bills, tokens or chips? Some candidates for consideration:
Celina Caesar-Chavannes. Caesar-Chavannes is a Liberal MP for Whitby, a suburban riding east of Toronto. Recently she called out Quebec Conservative MP Maxime Bernier for questioning the federal budget's focus on 'racialized' Canadians. Bernier had tweeted: "I thought the ultimate goal of fighting discrimination was to create a colour-blind society where everyone is treated the same. Not to set some Canadians apart as being 'racialized.' What's the purpose of this awful jargon? To create more division for the Liberals to exploit?" Defending the government's budget, Caesar-Chavannes clapped back at Bernier: "Do some research, or a Google search, as to why stating colour blindness as a defence actually contributes to racism. Please check your privilege and be quiet."
As commentator Rex Murphy and others have since pointed out, Caesar-Chavannes sailed HMCS Justin and its load of white male offspring-of-an-icon privilege to Parliament Hill in 2016. Perhaps she rationalizes her free ride by picturing herself shackled below deck, she being black and most of her riding's citizens being white.
Caesar-Chavannes' Orwellian assertion that colour blindness equals racism is a surprise to those of Bernier's generation and older, who cling to Martin Luther King's hope that subsequent generations would be judged by the content of their character, not the colour of their skin (there are those Americans again!). It would certainly be a surprise to Viola Desmond, who would not have stood – or sat – for such nonsense.
But this notion has been around for awhile, sometimes expressed as "there is nothing more unfair than extending the same treatment to people who are different." It follows then, that while some people need to speak out, other people need to shut the bleep up. Pointing out someone's race used to be racist. Now ignoring it is racist. Some may find this confusing. Caesar-Chavannes does not. She has learned the soundtrack to the future and she's going to keep right on singing it, perhaps all the way onto a $10 bill.
Louis Riel. One man's terrorist is another man's freedom fighter, the old saying goes. We have seen this with the late Nelson Mandela, now honoured in Canada (and elsewhere) with schools in his name, and an honorary Canadian citizenship. Who's to say that Louis Riel, whose exploits took place on Canadian soil, will not one day merit even greater recognition?
Louis Riel could fairly be described as an Anti-Father of Confederation, and not just because he clashed with John A. Macdonald. Riel and the debates around his beliefs and actions have come to embody the tensions between French and English, natives and settlers, the ungoverned wilderness and civilization. But Canada as it exists today came into being despite him, not because of him. With his first rebellion, Riel tried to prevent the north-west from becoming part of Canada. Among his advisers were Americans who wanted to annex the territory.
In Canada's First Century, historian Donald Creighton described Riel as "an able but temperamental and dictatorial man, full of delusions of grandeur, quickly infuriated when his will was crossed, and quite without compunction in the use of force." Other than the force bit (so far), that's how many people describe Donald Trump. Indeed, by the time of Riel's second rebellion, he had become an American citizen and was living in Montana. Creighton also wrote that Riel would have been willing to accept a bribe from the government to end the second rebellion that resulted in his conviction and hanging for treason. Nevertheless, Riel has been rehabilitated into a hero of confederation, and honoured with an annual holiday in Manitoba. The odds of him getting onto currency seem pretty good.
Pierre Trudeau and Patrick Brown. Although Trudeau disdained money in the way that those born into wealth can afford to, seeing his face on Canadian money is certainly just a matter of time. The PM who said MPs were nobodies 50 yards away from Parliament Hill succeeded in making them nobodies on Parliament Hill, by placing the Charter and Supreme Court above any law they foolishly might enact. Then he added insult to injury by replacing yards with metres.
Obviously, erstwhile Ontario PC leader Patrick Brown may have a little more trouble making it onto our currency. For the time being, his two-decades-plus quest for high office appears to be at an end. But one should not underestimate the ambition of a man who thought he could audition for Premier of Ontario and Leo DiCaprio's entourage simultaneously. Sadly for Brown, he is not Pierre Trudeau, and this is not 1968. But the former federal MP is still young and stranger things have happened, as anyone who was around for Pierre Trudeau's two resignations will know. The Ontario PC platform booklet may not be the last place we see Patrick Brown's smiling face.
Joan Tintor is a writer and researcher living in Wasaga Beach. Her political experience includes having served as legislative assistant to an Ontario transportation minister, and as a writer/researcher. She earned a degree in journalism from Ryerson Polytechnic University in 1994.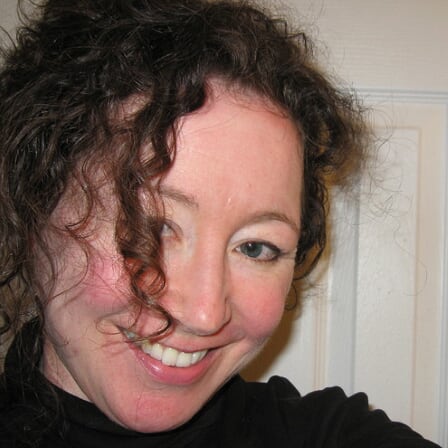 Joan Tintor is a writer and researcher. Her political experience includes having served as legislative assistant to Ontario transportation minister Al Palladini, and as a writer/researcher for the Ontario PC Caucus. She earned a degree in journalism from Ryerson Polytechnic University in 1994.