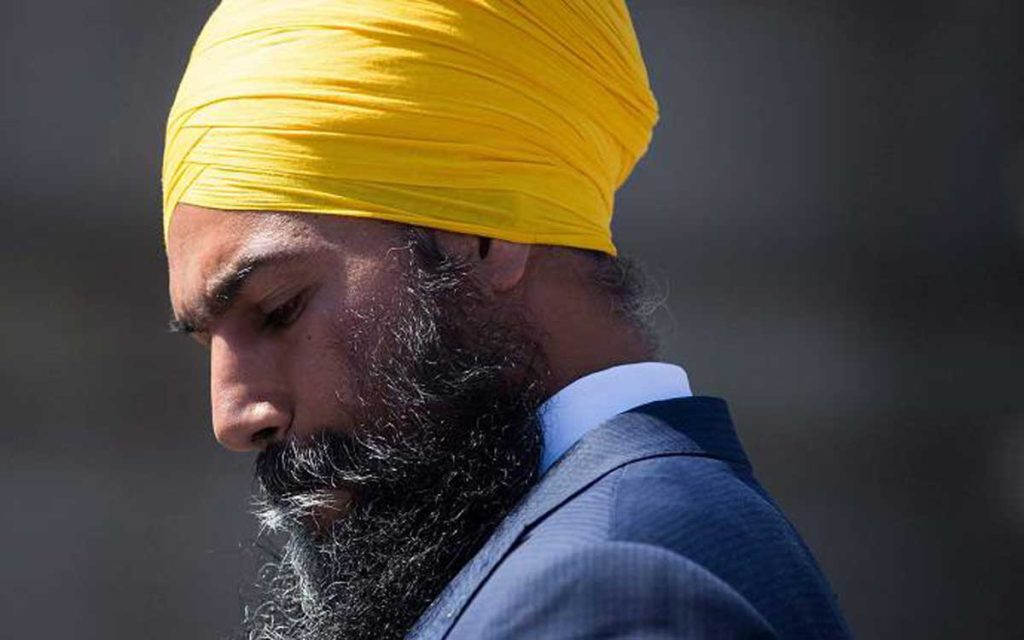 Federal NDP Leader, Jagmeet Singh. 
Even the most sympathetic observers will concede that Justin Trudeau has had a pretty bad few weeks, thanks to the Federal Court's delay of the Trans Mountain pipeline expansion, and the worrisome NAFTA negotiations. But besides the imminent legalization of pot, Trudeau still has one thing going for him: the NDP.
The federal NDP caucus will be in British Columbia this week to strategize for the upcoming session of Parliament and next year's election. "No one's afraid of admitting there are challenges and things we need to work on," NDP caucus chair Matthew Dubé told the Globe and Mail. Good. Admitting you have a problem is the first step to recovery.
The New Democrats under Jagmeet Singh have a lot to recover from, if they hope to pose a serious threat to the Liberals' re-election next year.
The latest blow came last week, when 68 former Saskatchewan MPs and MLAs publicly challenged Singh's decision to bar Regina MP Erin Weir from running for the NDP. Weir was ejected from the NDP caucus in February, after allegations of sexual harassment.
The allegations came from four women, three of whom complained that Weir stood too close to them, while the other said Weir had spoken angrily to her. Weir seemed on his way back in to caucus after making apologies and going through counselling, but Singh slammed the door on that possibility when Weir dared defend himself against one of his accusers.
One of the "Saskatchewan 68," Lorne Nystrom, took advantage of the media attention to question Singh's overall leadership. "I went to one of Singh's meetings in Regina and was totally underwhelmed," Nystrom told the Toronto Star. "Someone asked him about the economy and he ended up talking about love and courage." Well, Trudeau famously did say that we could grow the economy "from the heart outwards."
Nystrom is so exorcised about Singh, he's not going to help the party, or even allow an NDP sign on his lawn. "As long as Singh's there, I won't be involved in the federal party,' said Nystrom. "I will not donate."
The letter's author, former Saskatchewan cabinet minster Pat Atkinson, echoed Nystrom's warnings: "I think what it means is that there'll be less people willing to donate, there'll be less people willing to step up to door knock. I think it has a very serious impact on the federal party in our province."
Nystrom and Atkinson are far from the only ones reluctant to fill the NDP's election coffers. The party was effectively bankrupt at the end of 2017, finishing the year with assets worth $6.2 million and liabilities totalling $9.3 million. That left them starting 2018 with net assets of minus $3.1 million. That's the largest debt the party has posted since 2001, the first year for which such records are available.
The party also had an operating deficit in 2017, spending $1.4 million more than it took in, though it was an improvement over 2016's operating deficit, which was twice as much. While the party appears to have gotten its expenses under control (sadly, this is necessary when taxpayers aren't making up your shortfalls), fundraising is still struggling. In the first half of 2018, the NDP raised only $2.2 million. The Conservatives raised $12.1 million and the Liberals raised $6.4 million over the same period.
Okay, so not everybody has money to give to the NDP. How about their potential voters? Surely the NDP is benefitting from the stumblings of the Liberals? Not so far. A recent Nanos survey had the NDP at 16% national support, well behind the Liberals (40%) and Conservatives (32%), though a typical between-election figure for the NDP. June's by-election in Quebec saw the NDP candidate garner just 8.7% of the votes, after the party had won 30% in 2015 and 38% in 2011.
On policy, Singh is opposed to the Trans Mountain pipeline expansion, putting him in an uncomfortable position between NDP premiers John Horgan of BC and Rachel Notley of Alberta. But that's about the only thing that distinguishes him from the Trudeau Liberals. As the National Post's John Ivison observes:
From universal pharmacare to investments in housing to clamping down on tax loopholes that benefit "the rich," Singh has been beaten to it by the Liberals. He was elected as a leader who could compete with Trudeau on Instagram — personable, presentable, with a little sizzle. But his messaging appears to have been written in generic progressive "hope and change-ese."
Then there is the matter of what a Jagmeet Singh-led NDP caucus is going to look like after the next election. Several veteran MPs – Linda Duncan, Irene Mathyssen, David Christopherson, Hélène Laverdière and Romeo Saganash – have decided to retire. If there are any star candidates to be had, now is the time to be locking them down. But the NDP's current state can't be very enticing to anyone with a serious resume.
Singh himself is expected to face a by-election within the next six months, having announced he will be the NDP's candidate in Burnaby South. The sitting MP, Kennedy Stewart, is running for mayor in Vancouver. That riding was won only narrowly by the NDP in 2015, though Elizabeth May's magnanimous decision – that the Green Party will not run anyone against Singh – should help.
The only person more worried about Jagmeet Singh's readiness for the next election is Conservative leader Andrew Scheer. There are many ridings where NDP support needs to be high enough to ensure the Conservative candidate prevails over the Liberal. Scheer and the Conservative campaign team will be quietly rooting for the NDP to have a better fall than their summer was.