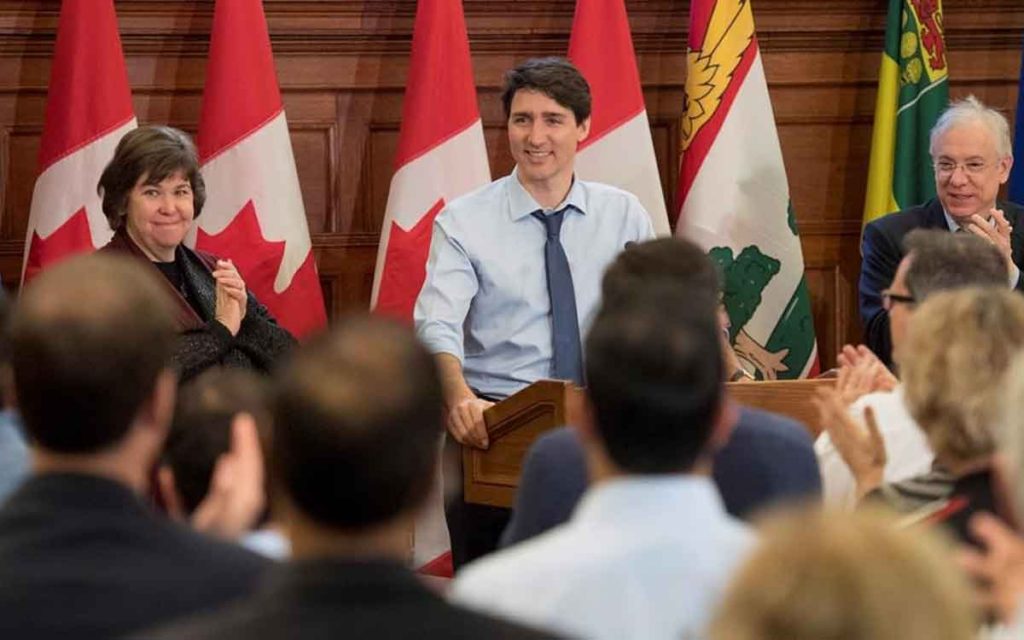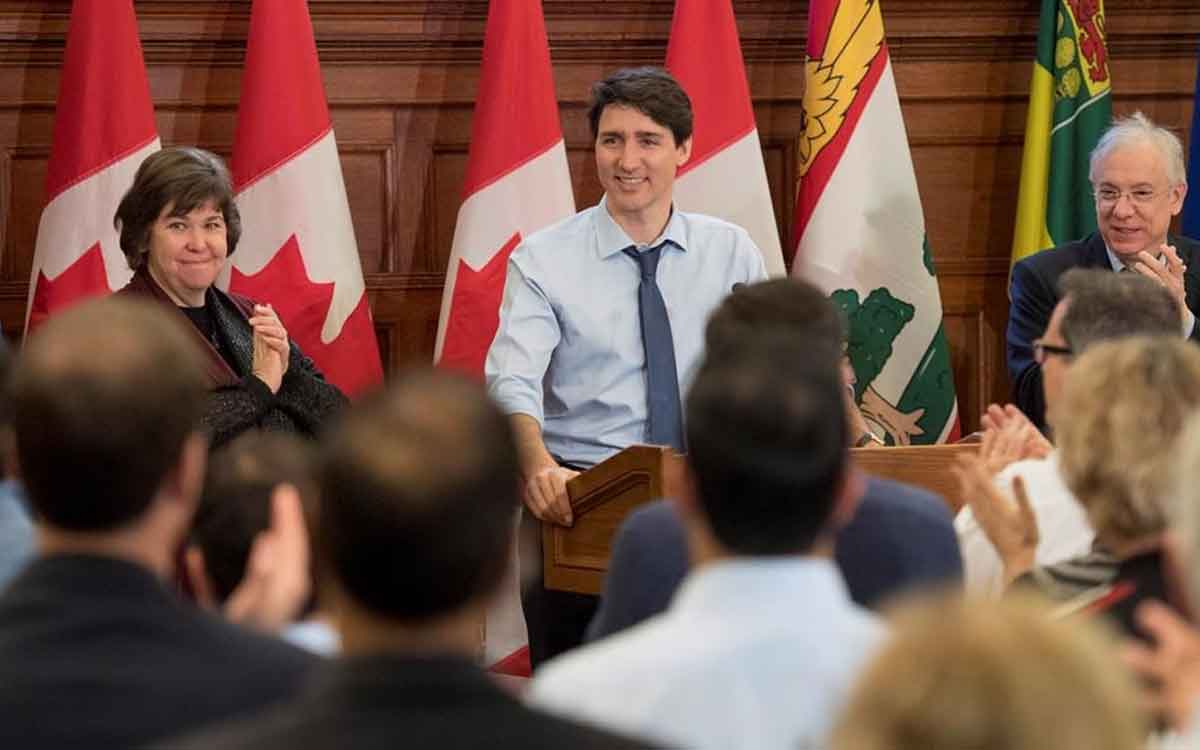 Prime Minister Justin Trudeau speaks at the Liberal National Caucus Meeting on Parliament Hill in Ottawa on Sun. Jan. 28, 2018. Photo by The Canadian Press/Justin Tang
Time is running out for Jody Wilson-Raybould and Jane Philpott.
Sunday and Monday saw two Liberal cabinet ministers and several Liberal MPs speak negatively about the two former cabinet ministers, who – at this writing – remain members of the Liberal caucus and presumptive Liberal candidates for the fall election.
Labour minister Patty Hadju called Wilson-Raybould's secret recording of her December phone conversation with privy council clerk Michael Wernick "unethical" and "deceptive." Hadju said she would leave Wilson-Raybould's fate as a Liberal up to the prime minister and her caucus colleagues, but said she did not feel comfortable being in caucus with someone who might record her conversations. Transport minister Marc Garneau called the recording "totally inappropriate" and "not an honourable thing to do."
"Should have been gone long ago" was PEI MP Wayne Easter's quip to reporters about Wilson-Raybould on Monday. Newfoundland MP Nick Whalen told the CBC that he was shocked by Wilson-Raybould recording the call and keeping it secret, instead of going to the prime minister with her concerns. "It all seems really untoward and really seedy," Whalen told CBC News. The CBC also spoke to a Liberal MP who wished to remain anonymous:
"This isn't about two women. This is about two members of the team and how they are choosing to conduct themselves publicly," the MP said. He added there is a feeling of "growing resentment" within caucus among MPs who believe Wilson-Raybould and Philpott are making it difficult to move forward with the government's agenda.
Yesterday, Toronto Liberal MP Rob Oliphant did a live interview on CBC News Network, in which he unloaded on Wilson-Raybould and Philpott. Oliphant said that "I have lost my trust" in the two MPs, and wondered whether they had recorded any of the conversations that he had had with them over issues they had disagreed on, citing medically-assisted death as an example. Oliphant also said he was extremely disappointed with Philpott's resignation letter as treasury board chair, and her notorious interview with Macleans (in which Philpott said that "there's much more to the story that needs to be told" but that it can't come out because "there's been an attempt to shut down the story").
Oliphant denied that Wernick's call with Wilson-Raybould contained any veiled threats, saying that what he heard was Wernick being "honest" and "trying to build a bridge." He then issued a threat that was not veiled. If Wilson-Raybould and Philpott are not willing to show contrition and express confidence in the prime minister and government, Oliphant said: "I would be willing to ask them to move on."
To be fair, the criticisms of Wilson-Raybould's conversation with Wernick, and its secret taping are not without merit. At several points in the call, it certainly sounds like Wilson-Raybould is reading from notes. After the tense meeting her chief of staff had had the day before with Trudeau's top two aides, she knew Wernick's call was coming, and probably wanted to have clear arguments at hand. But allegations of entrapment are ridiculous. It's only entrapment if you induce someone to do something they would not otherwise have done. The history of this issue within the government and Wernick's own language on the call show that he was repeating points and options that had been raised previously.
Some have argued that Wilson-Raybould was in a lawyer-client relationship with Wernick, and recording him without his consent was a violation of her professional ethics. As attorney general in Ottawa, Wilson-Raybould was subject to the rules of the Law Society of Ontario (formerly the Law Society of Upper Canada – and shame on them for their Orwellian erasing of history). By secretly recording a call with her client, she could be open to a conduct complaint. I bet everyone at said law society is praying that they don't receive such a complaint, though I suspect Liberal stalwart and conspiracy theorist Sheila Copps might be willing to pull that trigger.
I also had some sympathy for Team Trudeau when I heard Wilson-Raybould's frustrated observation to Wernick, about the seriousness of what the prime minister through his PMO was asking her to do: "No one's explaining that to him, Michael" she nearly shouted. It is fair to suggest that Wilson-Raybould was the someone who should have been explaining it to Trudeau. According to her own testimony to the Commons justice committee, she had spoken just once with Trudeau himself about SNC-Lavalin's desire for a deferred prosecution, back in September.
But Wilson-Raybould's secret taping is a sideshow, as is the likely ejection of her and Philpott from the Liberal caucus. As Robyn Urback writes on the CBC's website:
Yes, perhaps Wilson-Raybould had the worst of intentions — take down the leadership, destroy the party, ennoble her reputation, profit somehow. Great. If true, that's an interesting peripheral element.
But Wilson-Raybould's character has no bearing on whether the Prime Minister's Office tried to interfere in the criminal prosecution of SNC-Lavalin, which is the principal question of this entire affair.
Missing from these circling furies, of course, is our prime minister, who has not in recent days repeated his earlier talking point that Wilson-Raybould and Philpott remain members of the Liberal caucus who support the government's agenda. There may be an emergency caucus meeting to debate their continued membership, even before the regular Wednesday morning caucus meeting.
At the time of this writing, Trudeau had yet to comment on Wilson-Raybould secretly taping Canada's top public servant. He had yet to be asked whether he shares the views of his cabinet ministers and MPs who have publicly criticized his two former ministers. Will he comment? Will he attend caucus and vote on two MPs who may have confidence in the Liberal agenda, but clearly not in him?
Washing his hands of the two women's fate would be spineless and un-leader-like, but at least it would be consistent with his leave-the-details-to-others style of management. Once freed from caucus solidarity, Wilson-Raybould and Philpott may present Trudeau's government with even more unpleasant details to be handled.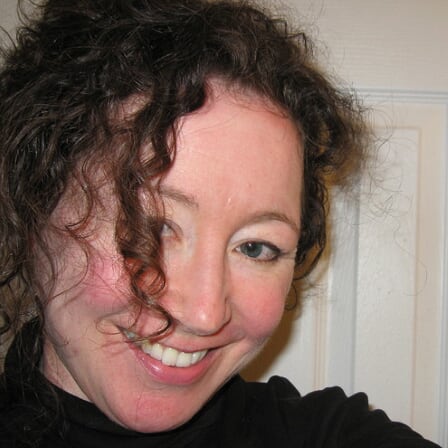 Joan Tintor is a writer and researcher. Her political experience includes having served as legislative assistant to Ontario transportation minister Al Palladini, and as a writer/researcher for the Ontario PC Caucus. She earned a degree in journalism from Ryerson Polytechnic University in 1994.