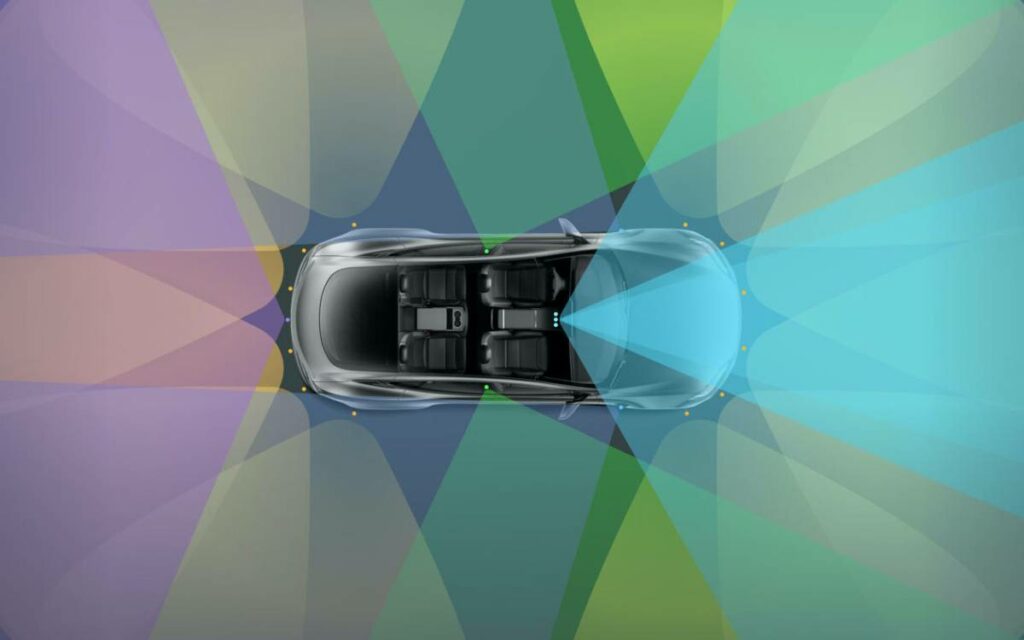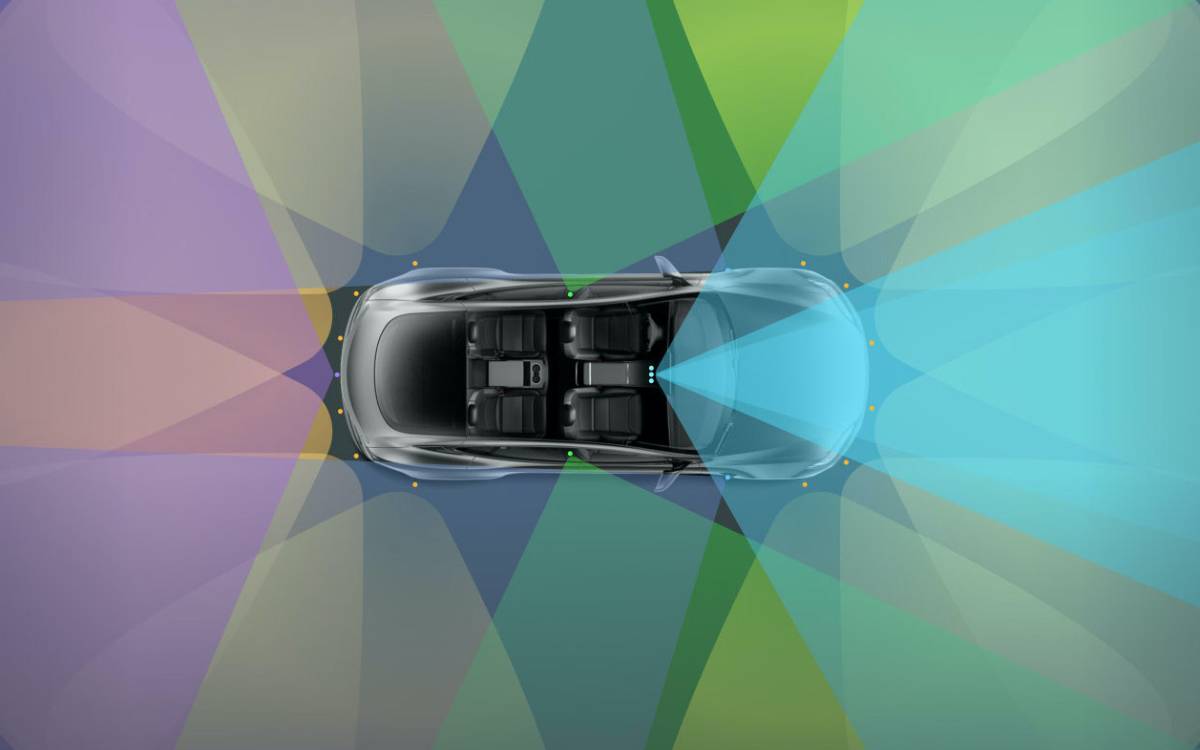 Artist's rendering of Tesla's autopilot AI sensor range. Photo credit: Tesla
Last Saturday marked the 165th birthday of Nikola Tesla, the Serbian-American who invented the first alternating current motor. The company Tesla, helmed by CEO Elon Musk, took the occasion to release the long-awaited Full Self-Driving (FSD) Beta Version 9 software, the next advancement in the company's plan for autonomous driving vehicles. While autonomous driving is being explored by both traditional car manufacturers (Daimler, Ford, Honda, and Toyota) and corporate giants (Apple, Google, and Amazon), it is Tesla that usually springs to mind when this topic comes up.  
Best industry guesses is that we are still a ways away from seeing autonomous vehicles being prevalent on Canadian streets. This seems to be supported by Tesla itself. As widely reported in technology and business news this week, the announcement of Telsa's next step in the space of autonomous driving came with an interesting caveat in the release notes: 
"Full Self-Driving is in early limited access Beta and must be used with additional caution. It may do the wrong things at the worst time, so you must always keep your hands on the wheel and pay extra attention to the road. Do not become complacent."
One could argue that having a self-driving car that requires even more attention to the act of driving than if one was actually piloting the car somewhat defeats the purpose of an autonomous vehicle. Not surprisingly, Tesla owners who purchased the FSD option access to the features greeted this announcement with the normal level of euphoria that has become commonplace (however unwarranted) to announcements and releases from Tesla. One can hardly blame them; they have been waiting for this day for years, as it has been announced and re-announced by Musk.  
Of course, this isn't the full story. Tesla has actually been charging customers up to $10,000 for self-driving technology for five years, even though this software update may be the first time that the initial steps related to self-driving may be really available to Tesla owners. This delay has caused Telsa's claims related to the level of autonomy of their vehicles to come under scrutiny from regulators. A recent Los Angeles Times story reported that the California Department of Motor Vehicles was investigating whether Tesla misled customers by advertising its "full self-driving capability" option. This follows a ruling in July 2020 in Munich, Germany that Tesla had been misleading consumers related to autonomous driving capabilities.
While the small print on Tesla's website may say that the future use of self-driving features without supervision is still depending on a number of other factors, that is certainly not the media messaging and the impression in the minds of consumers. It is easy to conflate autopilot features and full self-driving capabilities given that they are used in an almost interrelated way on Tesla's website.
The auto side of Tesla currently has four models of cars available at different price points, as well as its Cybertruck. While I am no fan of the design of the Cybertruck, the rest of Telsa's car range includes undeniably beautiful cars with impressive vehicle performance, a far cry from the traditional boxy design and poor range traditionally associated with electric vehicles. While the lure of autonomous driving is like a siren's call to many motorists, Tesla's cars have enough appeal on their own to not have to overpromise on that front. 
This is one of the many challenges I have when I look at Tesla as an organization. Its ability to scale manufacturing to achieve economics of both scale and scope is improving, but it is not enough to make the company profitable on manufacturing alone; its profitability is due to selling regulatory credits rather than automobiles. In the United States, the regulatory credit system is designed to incent electric vehicle manufacturing as a way to improve the environment. Tesla has been able to reap a windfall by selling credits to auto makers who do not produce electric cars. However, as more global companies come on stream with their own fleets of electric vehicles, Tesla will not be able to continue to take advantage of this credit windfall and will need to begin to compete on pure production metrics. 
So, while Tesla' FSD Beta Version 9 was a step in the right direction for fans of autonomous driving, there are still many regulatory and safety hurdles to go before it becomes commonplace. Tesla is going to have to operate in an increasingly competitive space both in terms of autonomous vehicles and elective vehicles without the regulatory advantages it has had in the past. Time is ticking!

Karin Schnarr is associate professor of policy and law at Wilfred Laurier's Lazaridis School of Business and Economics, where she is also director of the school's MBA program. Schnarr is currently involved in research related to women entrepreneurs, AI in strategic decision-making, and case-learning in entrepreneurship education. Recently, Schnarr was named chair of the Ontario government's Task Force on Women and the Economy. Prior to academia, she served as chief of staff at several provincial ministries, including Health and Long-Term Care, Environment, Attorney General, and Transportation. Schnarr holds both an MBA and PhD in Strategic Management from Western University's Ivey School of Business.