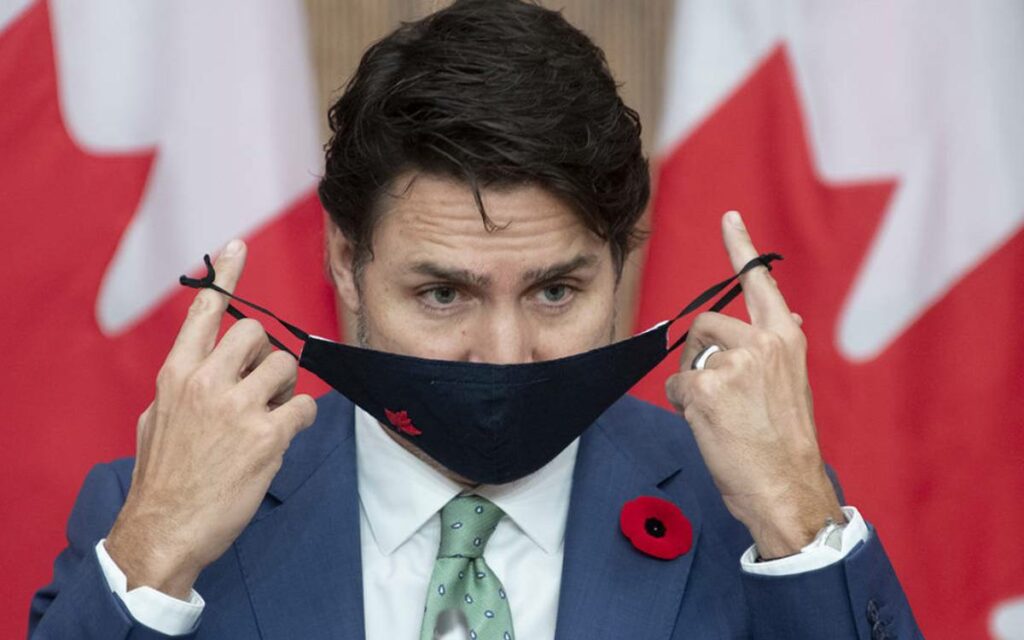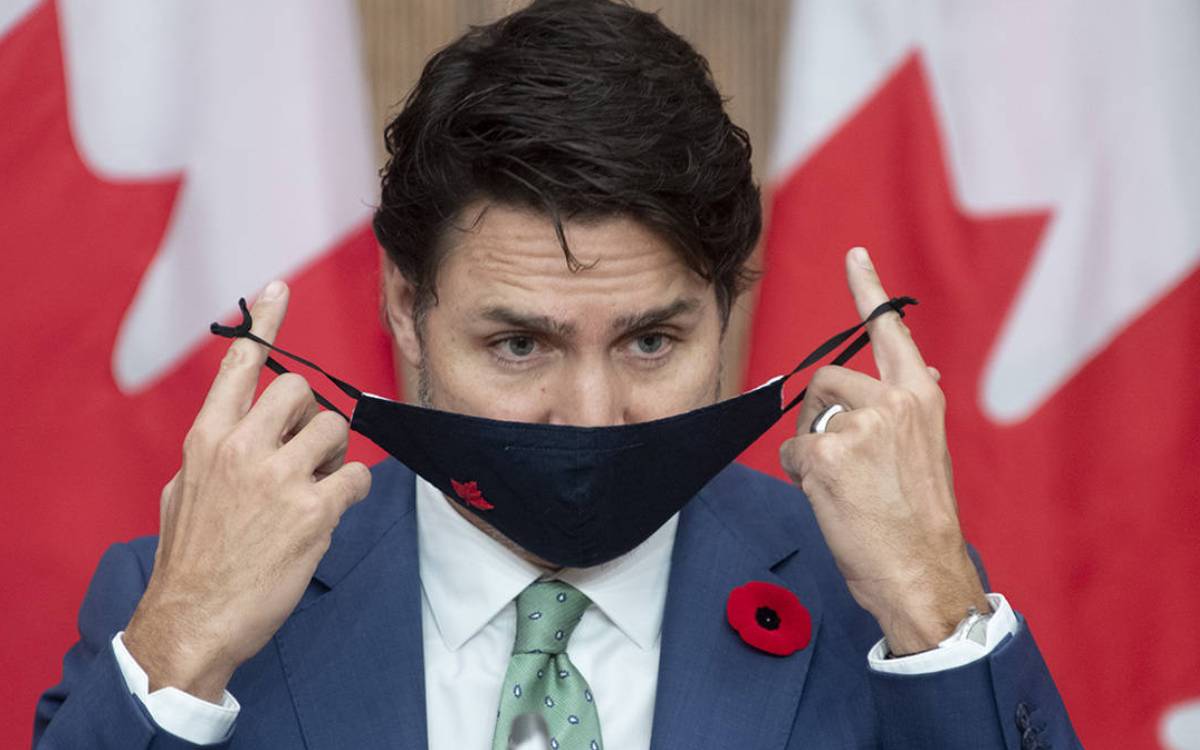 Trudeau puts on a mask after speaking at press conference in Ottawa, November 6, 2020. Photo credit: The Canadian Press/Adrian Wyld
In a gushing self-congratulatory press statement released the last week of July, Prime Minister Justin Trudeau exclaimed that the federal government's hard work has kept Canadians healthy and safe throughout the pandemic. He lauded the work of Health Canada and reported that the country has now received more than 66 million doses of COVID-19 vaccines – enough to fully vaccinate every eligible person in Canada.
The euphoric announcement came just days before the PM called his longed-for late summer election. Indeed, Trudeau is giddy with the thought that the latest public opinion polls show that 72 per cent of Canadians are satisfied with the federal government's pandemic efforts, up 15 points from the mid-May assessment when the PM stated we would need to manage through a "one-dose summer." 
Apparently public opinion has changed in the last eight weeks since the country began receiving a steady, reliable supply of vaccines. The Liberals expect to ride this wave of optimism to a majority government. The anticipated campaign narrative will in no way resemble the realities of the last 18 months and what Canadians have endured with the federal government's gaslighting of facts around the spread of COVID-19 or the procurement of ample vaccines. 
It is important to recap the unfolding of pandemic events and place into context the government's actions. In this way, Canadians can properly hold our political masters to account – and appropriately judge whether they deserve our trust with a new majority mandate. 
The first case of COVID in Canada was confirmed in Toronto on January 25, 2020; it was a man in his 50s who travelled from Wuhan, China. It is now known that many flights from China and elsewhere would transport the virus to our country. Yet, for weeks through February and March, Canadians were repeatedly told the situation was not serious and it was not originating from China. 
On this point, the Trudeau Government failed to restrict air traffic from China for weeks after the first "official" death was reported in Wuhan on January 11, 2020. Travel from China was restricted by Taiwan on January 26, by the U.S. on January 31, and by Australia a day later. Meanwhile, in that same time frame almost 1,800 people flew from Wuhan into Canada. (Trudeau repeated this negligence again in 2021 when he refused to promptly ban flights from two hotspots, Brazil and India, allowing more deadly COVID variants to enter the country.)  
Until mid-March 2020, PM Trudeau, Health Minister Patty Hajdu, and Canada's Chief Medical Officer Dr. Theresa Tam all deflected any concern about the spread of the virus. Canadians were told masks were not needed. Dr. Tam told us "the flu-like coronavirus" would not impact Canada for at least a year. And, when anyone raised questions and concerns, they were immediately labelled "racists" and "conspiracy theorists."
So, how is it that Canadians could be so slow to recognize the danger of this health crisis? A Globe and Mail investigative story has revealed the facts of the matter. In 2018, the Trudeau Government had dismantled the Global Public Health Intelligence Network (GPHIN), which was the organization responsible for the country's epidemiological intelligence to monitor health threats, track deadly viral outbreaks, and provide global advance warnings. It was used during H1N1, Ebola, and SARS. Yet the Trudeau Government quietly stripped the network of its expertise and resources.
We have also now learned of the chaos behind the scenes at Health Canada in early 2020. The country had a severe shortage of face masks after the government dumped two million N95 masks in December 2019 and shipped tonnes of supplies to China in February 2020. Is it reasonable to question whether there is a connection between the government's early insistence that masks are not required and the lack of adequate supply? 
This gross mismanagement by the Trudeau Government was to be replayed with its procurement of COVID-19 vaccines. Canadians now know that in early 2020, the Trudeau government signed a contract and made a secret non-refundable cash payment to a Chinese pharmaceutical company for a vaccine that was never delivered. On May 16, 2020, PM Trudeau heralded an exciting vaccine deal for Canada (although he chose not to mention the deal was with the Chinese). That very week the deal collapsed. The PM worked to actively hide the facts from Canadians for over three months, until they were finally revealed in late August.
From Spring 2020 through to June 2021, Canadians have been paying the price of this botched Chinese deal. In early 2021 when European countries and the U.S. were awash in vaccine doses, Canada had but a trickle of vaccines. In fact, the inadequate and unreliable supply of vaccines dictated Canada's health policies and its vaccination roll-out program. How else do you account for the facts? 
Canada accepted AstraZeneca vaccine shipments that had been rejected by the U.S. health officials. 

The government signed numerous new contracts with vaccine suppliers in 2021, at a premium cost and without solid delivery schedules. 

Health Canada approved a four month delay between doses – against WHO expert counsel and the pharmaceutical companies' medical warnings.

Canada was the first country to approve the mixing of vaccines.
Canada's lack of vaccines has resulted in the country's vaccination programs resembling one big sociobiological experiment.
Space will not permit detailing the crass politics that has been played by Trudeau and his ministers through the pandemic.
The hundreds of millions of dollars flowing to Liberal-friendly companies that, without consequences, failed to produce their contracted services and deliverables. 

Gross misspending of an average of $1.5 billion per day for a full year by the federal government – the greatest per capita pandemic spending in the world, resulting in the highest pandemic national debt.

Overreaching and generous support programs resulting in the highest unemployment rate in the G7 – and these programs are continuing to be extended while retail outlets and hospitality businesses have difficulties finding adequate staff.  

The active censoring of medical practitioners, media, and individual Canadians who voiced alternate views from the government's official narrative.

Disregarding the authority of Parliament by employing tactics that keep public information from MPs and from Canadians – the details of the Canada-China virus research at the Winnipeg Lab being only the latest travesty.  
But, who among us are minding the facts and the details? That's the key election question.
Justin Trudeau is counting on Canadians being swept up in their relief of being fully vaccinated, hoping that we are thankful for everything his government has done throughout the pandemic. But should we be?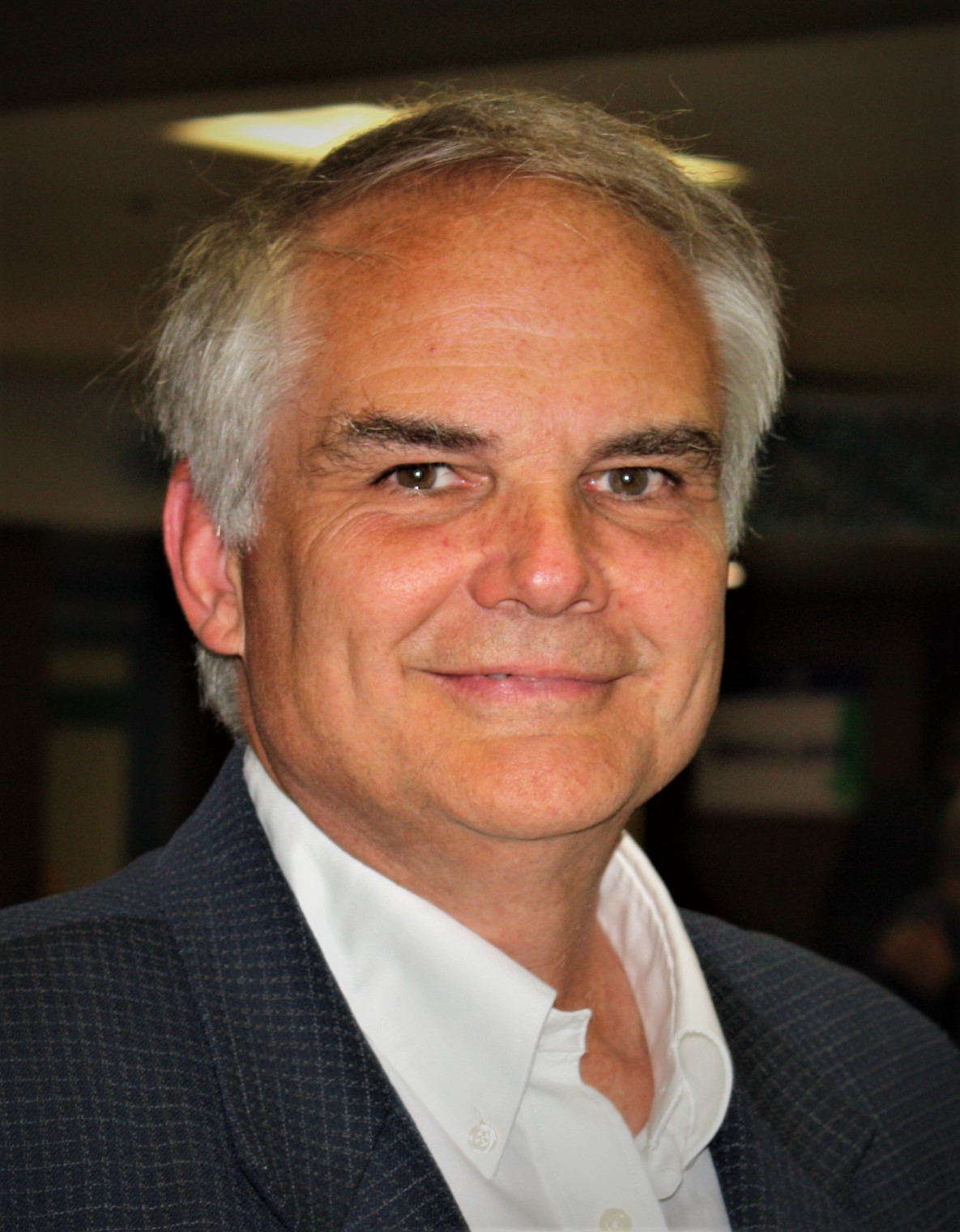 Chris George is an advocate, government relations advisor, and writer/copy editor. As president of a public relations firm established in 1994, Chris provides discreet counsel, tactical advice and management skills to CEOs/Presidents, Boards of Directors and senior executive teams in executing public and government relations campaigns and managing issues. Prior to this PR/GR career, Chris spent seven years on Parliament Hill on staffs of Cabinet Ministers and MPs. He has served in senior campaign positions for electoral and advocacy campaigns at every level of government. Today, Chris resides in Almonte, Ontario where he and his wife manage www.cgacommunications.com. Contact Chris at chrisg.george@gmail.com.