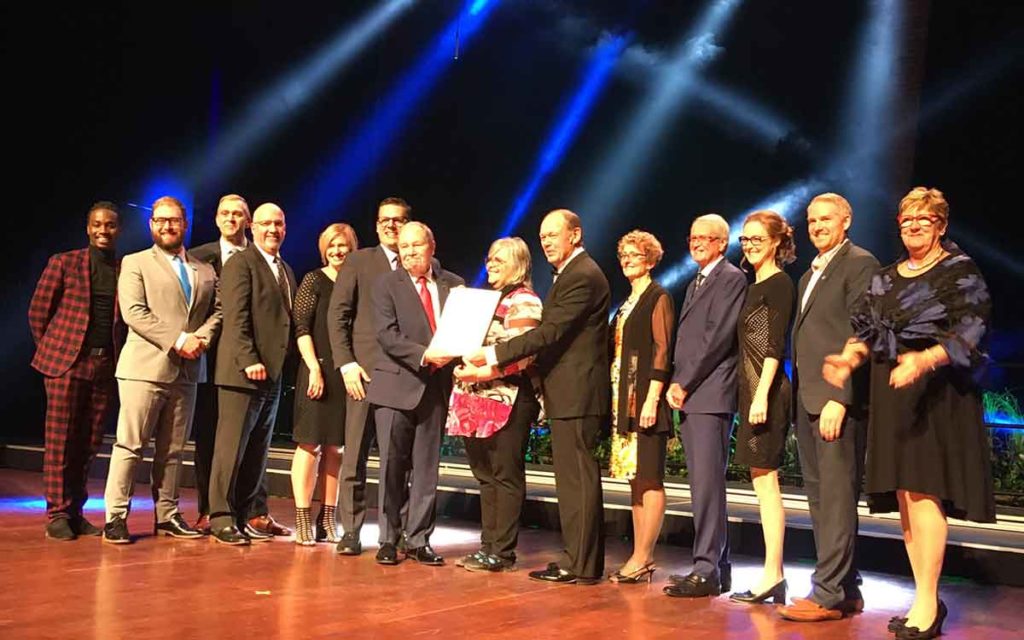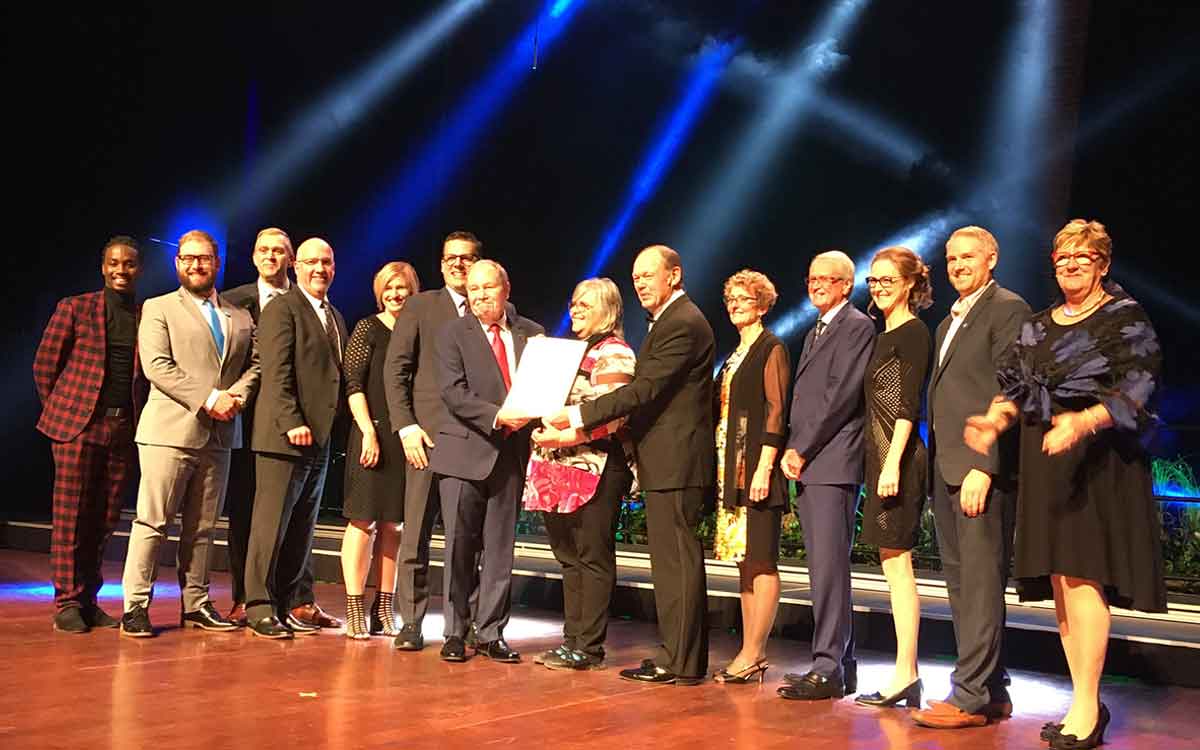 Niagara College president Dan Patterson is recognized by the Niagara College Board of Governors, who hosted the November 22 celebration of Patterson's career and accomplishments. The Board announced that the College's Niagara-on-the-Lake Campus would be proclaimed the Daniel J. Patterson Campus in honour of Patterson. Supplied photo- Niagara College.
You know you've left a positive impression well beyond the walls of your workplace when staff, students, alumni, family, friends and community leaders fill a performing arts centre to say thank you.
Hundreds of well-wishers gathered inside Partridge Hall at the St. Catharines' FirstOntario Performing Arts Centre Friday night to wish soon-to-be-retired Niagara College president Dr. Dan Patterson a fond farewell and to thank him for his quarter century of service to not only the post-secondary institution he lead but also for his massive impact on the Niagara community in general.
Niagara College board chair John F.T. Scott served as the evening's emcee. A number of video messages from people in Patterson's personal and professional life were played on the big screens at the top of the production. Messages were from some familiar faces like Niagara wine industry legend Don Ziraldo; Bruce Heyman the former U.S. Ambassador to Canada; former Ontario premier Kathleen Wynne; and the Hon. Elizabeth Dowdeswell the Lieutenant governor of Ontario, to name a few.
The common words used to describe Patterson by almost everyone who spoke about him were: passion; energy and leadership. St. Catharines Mayor Walter Sendzik gave an impressive speech and had some in the audience raising an eyebrow when he referred to the college president as "unreasonable". Sendzik explained his choice of the adjective by quoting playwright George Bernard Shaw saying that a reasonable man bends to suit the rules but an unreasonable man bends the rules to suit him. "Dan has been unreasonable," said Sendzik noting Patterson did whatever it took to elevate the college to an elite status in the country including being ranked number one in student satisfaction and creating renowned teaching programs for wine making, brewing and culinary arts. Niagara Falls mayor Jim Diodati said Patterson has had such an impact on the tourism industry that he can't walk through any local hotel without people saying hi or thanking him for his efforts to support the industry through higher learning. "He's a legend," said Diodati.
One of the video messages that got the biggest laugh was one from former Ontario premier Mike Harris. The intro to Harris' remarks had news clips and headlines of when the NDP government promised to build a new campus for Niagara College. Those positive images were then followed by the new Tory government saying they couldn't afford it given the dire financial state of the province. Patterson lobbied Harris hard and eventually it was the Ontario PC's who committed the full $32 million to build the Niagara-on-the-Lake campus. Harris opened his remarks with, "Dan Patterson still runs Niagara College?" He went on to wonder how Patterson managed to get the province to pay the full cost of the new campus. He cited Patterson's "unrelenting pursuit" and referred to him as a strong leader with a lot of enthusiasm. The crowd had a big laugh at Harris' closing remark when he noted that the college is now a reflection of Patterson… "a distillery and a pot factory".
It was pointed out that Patterson has not missed one single convocation and has personally shaken the hands of 70,000 graduates to congratulate them on their achievement.
In a surprise presentation, the Niagara College Board of Governors announced that the College's Niagara-on-the-Lake Campus would be proclaimed the Daniel J. Patterson Campus, in recognition of Patterson's outstanding contributions to the College – which includes the campus's evolution into one of Canada's most unique learning environments.
Patterson was grateful and humble in his remarks. Summing it up by saying, "It's been an extraordinary event that I will never forget in my life."
"I always felt it was a privilege to lead Niagara College, and I never took it for granted."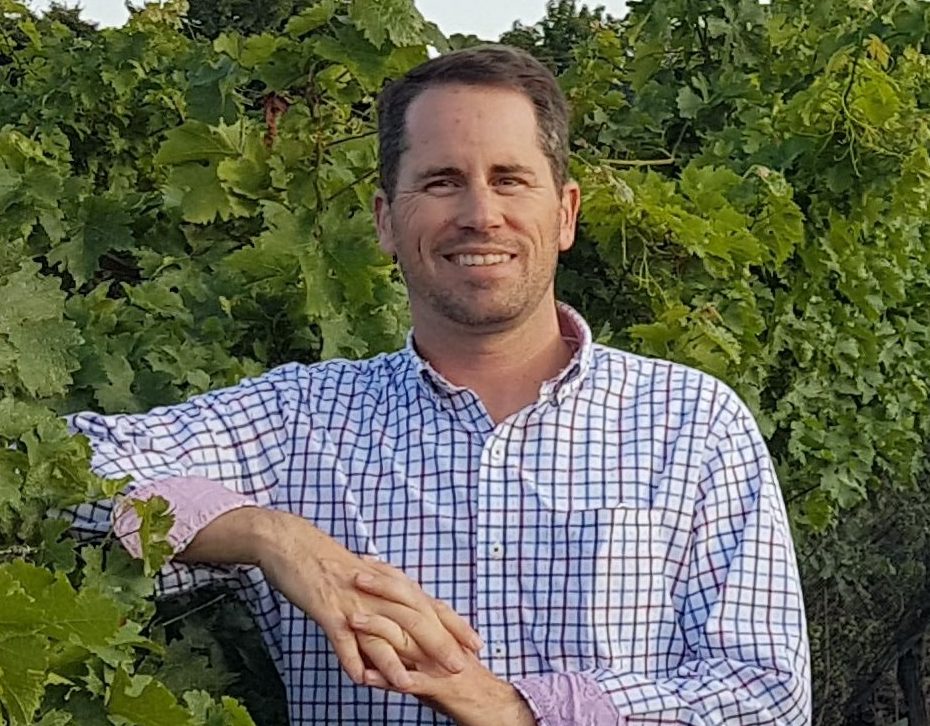 Kevin has spent over two decades as a public relations professional in a variety of sectors including professional sports, the arts, industry and healthcare.  After tiring of the daily commute to Toronto he returned to Niagara and launched The Niagara Independent, an online news source published twice weekly.
He is a graduate of Brock University, Niagara College and the Richard Ivey School of Business. He was named one of Niagara's 40 Under Forty in 2005.
Kevin is most proud of his twin daughters. He is also a triathlete and four-time Ironman finisher.