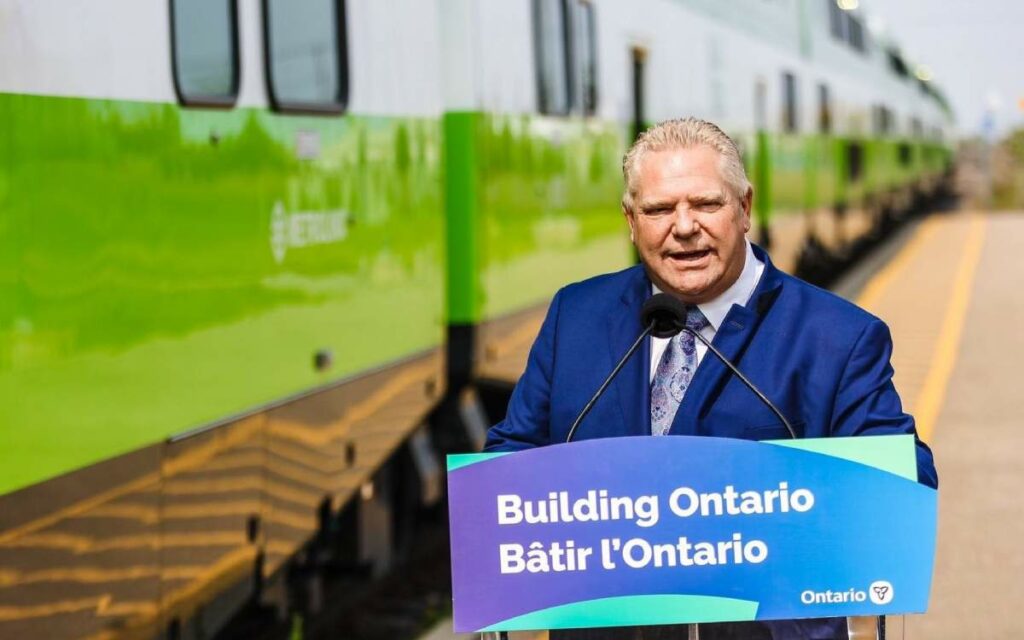 The premier made the remarks in response to a reporter's question in St. Catharines on Friday last week. Niagara currently has 126 elected officials for a population of just 485,000. Photo credit: Twitter/Doug Ford
In a tandem announcement last week, the Ontario government revealed both that it will dissolve the Region of Peel by 2025 and that "in the coming weeks" it will name regional facilitators to assess six other upper-tier governments around Ontario, including Niagara. 
The facilitators, according to a provincial press release, "will be tasked with reviewing whether the upper-tier government continues to be relevant to the needs of its communities or whether the lower-tier municipalities are mature enough to pursue dissolution." 
Speaking at a St. Catharines press conference regarding local GO train expansion on Friday, Premier Doug Ford said his phone has "been ringing off the hook" with mayors around Ontario saying they want their "independence".
"I'm not going to name names. That's not fair to them. But everyone wants to call their own shots, per se, and I don't disagree with them."
When asked by a reporter specifically about local dissolution and Niagara's over-bloated municipal landscape, a topic the premier hasn't been shy about discussing in the past, Ford gave a somewhat contradictory response. 
He appeared to acknowledge that the current situation of 126 elected officials for 485,000 people is untenable, but alleged the current arrangement "works". 
"I had Chair (Jim) Bradley over, with the mayors, and I'll be very transparent, I said: hey, you have too many politicians," said Ford. "But you know what's nice about Niagara? It works. It's working right now. It's growing. Businesses are coming. Tourists are coming."
Ford made the off-the-cuff remarks while flanked by Niagara Regional Chair Jim Bradley, Mayor of St. Catharines Mat Siscoe, and Mayor of Niagara Falls Jim Diodati. 
Chair Bradley, former minister of municipal affairs and housing under Liberal Premier Dalton McGuinty, recently said at this point he doesn't think substantive change is coming to Niagara's governance model, but said he sees value in the appointment of a facilitator to review the situation.
Mayor Siscoe is on record saying he doesn't think there's an "appetite" for regionwide governance reform and that any change would need to come from the top down. However, as Siscoe told local media in November, he thinks there are changes that can be made. 
"I do think we have more politicians in Niagara than are necessary," said Siscoe. "I think we can definitely find ways to streamline things."
One of the most vocal Niagara politicians on the subject, Mayor Diodati has called for municipal governance reform for years. 
When the province did its initial governance review back in 2019, the Niagara Falls mayor helped spearhead a push to get the province to dissolve the regional government and move to a four-city model – an option Diodati continues to maintain could be in Niagara's future. 
The mayor believes the number of elected officials in Niagara should be cut back by as much as two-thirds. Neighbouring Hamilton, Diodati consistently points out, has a larger population than Niagara and makes do with just 15 councillors and a mayor. 
Outside of Niagara, the other five upper-tier governments to be appointed a facilitator in the coming weeks are Durham, Halton, Simcoe, Waterloo, and York. 
The province has not given any indication as to who, exactly, will be or is in the running to be Niagara's regional facilitator.