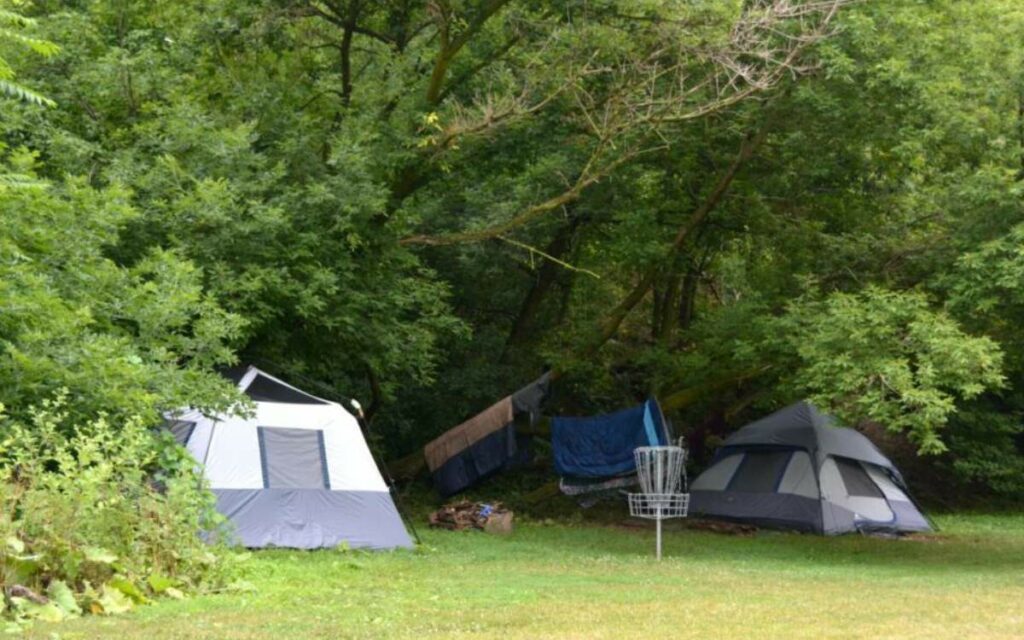 Encampment in Centennial Gardens off Gale Crescent near downtown St. Catharines. Image from July 2021. Photo credit: Julia McLaren 
Downtown St. Catharines has become a hellscape of hard drug use, public defecation, and intercourse in open view, according to the city's mayor. 
Speaking at Niagara Region's public health and social services committee on Tuesday, Mayor of St. Catharines Mat Siscoe provided members a "laundry list" of ongoing issues staff and residents continually have to deal with in the downtown core of Niagara's largest municipality. 
According to the first-term mayor, the Montebello Park pavilion and park's onsite washrooms have almost been burned down on several occasions, contractors working for the city have been accosted with knives, and there's "a lot of drug use in very open view". 
Families continually have to vacate public spaces because of the volume of discarded needles and residents who live in downtown condominiums can't go outside because the view is one of people "using drugs, having sex, hanging laundry…defecating, urinating".
Since opening a little over a week ago, the city's new "self-cleaning" washroom has been vandalized, its toilet plugged multiple times, and feces spread all over the walls. Several people have tried to sleep in the washroom and the facility's panic alarm has been used "repeatedly" – all of which have made plumbers, cleaners, and police "regular visitors". 
Downtown businesses, per the mayor, report individuals urinating onto patios where people are eating. There was an incident recently of someone changing a catheter on the road in public view. People walk down the middle of the street naked. Business owners have been assaulted and threatened. And people regularly sleep in the doorways of stores and restaurants. 
Banks in the city's downtown, which have had to hire increased security and contract cleaners to clear vestibule areas used as shelter, are contemplating leaving the area en masse because of all the problems. 
Graffiti is an ongoing issue that staff can't keep on top of. "Aggressive panhandling" is on the rise. While, police have "nowhere to take people – the courts are not dealing with any of this."
And according to Mayor Siscoe, "the situation is getting worse". 
"I've been in this job now for six months and I'm struggling to see what we're doing to make the situation any better," Siscoe said Tuesday. "It is appreciably worse this year than it was last year, and last year was worse than the year before."
"As the Mayor of St. Catharines, I have no answers for anybody."
At the end of the day, Siscoe concluded that a "large part" of the solution is housing.
"We know that the answer is housing. We know that we can start to deal with a lot of these problems if we have adequate housing in the situation."
At the end of February, Niagara regional council declared a formal state of emergency over homelessness, mental health, and opioid addiction. 
It's hoped that the declaration will attract greater attention and further funding from upper-tier governments. 
In regard to the latter, in April the Ford government announced an additional $62,314,200 over the next three years to help the region tackle local homelessness.