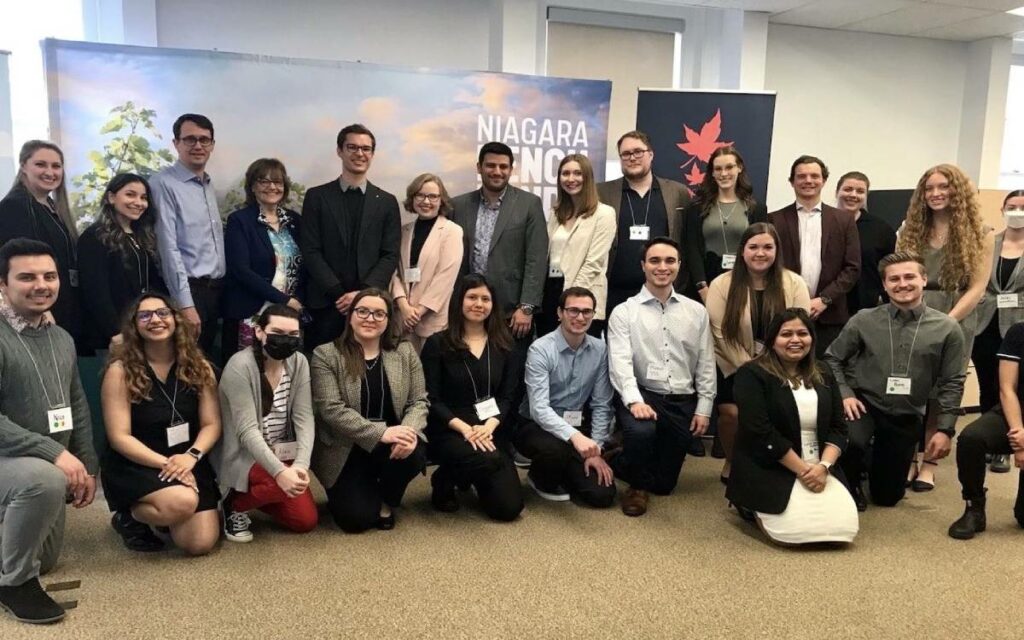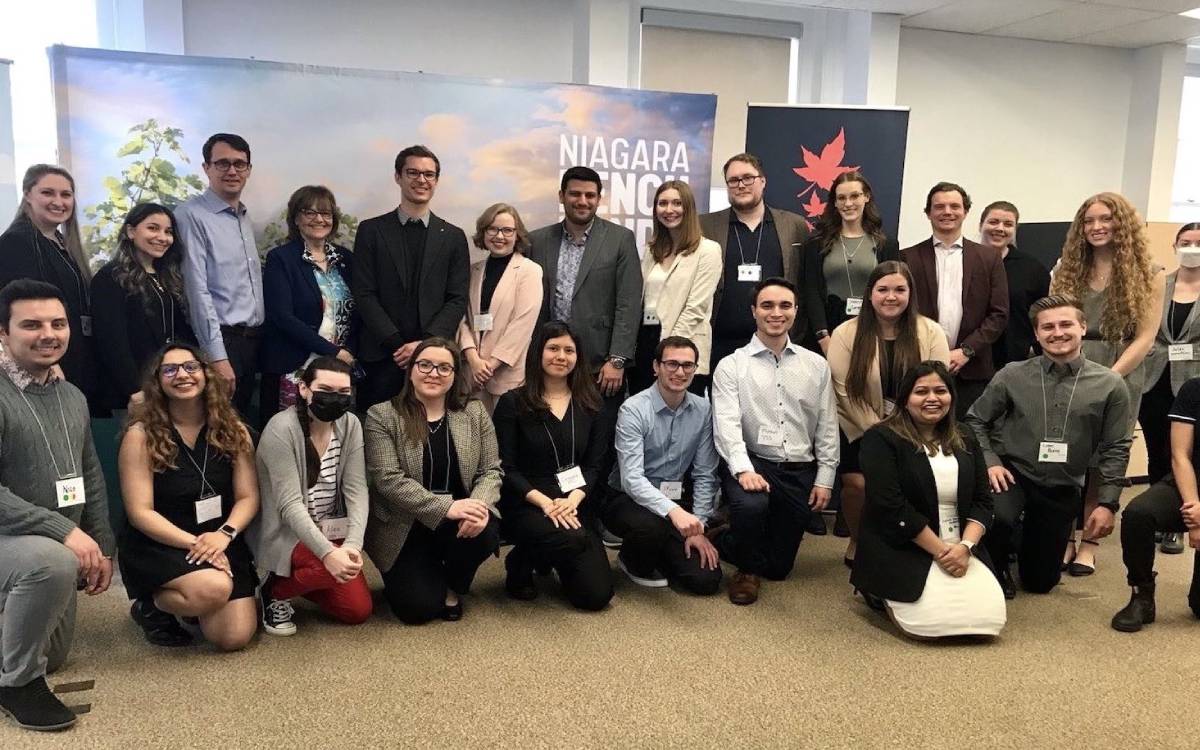 Backrow starting third from left: Minister of Labour, Training and Skills Development Monte McNaughton, Mayor of Lincoln Sandra Easton, and MPP for Niagara West Sam Oosterhoff stand with a cohort of Youth Skills Studio program participants. The province previously gave $2.1 million to help fund the 2021 iteration of the program. Photo credit: Twitter/Monte McNaughton
More local youth in Lincoln will get the opportunity to learn high-demand skills and gain valuable work experience thanks to another substantial investment from the Ontario government. 
On Tuesday, Minister of Labour, Training and Skills Development Monte McNaughton and MPP for Niagara West Sam Oosterhoff announced another $2.5 million in funding for Beamsville's Youth Skills Studio to provide three additional cohorts of young people training in hard and soft skills relevant to careers in digital technology and tourism and hospitality. 
"The pandemic has caused many of our local businesses to be short staffed and in need of a talented young workforce," said Mayor of Lincoln Sandra Easton. "With pandemic restrictions lifted, this extension of our Youth Skills Studio program could not come at a more critical time to support youth readiness into the workforce."
In partnership with local non-profit organization Civiconnect, the Town of Lincoln will use the new funding to offer 73,000 hours of work integrated learning to 135 youth between the ages of 14 and 29. 
Participants will work on 100 digital technology projects for a variety of local businesses, helping with and honing their IT administration, digital marketing, and web development skills. 
"This is another great investment to further support workforce development in the fast-growing IT sector," said municipal CAO Mike Kirkopoulos. "Even in a rural community such as the Town of Lincoln, our businesses across many sectors rely heavily on new technologies and innovation to support growth and development in their operations."
The Youth Skills Studio previously received $2.1 million from the provincial government's Skills Development Fund to offer 90 local youth 15 weeks of technology-related in-class and paid on-the-job training. 
The final of the first three 15-week cohorts just wrapped up this week. 
The program's newly funded fourth cohort launches May 9. 
"Our government is working for workers every day. Through our Skills Development Fund, we're giving workers the training they need to fill in-demand jobs, earn bigger paycheques and advance in rewarding careers that make their families and communities stronger," said Minister McNaughton.
"Our government has a workers-first plan to deliver a stronger Ontario. As we build today for a better tomorrow, we need all hands on deck. We are leaving nobody behind, and we are getting it done."
New to the 2022-23 initiative is a tourism and hospitality program which will provide 7,300 hours of work integrated learning and soft skills training to 70 youth aged 14 to 17 on a part-time basis. The program aims to provide participants with the qualifications and expertise necessary to pursue a career in the tourism and hospitality sector, one of Lincoln and Ontario's hardest hit sectors impacted by the COVID-19 pandemic.
"There is no question that Lincoln's tourism and hospitality sector was hit hardest by pandemic restrictions," said the town's director of economic development and communications Paul Di Ianni. "As we look into a post-pandemic environment, the Hospitality and Tourism Training program will support the growth and development of Lincoln's tourism sector for years to come."
The $2.5 million Youth Skills Studio investment was one of four Skills Development Fund projects recently announced in Niagara. 
Other funding announced this week included nearly $550,000 for Edge Factor studio in Beamsville, $3.5 million for a training initiative by Canadian Niagara Hotels in Niagara Falls, and $1.2 million for Niagara College and the Niagara Home Builders' Association to train and place 80 un- and underemployed Niagara residents in the skilled trades.