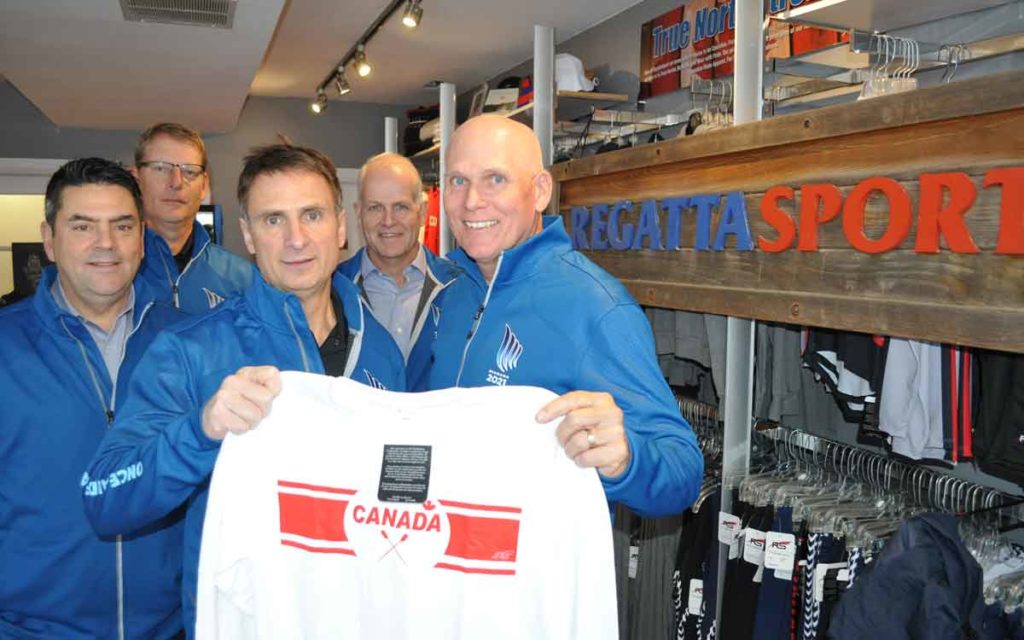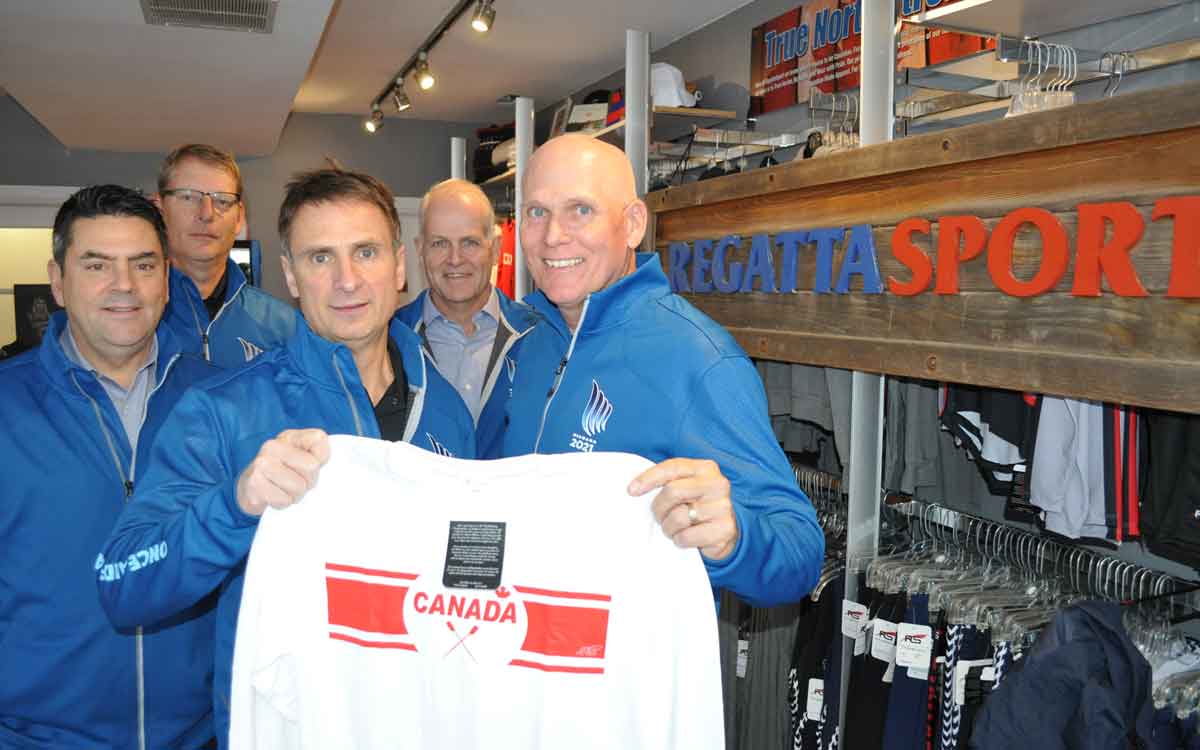 From left: Steve Katzman (CSG Chief Marketing Officer), Gregg Loucks (RegattaSport),  Joe Camillo (RegattaSport co-owner), Doug Hamilton (CSG Chair) and Chris Cookson (RegattaSport co-owner). Supplied photo.
The Niagara 2021 Canada Summer Games has announced that local athletic wear company RegattaSport, will be the official licensed merchandising partner.  Founded in 1988 and located in St. Catharines, RegattaSport is well known to the local rowing community for providing athletic wear and regatta merchandise.
In a statement, Games' Chief Revenue and Marketing Officer Steve Katzman said, "The RFP process canvassed previous Games' suppliers, in addition to suppliers from across Canada and Niagara.  In the end, the proposal from RegattaSport embodied the logistics as well as the spirit we were looking for; they checked all the boxes. RegattaSport has an outstanding reputation for providing quality athletic merchandise, as evidenced by the fact that their founders are former world class rowers; and so they have a clear understanding of the importance of athletics and what these Games will mean to Niagara."
Chris Cookson and Joe Camillo founded the athletic wear company in 1988 in a modest store in Port Dalhousie. Their company now has a global reach.  Both men said they are thrilled to be a part of the Games. "It was a bit of a David versus Goliath story in terms of us pursuing this opportunity but we knew we had the experience, desire and capability to go after it," said Camillo in a media release. "Business isn't that different from sport in a lot of respects, one of them being you can't let competition determine your path to success.  As Niagara residents, former competitive rowers and general fans of sport, we are honoured to be a part of the Niagara 2021 Canada Summer Games," said Camillo. "We've seen first-hand the positive impact that events like this can have on a community. This is our region too."
Cookson added, "We've always prided ourselves on providing high-end athletic wear that we help design from scratch. The merchandise we develop for these Games we will be fun, attractive, and unique that both athletes and fans will love.  We're confident the people of Niagara will take enormous pride in wearing the 2021 Games merchandise," added Cookson.
Katzman also announced that merchandise will be available through the Pen Centre in St. Catharines. Niagara residents will be able to purchase a wide variety of Summer Games clothing and other merchandise at a soon-to-be opened location in Niagara's largest indoor shopping mall.   "With traffic of over 200,000 people per week on average, we felt the Pen Centre was a must-have to bring our wearables to Niagara.  We are fortunate the Pen Centre is committed to this community and the Region as a whole, as they are", said Katzman.
Pen Centre general manager John Bragagnolo said, "We are thrilled to be working with the Summer Games team and we are more than proud to have their merchandise sold in our shopping centre."
RegattaSport produces 100 per cent of its custom apparel in Canada.